A Vass man charged with first-degree murder and arson in connection with a 2015 Southern Pines case died early Tuesday morning in his cell at the Moore County Detention Center.
Moore County Sheriff Ronnie Fields said Edward Dale Ager, III, 37, was found unresponsive in his cell during the early morning hours Tuesday.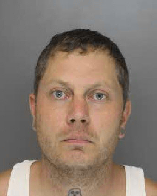 "Emergency medical aid was immediately administered to no avail," said a statement from the Moore County Sheriff's Office.
Fields has notified the State Bureau of Investigation and requested that an independent inquiry be completed. Since this is an active investigation, his department is not releasing further information at this time.
Southern Pines police arrested and charged Ager with two counts of first degree murder and first degree arson in 2015 in connection with an investigation into a residential house fire that occurred on June 15, 2015 at 890 W. Lowe Ave.
When firefighters arrived on scene the morning of the fire, they discovered a body within a few feet of a door. The second body was found later.
Another person in the home, reported later to be homeowner Lavarene Hallman, was taken to the hospital suffering from smoke inhalation.
Lindsay Suzanne Farwell, 31, of West End, died in the fire. Family members identified the second victim as William "Willie" Sloan, 72, a retired carpet layer who rented a room in the home.
At the time of the charges, Ager was being held in the Lee County Detention Center. He was moved in 2016 to the Moore County Detention Center.
Ager's information had already been removed Tuesday morning from the county detention center website of inmates.