Moore County, which has long been in one state Senate district and largely in one House district will be more divided under maps the General Assembly approved last week.
On the positive side, however, the county will return to one U.S. House District.
Republican U.S. Rep. Richard Hudson, currently serving his fifth term, had represented all of Moore previously but, under a new map redrawn two years ago following a lawsuit, lost the bottom half to District 9 U.S. Rep. Dan Bishop. 
Under the new districts, Moore County will be in a new State Senate district that includes large swaths of Cumberland County. In the House, Moore will be cut into three house districts.
Those changes also put Moore County's current representatives, State Sen. Tom McInnis and State Rep. Jamie Boles, in so-called "double-bunked positions" with two other incumbents. McInnis is in a district with fellow Republican David Craven, while Boles is in a district with fellow Republican Ben Moss.
State legislators must live in the area they represent. McInnis, who has lived in Richmond County, has announced he will make a second home in Pinehurst his permanent address, thus ensuring he will remain Moore County's senator after the maps go into effect.
McInnis is a small business owner who served on the Richmond County Board of Education before his election to the State Senate in 2014. He is currently serving his fourth term representing Senate District 25, which encompasses Anson, Moore, Richmond and Scotland counties.
According to the newly approved map, Moore County will be entirely represented within a singular district, Senate District 21, in addition to more rural areas of Cumberland County.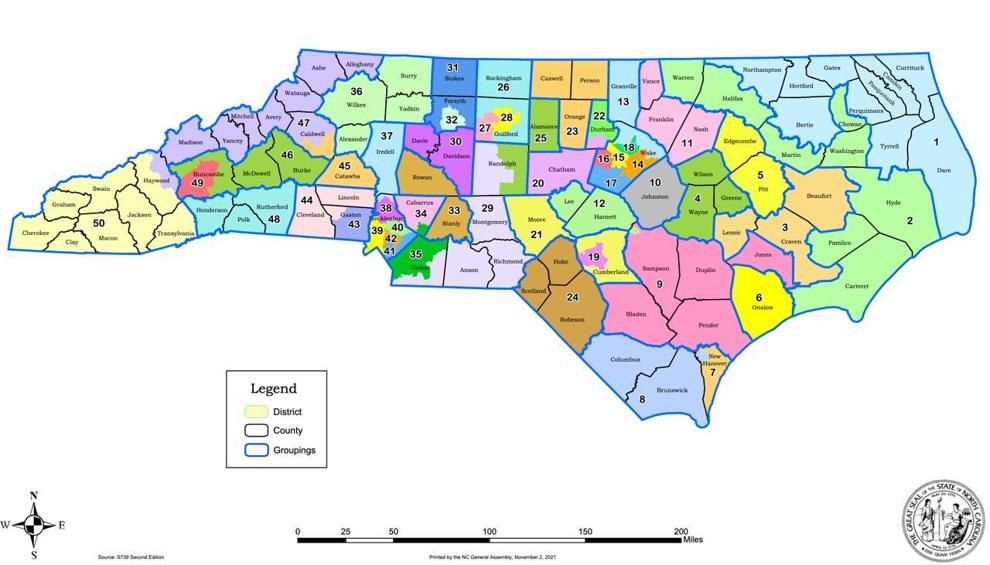 McInnis told The Pilot the former district was untenable with the new configuration and new map.
"My business is not complete in Raleigh. I have things I want to finish before I leave so I want to continue to serve," he said. "I have a strong relationship with Moore County. We have done a lot of good, positive, transformative things and I'm humbled by the support I've received from folks in Moore County."
The three maps were developed by N.C. House Redistricting Committee and included a period for public input. Not surprisingly in a state with a long history of lawsuits over gerrymandering, the first legal challenges were issued within hours of voting. As approved, the maps are projected to create a 10-4 split for Republicans in the state's congressional delegation despite a nearly 50-50 ratio of registered voters between each major party. The GOP also retains its majorities in the state's House and Senate.
McInnis acknowledged the lawsuit filed last Friday and said he anticipated there will be others to follow. "We used one type of criteria the last time and we were sued. So we didn't use it this time and now they want to sue us for not using that criteria. It is a conundrum."
"Moore County is definitely a red-leaning county," he said, "but there is no safe harbor in any district if the candidate or the elected official isn't willing to perform. My candidacy is based on performance and delivering services for my constituency, and I am proud of that."
Moore County is split between State House Districts 78, 51 and 52.
Boles, who lives in Moore County, won a seventh term representing District 52 last November. The updated map shifts that district a bit south, encompassing all of southern Moore County, the most densely populated area, and Richmond County.
"I feel the due process was done," Boles said, noting legislators used the criteria handed down from a 2019 lawsuit. "They were drawn under guidelines from the federal courts."
Based on updated 2020 census data, each of the state House districts should represent approximately 90,000 individuals. Moore County's population was considered within the context of a five-county cluster, explained Boles. Hoke and Scotland counties have populations that fit the size criteria neatly; whereas, Lee and Richmond counties are slightly undersized and Moore is slightly oversized.
Boles views the three-way split as an advantage for Moore County. He also confirmed he intends to run for re-election representing District 52.
"Now we will have three representatives and three voices in the General Assembly, versus the two we've had for years. A lot of people have hesitancy about multiple representatives, but to me it is an asset. We will have a stronger voice with more voices from Moore County."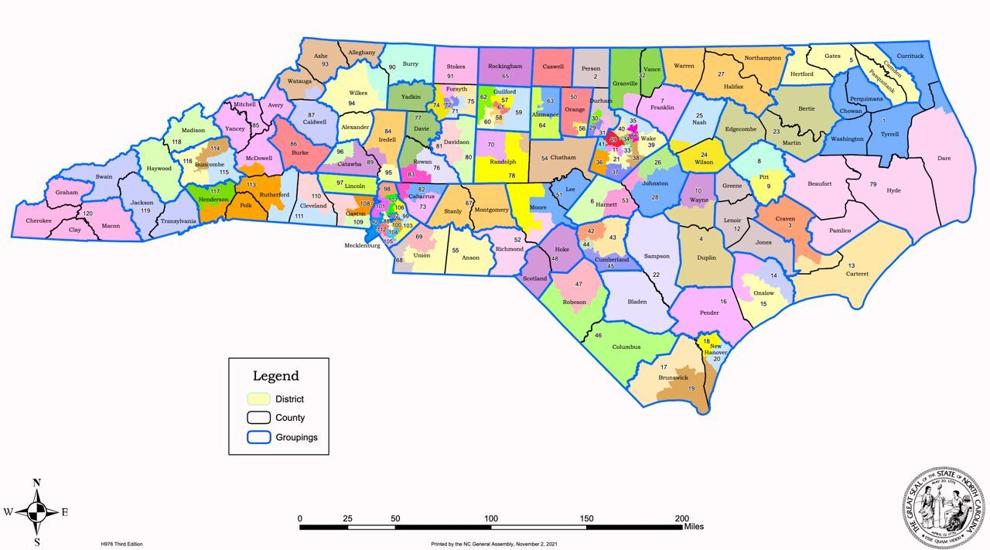 Newly drawn District 51, represented by Republican Rep. John Sauls, will encompass Lee County and northeastern Moore County. Newly drawn District 78, represented by Republican Rep. Allen McNeill, encompasses Randolph County and northwestern Moore County, stretching along the western boundary line as far south as Richmond County.
The updated map eliminates District 66, represented by Ben Moss, who was elected to his first term of office in 2020, representing Montgomery, Richmond and Stanly counties.
The redrawn congressional boundaries also contain a new 14th seat for North Carolina in the U.S. House of Representatives.
Moore County, currently split roughly in half between Districts 8 and 9, would be returned entirely to District 8. The seat is currently held by U.S. Rep. Richard Hudson, serving his fifth term of office.