The term 'land trust' typically conjures up woodsy, green spaces that are preserved for their aesthetic and ecological value. But the practice of conserving land in perpetuity may also reflect an area's heritage, social and cultural history.
In West Southern Pines, a small group of community-minded folks have their eye on Southern Pines Primary School. Through the nonprofit Southern Pines Land and Housing Trust, they hope to repurpose the soon-to-be vacated campus for future educational and economic pursuits.
"We have developed a pretty comprehensive list of proposed uses for the school. There are things that have been requested and we are looking into the viability of them," said Land Trust board member, Fenton Wilkinson.
Wilkinson spoke during the West Southern Pines Task Force meeting held on Sept. 3, seeking support for the Land Trust's interest in negotiating with Moore County Schools to potentially acquire the campus once it is vacated. 
The group hopes to meet with school officials in the next few weeks, Wilkinson said, though no date has been scheduled.
Built in the early 1920s, Southern Pines Primary is a documented Rosenwald school that was originally developed for the education of African-American children. Initially known as West Southern Pines School, and later renamed West Southern Pines High School, the campus now serves primary school children in Kindergarten-2nd grade.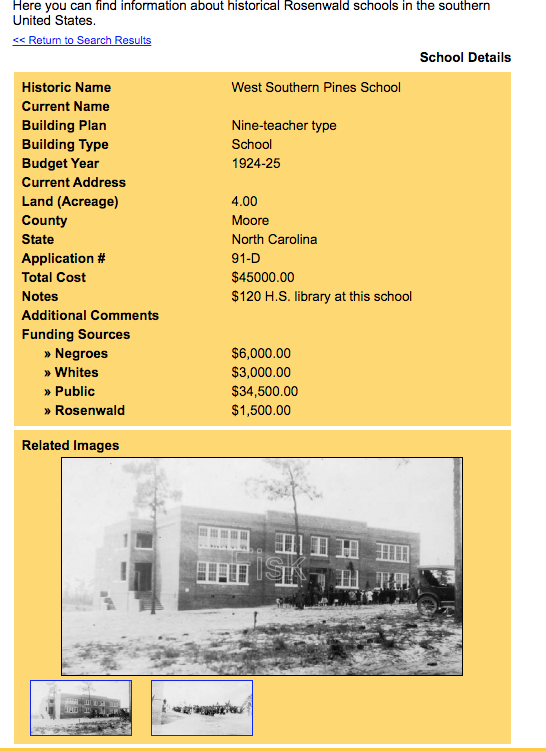 Construction work is underway on the new 800-student elementary school in the Morganton Park North development, that will replace the aging facilities of Southern Pines Primary and Southern Pines Elementary. The new school is expected to open in January 2021.
Wilkinson said the Land Trust is exploring options for if and how it might acquire the property in the future; however, the first step is to complete a comprehensive appraisal.
"We really need to dig in and do a development plan. We don't want to work in theoreticals. We need to get from the school their actual operating costs and what they think the rehab will need to be," Wilkinson said. "We already know the roof and air conditioning system are two major expenses that would need to be done."
He estimated hiring a professional to prepare the development plan could run as high as $60,000.
Wilkinson said the Land Trust is willing to fundraise, but would like to have a commitment from Moore County Schools (MCS) before they attempt to raise $60,000, that the school is willing to enter into a private negotiation. This would not be a purchase contract, it is more of a formalized agreement to work one-on-one with the nonprofit on a potential deal.
"We can't go to the community of folks who grew up and went to school there, to try and $60,000 for a development plan because "maybe" we can acquire the school," Wilkinson said. "But given the normal uncertainties in developing a plan, there is no guarantee it will work out. But if it does work out as possible, then we have an interest in the real estate."
"We don't want this to be just a pie in the sky thing," he added.
Historically, the school was built to serve the African-American community that surrounds it, which is reflected in the 1924 deed.
According to the Moore County Register of Deeds, the original paperwork was lost but a replacement deed was filed on behalf of William T. Junge and his wife, Emma Catherine Junge.
It states, in part, "this deed is given that said land may be conveyed and said conveyance placed of record as intended between the grantors and parties, and for no other purpose whatever, except that said land or all profits in anywise ever arising in any manner therefrom shall be ever devoted to the use of negro education in or about the Town of Southern Pines and West Southern Pines, in recognition of the fact that the money for the purchase of said land was raised by the negro of said towns containing four acres more or less."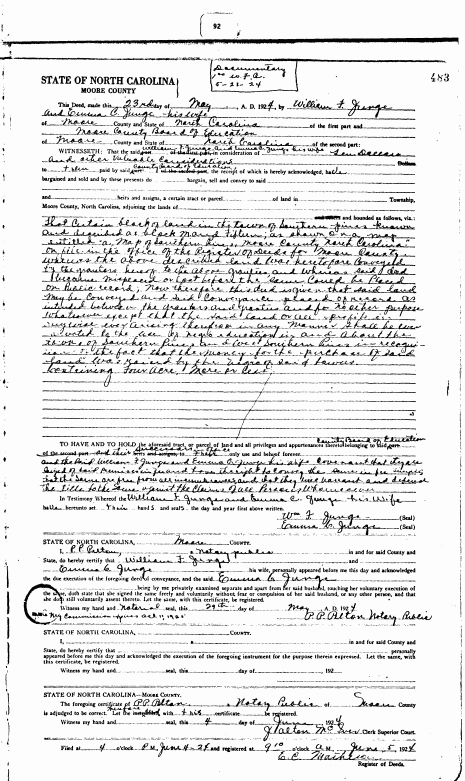 Wilkinson said the ideas and potential future uses call for educational components, including a maker space, a green building skills class, entrepreneurial classes, plus a curriculum of study about African-American history and cultural appreciation, particularly in regards to the West Southern Pines community.
Cathy McNeill, a West Southern Pines native and former business owner, volunteered to assist with the African-American educational and historical components.
"We have to have educators who will be prepared to develop children of all cultures, all races, and that is something I would like to be a part of," she said. "I will do whatever possible to execute this idea. With anything good, you will have obstacles. But I am optimistic we can make this happen."
The school's gymnasium and auditorium could also be repurposed for additional community activities and recreational programming.
Importantly for the Southern Pines Primary initiative, there is a legal precedent that could clear their path forward.
"Schools can enter into direct private negotiations for asset disposal if the real estate has cultural and historic significance," Wilkinson said, "and, if the party they are dealing with is a nonprofit."
The Land Trust has already had the good fortune to connect with some potential major anchor tenants, if they were to acquire the campus, Wilkinson said, including a national credit union that caters to African-American interests.
They are also exploring financing and funding sources, including low-interest long term loans and grants.
Ebonie Alexander, executive director of the Black Family Land Trust, is scheduled to visit Southern Pines next week. Based in Durham, the Black Family Land Trust is the nation's only conservation land trust dedicated to the preservation and protection of African-American and other historically underserved landowners assets.
"She recognizes that the school is part of a larger neighborhood revitalization program that is underway," Wilkinson said.
Earlier this week, the Black Family Trust coordinated a conference that attracted individuals from African-American communities across the country searching for ways to revitalize their own regions. A delegation of six from the Sandhills area attended.
"It confirmed that this is not just us, but there is a movement across the country to revive historically Black communities," Wilkinson said. "This is not about exclusion. It is about celebrating the heritage and culture of a community, and sharing that with everybody else."
The Land Trust is hoping to meet with school officials soon to discuss their ideas and possibly entering into a private negotiation for the property.
"It doesn't mean we are asking them to agree to sell it to us. Our request is simply that they enter into negotiations with us," he said. "We don't want to wait until the school is abandoned to get started. We want to do the planning now, so when the school becomes available, we are ready to move forward without undue delay."
Specifically, the group asked the West Southern Pines Task Force to provide a letter outlining their support for the project's goals.
"We are not asking you to opine if this is a viable project. But given the circumstances in West Southern Pines, that if it was developed according to our plans, that it would meet the goals of the task force and help revitalize the community economically, culturally and socially."
School Rehab Costs Could Be Substantial
Former town mayor and West Southern Pines Task Force member Mike Fields encouraged the Land Trust's efforts to get going with planning.
"It is better to get the ball rolling before the building is empty. We all know that buildings can quickly deteriorate when they are vacated," he said.
Southern Pines Councilman Mitch Lancaster, who serves on the Task Force, said he supported the land trust group's interest in entering into a private negotiation with MCS, but cautioned that costs could soar.
"I toured the school two or three weeks ago. It shocked me how much disrepair it is in," Lancaster said.
Wilkinson said the school has suggested there are $625,000 in repairs; but others have cited figures closer to $5 million for renovations.
"I want to make sure, you all are well aware of the monumental task of rehabbing that school," Lancaster said. "Some of those buildings are in super bad shape."
Southern Pines Planning Board member Kim Wade, who also serves on the West Southern Pines Task Force, said the school is not unsafe.
"The repairs needed are not immediate concerns," she said.
Retired educator Dorothy Brower, who was among the West Southern Pines high school's final graduating class in 1969, said she visits campus on a near daily basis. She said she's seen its appearance deteriorate over the last five years.
"Part of it, at least initially, is because of the schools' plans to not use it after a certain point," Brower said.
Southern Pines resident Suzanne Coleman agreed, recalling a previous discussion where it was stated that there was a deliberate decision to not perform maintenance because the replacement school was planned.
"I think that is an important factor in all this," Coleman said.
In other discussion during the Sept. 3 meeting, the West Southern Pines Task Force:
Heard a presentation from R.B. Gardner from Habitat for Humanity of the Sandhills about the neighborhood revitalization program. The projects move beyond the organization's new home construction program, by providing repairs and home restoration services in selected areas.
"We want to make the task force and other civic organizations aware of what we offer. The partnerships we can try to strengthen and grow, and what capabilities you have in your toolbox" Gardner said. "Don't forget us when you pull everyone together."
In the Dobbins community, in Richmond County, Habitat has created a skills training program where volunteers learn a specific trade -- roofing, for example -- and then have the opportunity to gain hands-on experience while applying that skill to homes within that community.
Wade said she has identified six volunteers in the West Southern Pines community willing to participate in a neighborhood revitalization training program, and is seeking at least six or seven more volunteers to kickstart a similar initiative.