There may be no single achievement in Johnny Burns' life to hold up as worthy of memorial and applause.
But since 1965 and even before, Burns' ever-growing influence over his fellow Kiwanians and his larger community has distinguished him as a remarkable individual deserving of the longest-standing civic honor in Moore County.
That was the year that Burns, a senior at Aberdeen High School, earned the Kiwanis Club of the Sandhills' Junior Builder's Cup.
In a pared-down ceremony at Mid-Pines Inn and Golf Club on Wednesday, he became the first "junior" recipient to receive the club's Builder's Cup award. Since 1926, the Builder's Cup has recognized individuals for "contributing to the public good, without regard for gain or personal recognition."
"Our life today is the result of choices we made up to this moment, not just our experiences," said Joanne Conrad, the club's current president. "How we react to adversity and experiences is paramount. We are gathered here today in celebration of our own Johnny Burns, whose choices have bestowed on him much fortune and a Builder's Cup award."
Jim Whitlock, the Kiwanis member who nominated Burns, outlined a history of community involvement that began when Burns was a Boy Scout. He returned to Aberdeen after graduating from the University of North Carolina and wasted no time in diving back into the community. In 1971, while teaching at Pinecrest High, Burns helped charter the Aberdeen Jaycees and served as its first president. The statewide Jaycees organization would later name him among the five most outstanding young men in North Carolina.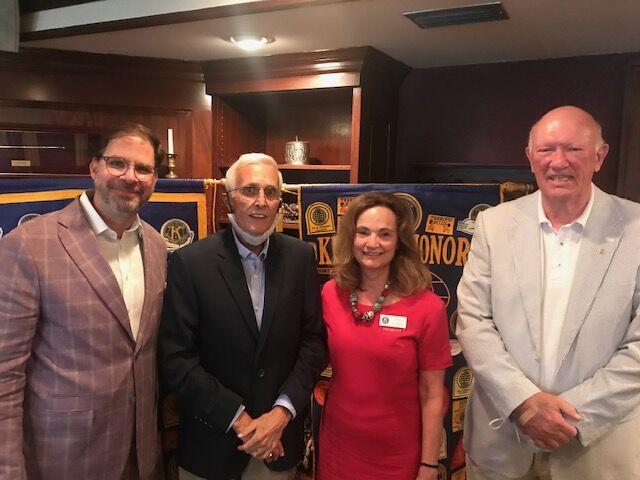 "Johnny, from his earliest childhood, exhibited those leadership qualities that would
define him for the rest of his life," said Whitlock.
"His varied activities have justly earned him this award. He always goes that extra mile, whether it be for an individual or for a group. Quite a few have come to him for help, support and friendship. None was ever turned away."
After a few years of teaching, Burns took a job at First Federal Savings and Loan, now First Bank, where he worked until his retirement in 2017.
The roster of organizations still bearing Burns' fingerprints include the Aberdeen Beautification Committee and Moore County Recreation Commission, both of which he chaired; St. Joseph of the Pines, The Moore County Chamber of Commerce, and United Way of Moore County align with the Kiwanis Club itself.
Through his role on those boards, Burns helped propel Moore County's growth into a community for anyone, with something for everyone.
Burns also served two terms on the Moore County Board of Education between 1982 and 1990. He's held most of the offices available to lay members at Bethesda Presbyterian Church, where he's attended since childhood.
But it's not so much the parts he played as how he played them that qualifies Burns for the Builders' Cup.
"It's people like Johnny and his many predecessor winners who built this community, who built Southern Pines, who built Aberdeen, who built Carthage and turned this into such an awesome community for all of us to live," said John Nagy, editor of The Pilot and chairman of the Kiwanis' Club's Builders' Cup committee.
"These were all unbridled leaders in our community, yet no one on this list got there by acting for personal gain or for the applause and the world's recognition. They endeavored for the collective good. They created reality from vision, they fostered education and protected the environment. They stood up when others said sit down. They upheld simple dignity and human respect, and they spread kindness like pine needles."
Though some of his deeds, like reading to disadvantaged preschool students, would never make headlines, Burns said that many of the most profound entries in his illustrious record of public service have come through his involvement in Kiwanis over the last 48 years.
"The unique thing is the people, the men and the women that have joined our club that came from all kinds of backgrounds, all over the world, they had one thing in common: they were interested in helping children," Burns said.
"It's just been a wonderful, wonderful experience for me and I hope to have many more years of supporting young people here in Moore County."
Burns credited two men whose example he's spent his life living up to: his uncle Frank McNeill, Sr. and Bill Samuels, who hired him on at First Bank in 1972. Thanks to McNeill, Burns has approached every task and challenge in his life with the goal of exhibiting kindness.
For Burns, the banking business was always about more than the financial bottom line.
"I worked 45 years at the bank, and over those years I had many wonderful employees that I had the opportunity to work with. Our goal was to do the very best we could to solve the financial needs of our customers," he said.
"I am so proud, up to this point, to be the only person who has won both the Junior Builder's Cup and the Builder's Cup."