A $5 million renovation underway at FirstHealth's Moore Regional Hospital will increase the number of maternity triage, labor and delivery rooms. It'll also cap off the space in what's essentially a landlocked department busting at the seams.
"Over the last six years we have dramatically increased in deliveries," said Beth Tabor, administrative director for women and children's services. "Every month, it's a little more. In 2020, we saw 2,278 deliveries and we will surpass that this year. We're actually getting close to 2,300 babies, so this renovation is great timing."
Moore Regional Hospital in Pinehurst was initially built with a maternity ward to accommodate around 1,800 deliveries a year. The hospital houses the Clarke Neonatal Intensive Care Unit and provides services for high-risk pregnancies for patients in the surrounding area, including multiple gestational deliveries and babies that are delivered at 28 weeks.
The renovation will expand the number of triage rooms from six to 10, and labor and delivery rooms from six to nine by repurposing some rooms, conference and office spaces. Two of the newer spaces are designed as isolation rooms.
But the expansion is a temporary fix. Early planning will begin soon for a new, dedicated facility to meet the intensifying demand for maternity services. "A tower is in the master facilities plan," Tabor said, "we project it could happen in the next three to five years."
The uptick in deliveries reflects the gravitational pull of FirstHealth's flagship facility. There are also more younger families living in the area as a result of Base Realignment and Closing Commission changes to Fort Bragg that began ramping up in 2008, plus greater numbers of remote teleworking professionals and more new businesses setting up shop locally.
In 2014, FirstHealth also shuttered its labor and delivery services at Richmond Memorial Hospital. Those services and patients were redirected to Pinehurst.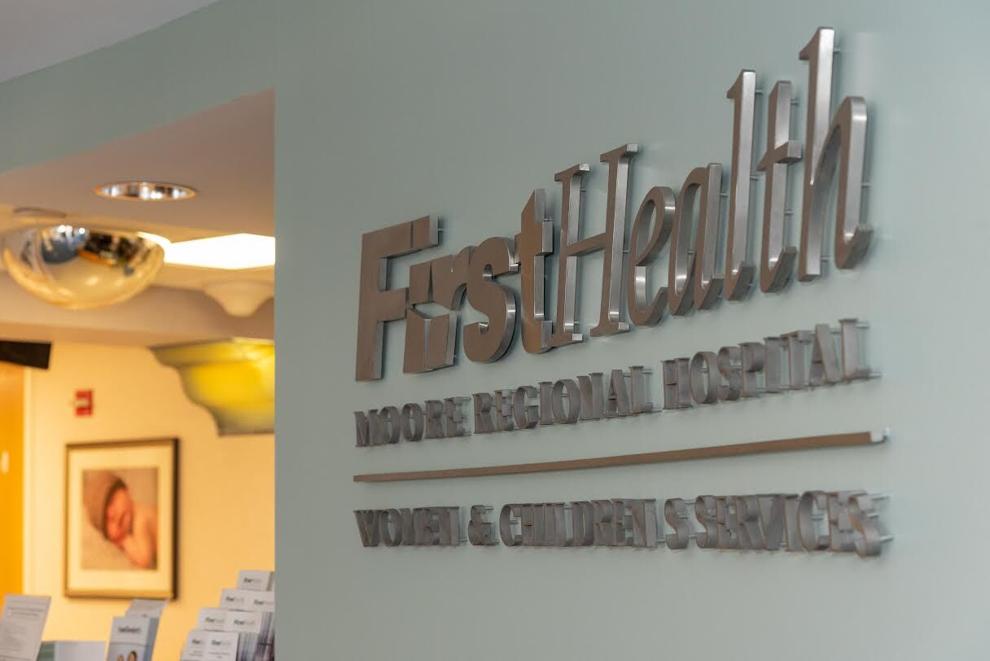 "We are really, really lucky to have such a great hospital here locally," said Sarah McClamroch, practice manager at Southern Pines Women's Health Center, noting they expanded their staff this summer with the addition of a nurse practitioner and new ob/gyn physician to meet demand.
The practice is a partner clinic with FirstHealth with offices in Raeford, Rockingham and Sanford. "A lot of (expectant mothers) know the reputation of FirstHealth and want to have their babies here," added McClamroch.
Dr. Pamela Kantorowski, who joined Women's Health Center in 1999, said her father-in-law had teased her about moving to Pinehurst, "Why go there, it's all retired people?" he told her.
"I said, 'Yes. But a retirement community means you have all the support people.' Between the increase at Fort Bragg and just the fact that Moore has such a good reputation, in general, people have moved here. Businesses have moved here. So we have grown economically and we are bringing in more workers," Kantorowski said. "With more young people that brings in more need for obstetric services...We are trying to catch up."
Several years back, Moore Regional transitioned to a system of "stork nurses." This allows the babies to stay with their mothers, even those delivered by C-section.
"Patients have heard about this standard practice and it brings them to Moore," Kantorowski said.
She also credits her colleague, Dr. John Byron, with advocating for more subspecialty care including the addition of maternal fetal medicine and ob/gyn oncology services.
"That allows those patients to stay here. We are able to care for more patients at our hospital because we have those subspecialities. It is about having all of those pieces," she said. "FirstHealth has made a strong commitment to women and children's services."
Recruiting highly qualified personnel is another important aspect of any organization's successful growth. Kantorowski said in the medical field it's not just about creating a top-notch facility where staff will practice.
"They are looking for what a community can offer. We have the healthcare part, the good schools, the recreational and activities part. But as a physician, you want to have a very specific feeling about being able to be a part of the community. We are able to build that here, and it is a huge selling point."