A small, infill townhouse project near downtown Southern Pines was approved by town leaders following a quasi-judicial public hearing on Tuesday.
The 8-unit Ivy Glen Townhomes site is located near U.S. 1 and is within the town's Urban Transition Highway Corridor Overlay. The undeveloped property is zoned for Office Services (OS) and is adjacent to Spartan Blades, an existing residential area, and the town's Public Works Department.
Land planner Bob Koontz presented plans on behalf of Mid State Development, LLC. The project calls for four two-unit townhouse pairings on the 1.1-acre site, each with a garage and a minimum of two on-site parking spaces. In addition, the applicant requested a reduction in set backs on the front and side as a special circumstance to save several, large specimen trees on the property. Approximately 50 percent of the tract will be set aside as open space.
A 6-foot privacy fence will be installed along the property line abutting four existing residential lots.
The project also required the town's blessing for a 5/70 watershed allocation exemption. This is an option that allows local governments in North Carolina to approve higher density development within a limited portion of a water supply watershed. Each town, including Southern Pines, has a restricted amount of acreage that can be allocated in this manner.
In other action during Tuesday's meeting, the Southern Pines Town Council:
Mayor David McNeill sworn-in Southern Pines Police Officer Brett Kellam. Police Chief Bob Temme said it has become increasingly difficult to find good, qualified police officers like Kellam.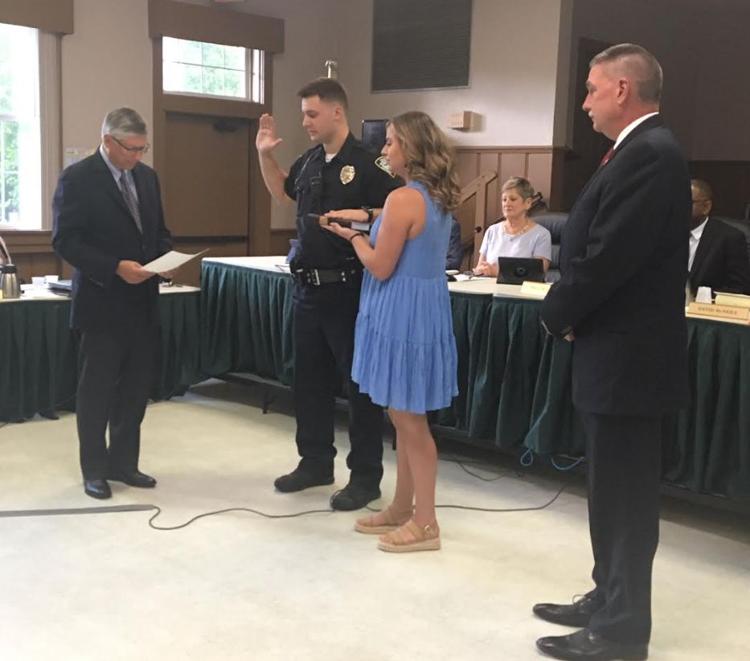 Approved a resolution in support of Moore County Schools request to NC-DOT to lower the speed limit on Camp Easter Road, in the vicinity of the new McDeeds Creek Elementary School.
Appointed Kim Wade to serve on the Planning Board for a three-year term.
Heard from Councilman Mitch Lancaster that last weekend's West Southern Pines Clean-Up Day was very successful, with approximately 150 people participating. Additional bulky items that were unable to be picked up during the curbside collection will be handled this coming weekend.