Plans for a new 12,100-square-foot indoor climbing gym were reviewed by the Southern Pines Town Council on Wednesday.
Lily Camina of Camina Design and Construction presented on behalf of Ascend Rock Club. As discussed, the facility would be located on a 3.48-acre tract on Air Tool Drive in the Southern Pines Corporate Park. The site is across the street from Southern Pines Brewing Co.
In May, town leaders approved a preliminary development plan for the indoor climbing gym.
The building is designed as a large square. Camina said the exterior facade would include a mix of red brick, stucco and glass for architectural interest. Plans also call for a small gazebo, patio and outdoor exercise area.
Town leaders also reviewed architectural plans for three condominium buildings proposed in the Forest Creek community.
A rezoning request of the subject property was approved in May, followed by a successful application for a conditional use permit in June.
Lily Camina of Camina Design and Construction presented on behalf of Colony 9, LLC. The three condominium buildings total 13,223 square feet and each building would be divided into five units. Plans also call for three detached garage buildings on the 13.36-acre parcel.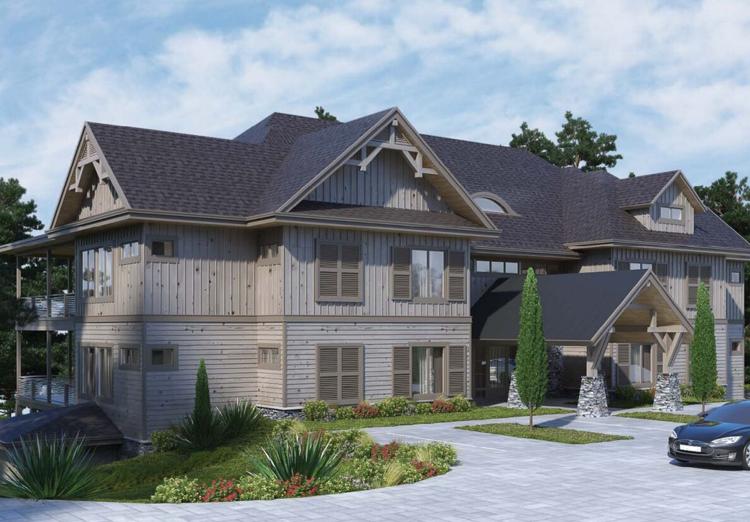 Architecturally, the condominium buildings match the roof pitch and proportions of the Forest Creek Clubhouse, which is located nearby; however, the proposed 40' roof height hit a policy snag.
The town's ordinances do not allow for deviations from height restrictions based on an architectural compliance permit, said Planning Director BJ Grieve. That type of request can only be considered as part of a conditional use permit.
After discussion with Camina, the plans as presented were tentatively approved without a deviation for roof height. Instead, hoping to offer flexibility for the applicant, town leaders left it to Colony 9 to decide whether to reduce the building height to the required 35-foot threshold, or seek an amendment to the conditional use permit to allow for the higher roof line.
"I like the design, but we are stuck because we cannot allow the variance. It is a nice looking building. Is it still so nice looking when you drop the roof five feet? That is a question you will have to answer," Councilman Mike Saulnier told Camina. "I do think it is a nice design and complements what is surrounding it."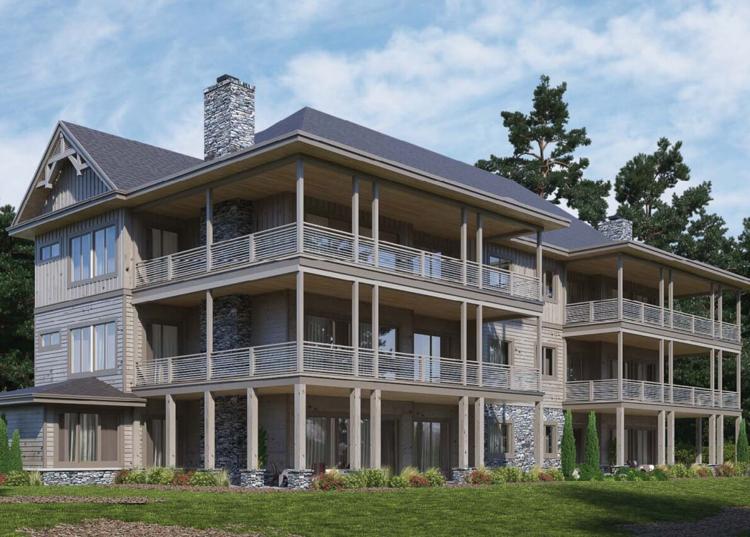 Councilman Mitch Lancaster agreed.
"I think it would be fine the way it is. If there was a way out of it, I'd be fine. But I think we are stuck," he said.
In other discussion on Wednesday, the Southern Pines Town Council:
Authorized the demolition of dilapidated structures located at 891 W. Pennsylvania Ave. and 1605 W Pennsylvania Ave. Extension. Both buildings had been condemned with proper notification sent to the property owners.
Adopted an updated Water and Waste System Development Fee report that accounts for new projects included in the utility Capital Improvement Program (CIP) approved by town leaders in April 2020. Development fees are charged for new residential and commercial construction projects to ensure water and sewer infrastructure capacity is maintained. The report was completed in June and posted on the town's website for the required 45-day period for public review and comment prior to Wednesday's public hearing.
Heard from resident Donald Rich who expressed concern about a recent incident in West Southern Pines that involved a high speed chase in a residential area. He said the event presented a risk to the officers involved and also to people living in the community. A portion of the incident was videotaped.
Mayor Carol Haney said a police report about the incident was filed. Town Manager Reagan Parsons also encouraged Mr. Rich to contact Deputy Chief Nick Polidori for specific information about the department's pursuit policy.
In a related discussion, Mr. Rich asked if Southern Pines Police officers have body cameras. Parsons responded that police vehicles have cameras and the town is currently "beta testing" a few different models of body cameras. He anticipated there could be a budget request next year to purchase the devices.
Rich said he understood that body cameras are not a "catch all" and will not solve every problem, but said he'd like to see the town take steps to ensure they could address any personnel issues.
"I am not trying to disparage or say anything bad. I pose these questions because in the Black and brown community, we know how these things go south quickly," Rich said. "I am in favor of fair, decent order."
Mayor Pro Tem Paul Murphy said he has witnessed helpfulness and compassion from police at several sensitive scenarios within the community.
"I have been very impressed," Murphy said.