Rich Moyer was sleeping in the woods when the temperature slid to 20 degrees early Thursday in Southern Pines. Darrius Jones was resting under a blanket in the breezeway of a shopping plaza.
The men, like other unsheltered people across the Sandhills, were overlooked during last year's Point-in-Time Count, a single-day survey designed to provide a statistical snapshot of homeless populations across the U.S.
No children or adults in Moore County were found to be living in an "unsheltered situation" in the 2018 count, a conclusion at odds with the multiple encampments for the homeless near highways in Southern Pines and Aberdeen.
"Nobody counts the unsheltered," said Susan Bellow, executive director of Family Promise of Moore County. "In rural areas, it's really hard to count people because you don't really know where they are."
Some of the data used in the Point-in-Time Count comes from charities like Family Promise, which reports the number of people staying at its temporary shelter for homeless women with children. Other organizations in Moore County offer transitional housing for recovering addicts and victims of domestic violence.
But homeless residents who don't meet the criteria for those shelters are forced to find safe places to sleep outside, tucked away from view with cover from the stabbing wind.
Unofficial totals from this year's Point-in-Time Count, which was held Wednesday, are still being collected by the North Carolina Coalition to End Homelessness. A representative for the coalition deferred questions about the tallying process to Debbie Cole, executive director of Christians United Outreach Center in Asheboro.
Cole coordinates the count for Region 7, which includes Moore and surrounding counties. In an email, she deferred questions about the count to the "people directly involved in collecting those numbers" in Moore County.
"The numbers aren't submitted to me," Cole wrote. "They are submitted by app and Excel spreadsheet to the NCCEH and some are still being tallied."
Writing in a follow-up email, Cole said she was not sure if anyone actually conducted a count of unsheltered people in Moore County. There was, she wrote, "conversation from a couple of agencies in hopes it would happen."
While the count was underway, Moyer was using a donated space heater to warm his tent in the woods. His encampment, nestled in a thicket near a small shopping center off U.S. 1 in Southern Pines, is powered by donated propane tanks.
Moyer said he became homeless after his wife died. A native of Pennsylvania, he has a high tolerance for cold weather.
People in the community have been "very generous," Moyer said. He and his neighbors receive meals from the nearby food bank. Moyer said he's continuously reminding the younger members of the encampment to clean up after they eat. He worries the whole group will be kicked out if litter begins accumulating on the property.
"We try to help each other," he said. "We don't bother anybody."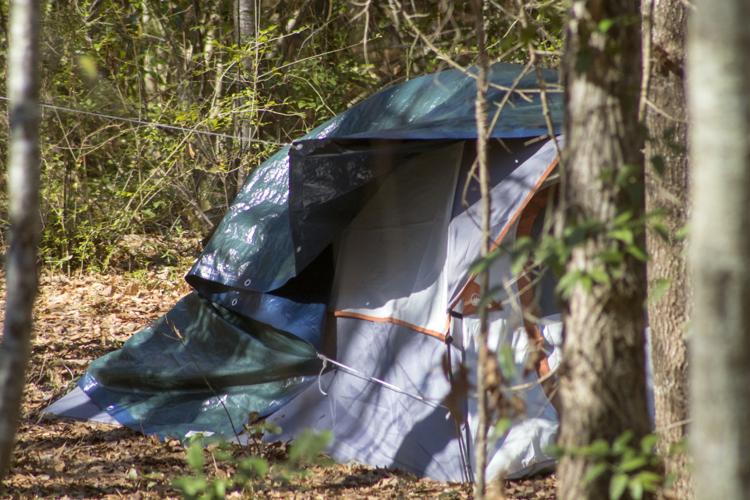 According to Moyer, about a dozen people live in the encampment. The property can be reached from a clearing behind the Martial Arts Academy of Southern Pines.
"We see the folks a lot, but they've never been a problem to us or anything like that," said Dan Dorton, an instructor at the academy. "Anytime I've ever talked to them, they've been very respectful."
Before Moyer migrated to the woods, he stayed in a tent under a water tower. He said another encampment is hidden in the woods behind Staples in Aberdeen, but he doesn't know how many people live there.
Moyer said he often thinks about Nancy Serravalle, a Connecticut transplant who also wound up shelterless in Moore County. He was with her on the night she died.
Serravalle, 54, was attempting to cross U.S. 1 in November when she was struck by a tractor-trailer. The impact threw her body into a Honda CRV that was traveling in the opposite lane. She was pronounced dead later that night at FirstHealth Moore Regional Hospital in Pinehurst.
Pastors from local churches sometimes visit the encampment to deliver sermons. Wrapped in a jacket, sweater and two hooded sweatshirts on Thursday morning, Moyer said he found it difficult to believe in God.
Not all of Moore County's unsheltered residents live in hidden encampments. Jones is one of several homeless men who have become fixtures at the shops and restaurants dotting the same highway where Serravalle was fatally injured.
Jones is arguably the area's most well-known homeless person. He is sometimes called the "bag man," a nickname inspired by his ever-present collection of plastic grocery bags.
It is not difficult to find Jones, who often sleeps in front of the BB&T at the corner of Johnson Street or beneath the awning of Harris-Teeter. When he has the money, he might rent a room at one of the cheaper hotels on North Sandhills Boulevard.
But on the night of the Point-in-Time Count, Jones slept in a lawn chair near the sliding-door entrance of Food Lion in Aberdeen. His face and body were covered by a padded blanket.
Updates about Jones are regularly shared by members of the Facebook group Moore County Ask a Neighbor. In a thread from 2018, a Facebook user named Meghan Ford wrote that Jones was once "beaten" and is reluctant to accept meals from strangers because he "feels like he was poisoned" in the past by donated food.
"The first time I saw him, I cried because it reminded me of myself when me and my kids were homeless," Ford wrote.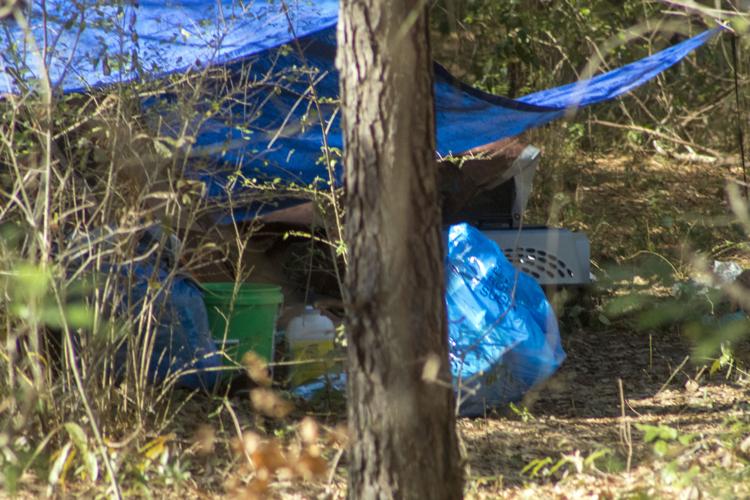 The North Carolina Coalition to End Homelessness defines "unsheltered" as any person living in "a place not meant for human habitation." Cars, parks, abandoned buildings, streets and encampments are all considered uninhabitable places by the coalition. 
According to the coalition's website, information from the Point-in-Time Count is used to "plan local homeless assistance systems, to tailor programs to meet existing needs and to raise public awareness of homelessness." A total of 18 homeless people were sleeping in local shelters during last year's count.
Unsheltered people in Moore County were last tallied during the 2017 Point-in-Time Count. Of the 31 homeless people counted that year, 17 were reported to be in an "unsheltered situation."
Fritz Healy, a local businessman, sought permission in 2015 to build a shelter for the county's general homeless population, a group that would include people like Jones and Moyer. After months of discussion and public debate, the Southern Pines Town Council voted to allow homeless shelters in the town's general business district.
But the project failed to move forward because Healy was unable to find anyone willing to rent out a suitable building in the approved district. Since then, there have been no major efforts to establish a homeless shelter that is open to unmarried men in the Sandhills.