Pik 'N Pig, a Carthage landmark that has for years greeted visiting pilots at Gilliam-McConnell Airfield, was heavily damaged by a fire early Sunday.
The blaze was first reported by Tim Searchfield, a Maine resident who is staying at the nearby RV park while in town visiting his daughter. Searchfield said he was awakened shortly after 3:20 a.m. by what sounded "like a furnace kicking on" at the restaurant, which is located on the same road as the RV park.
Searchfield said he then heard an "explosion" and went outside to investigate. He found the structure "fully engulfed" in flames, he said.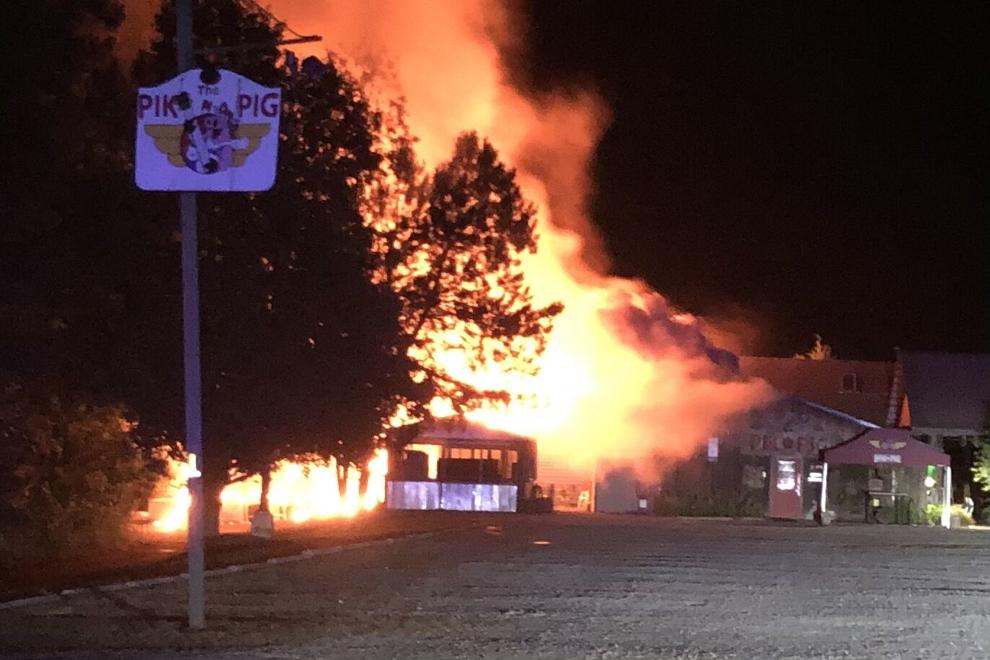 Opened 14 years ago by Ashley Sheppard and his mother Janie Sheppard, the fly-in restaurant has developed a following among amateur pilots and professional airmen alike. A detachment of Black Hawk helicopters landed for lunch at the eatery earlier this year.
The Sheppard family has been serving barbecue in Moore County for over four decades, according to the restaurant's website. Ashley Sheppard was recently named one of the featured pit masters for the inaugural Pinehurst Barbecue Festival in September.
After learning about the fire, the festival's organizers launched a GoFundMe campaign to help the Sheppards and their displaced employees. The online fundraiser had received nearly $30,000 in donations as of Tuesday morning.
"The Sheppard family has been an institution in the local community for over three decades, and the barbecue reputation they have developed here and outside our county is one of the main reasons that the Pinehurst Barbecue Festival invited Ashley Sheppard early in the planning to be one of the featured pit masters for the event this September," Peter Stilwell and David Droschak, the festival's co-founders, said in a joint-statement to The Pilot. "It was the right thing to do to try and promote awareness that this family is special to the Sandhills community, and anything that the GoFundMe fundraising campaign can offer to the Sheppard family after such a tragic restaurant fire will help them start the recovery process and look after their employees."
A separate GoFundMe has been created to support the family of Roland Gilliam, who owns the restaurant's building. The organizers of that campaign, which had raised nearly $3,000 as of Tuesday morning, said the donations will be used to defray some of the rebuilding costs not covered by insurance.
The Sheppard family called the fire an "extreme tragedy" in a Facebook post on Sunday.
"Please keep us in your prayers," they wrote. "Our hearts are broken."