Nicholas Cowley was hauling his possessions from the woods when the temperature climbed to 95 degrees on Saturday, but he couldn't let the heat slow him down.
Police had imposed a deadline for Cowley and the other members of a homeless encampment behind the Center Park shopping plaza in Aberdeen. They were given 24 hours to tear down their tents and vacate the woods.
Paul Sabiston, town manager for Aberdeen, said the campers were barred Friday at the request of an attorney for Overton Body Shop, the Southern Pines business that owns the land. If they return, the six campers banned from the site could be charged with trespassing.
Cowley said he doesn't know why Overton decided to kick out the group, which included a father and son who had lived in the thicket for three years.
"We come down here to sleep at night," Cowley said. "We don't bother anybody and we keep it clean."
But in a joint statement provided to The Pilot on Tuesday, the owners of Overton Body Shop said the property "was littered with garbage, debris of all kinds, and human waste."
"These conditions represent a potentially environmental hazard as well as a health hazard to our employees and customers," the owners wrote. "Additionally, we have had several instances of unprovoked aggression from individuals trespassing on this property towards our staff. In some cases, even our customers were accosted."
"Over the course of the last several years we attempted to peacefully encourage these trespassers to vacate the property by asking them to leave in person, and posting signage. Unfortunately, the property continues to be occupied by some individuals and because we cannot identify who remains on the property, and who is responsible for the aggressive behavior, Overton Body Shop contacted authorities and took the appropriate and legal measures to have these trespassers removed from the property."
'Convenient Place'
Brian, who declined to share his last name with a reporter, moved to the encampment a few months ago.
He said he has a job and is trying to save up enough money to afford the deposit on an apartment. Brian could stay at a hotel, but he said the cost of renting a room every night would leave him unable to set any money aside.
Though far from cozy, the encampment had a makeshift shower and a large canopy that sheltered campers from the rain. It was a short walk from resources like the Sandhills food bank.
"This place was just really convenient," Brian said. "We had water and (access to) places where we could charge our phones."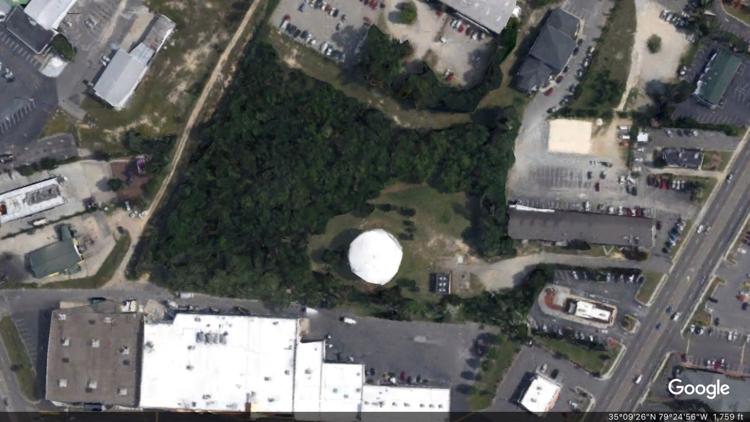 Brian and his 19-year-old son were photographed by police as part of the barring process. He said law enforcement had known about the encampment for a while.
"They never had a problem with us," Brian said, adding that he is not bitter with authorities. "They've got a job to do and they were just fulfilling their job."
He insisted that members of the encampment did not allow litter to accumulate in the woods. Brian said he was unaware of any campers acting aggressively toward Overton's employees or customers. 
"It's not like we were going over there and vandalizing their cars or nothing," he said, gesturing in the direction of the vehicle repair shop. "The woods ain't been burned down and we weren't trashing the property. People out here are just trying to survive."
Brian said the group has found a new campsite, but he worried they would be kicked out again if he shared the location.
Seeking Shelter
Cliff Brown is the director of TEAM Workz, a nonprofit that launched this year to address homelessness in Moore County. He said the organization would have tried to help relocate the campers had it been made aware of Overton's decision.
"We may have been able to reach out to resources to help prepare them, find a (different) location and provide transportation," he said.
Brown, a retired sergeant with the state Department of Corrections and a former president of the State Employees Association, said The Pilot's report earlier this year on local homeless encampments stirred interest in the plight of unsheltered residents, prompting him to convene a series of community meetings that led to the formation of TEAM Workz.
The organization hopes to establish a homeless shelter in Moore County. While the county is home to a handful of transitional housing programs, they accept only single mothers and women recovering from substance abuse.
With few other options, many of the county's homeless men are forced to sleep in the woods. Five of the six people banned from the encampment on Friday are men.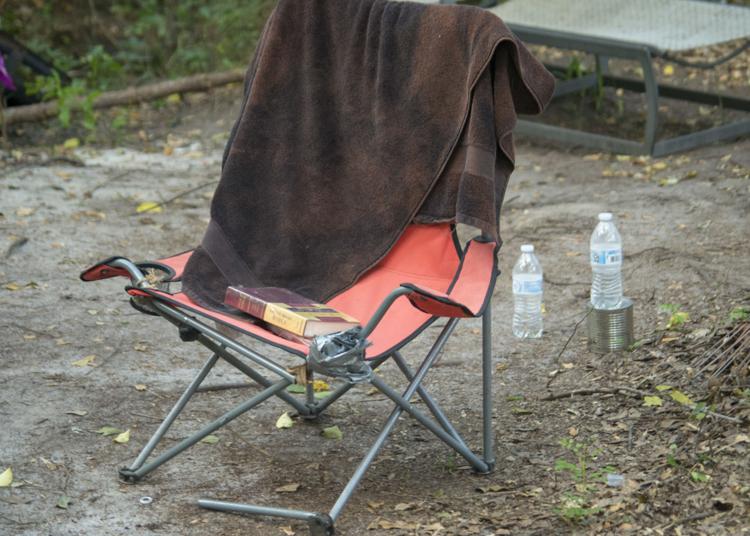 Other homeless encampments have been found in wooded areas behind Flowland off U.S. 1 and Pinehurst Senior Apartments. But because unsheltered residents were not tallied as part of this year's point-in-time count, it is difficult to know the true extent of homelessness in Moore County.
Members of TEAM Workz are researching Place of Grace in Rockingham as a potential model for the area. That shelter was created after officials in Richmond County agreed to give a vacant middle school to a local church in exchange for land.
Moving Out
When The Pilot first reported on the encampment in January, people were using donated space heaters to warm their tents.
Rich Moyer, a homeless widower from Pennsylvania, was among the 12 campers who had taken refuge in the woods at the time. He was with Nancy Serravalle, a Connecticut transplant who also lived in the encampment, on the night she died in November. Serravalle was struck by vehicles while attempting to cross U.S. 15-501.
Moyer said local churches dropped off food and held worship services at the encampment. Reflecting on the deaths of Serravalle and his wife, Moyer told a reporter it was difficult to believe in God.
According to Cowley, someone offered Moyer a place to stay after reading the article in The Pilot. Churches have continued to visit the encampment, but Cowley doesn't know how they will find the group now.