Three years ago, Martin McLeod planted 15 acres of hemp on his rural property in Carthage, the first year production was legalized.
McLeod was one of the first licensed growers in the state. These days, this fifth-generation tobacco farmer and his brothers oversee what may be the largest family-owned hemp operation in North Carolina.
In late October, the McLeods harvested 165 acres of a specific strain that produces a high cannabidiol (CBD) content.
The bulk of the hemp "biomass" they produce is sold through contracts to major processors. But the family takes a small portion of the crop to process themselves as Farm Life Hemp, LLC. These products are wholly homegrown "seed to shelf" tinctures and salves that are sold at local produce stands, Moore County retailers, and online.
But whether it's pumpkins or pecans, hay or hemp, farmers face shifting market demand and pricing, and wildcard weather patterns.
"This is not a get-rich-quick thing. Hemp seeds are $1 a piece. That is a high cost and there are a lot of risk factors," McLeod said.
Political winds also make this alternative crop more volatile. Legislation has been a tug-of-war between the state and federal regulations. Law enforcement has also proven challenging since there is little difference -- to the eye or nose -- between hemp and marijuana.
Alternative Crops and Theft
It's not dope. And no, you still can't grow hemp in your backyard.
Technically hemp is the term used to classify varieties of Cannabis that contain 0.3 percent or less of tetrahydrocannabinol (THC).
In 2015, a new state law allowed the Industrial Hemp Commission to develop a set of rules and licensing structure to keep farmers within federal regulations. That law was modified in 2016, and industrial and medicinal hemp regulations feature prominently in the N.C. Farm Act of 2019, adopted in late October.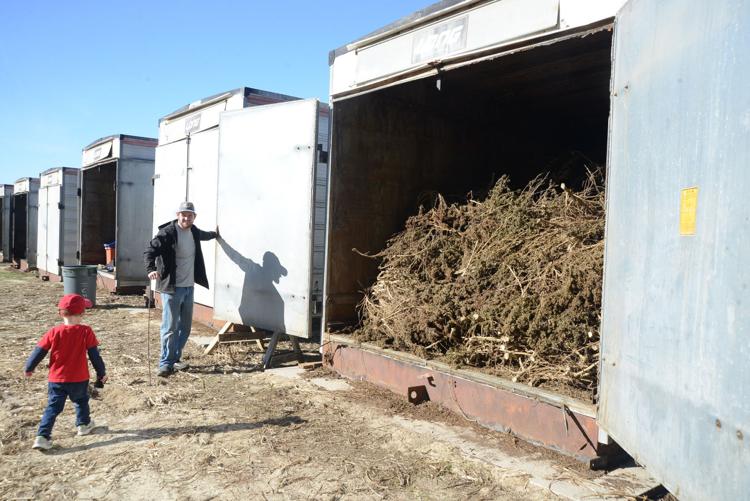 For now, the U.S. Department of Agriculture has issued interim rules that govern all state hemp programs, and North Carolina's pilot program is authorized to run one more year. After that, new federal guidelines are expected to be enacted -- possibly putting more restrictions in place.
McLeod said, based on his own experience, that he'd like to see the new THC maximum threshold for hemp products set at 1 percent.
"That would be a fair number. The .3 percent we have now is just an arbitrary number," he said, "and if they go with the numbers they are discussing now, everything we grow would not be compliant."
Like most hemp growers, he knows firsthand stories about farmers who have been forced to destroy their crop because it fell just outside established guidelines. McLeod said at 1 percent THC, there is no chance a hemp product could create "a high."
But regardless of the underlying genetics, there is no mistaking the simple fact that his hemp plants look and smell like pot.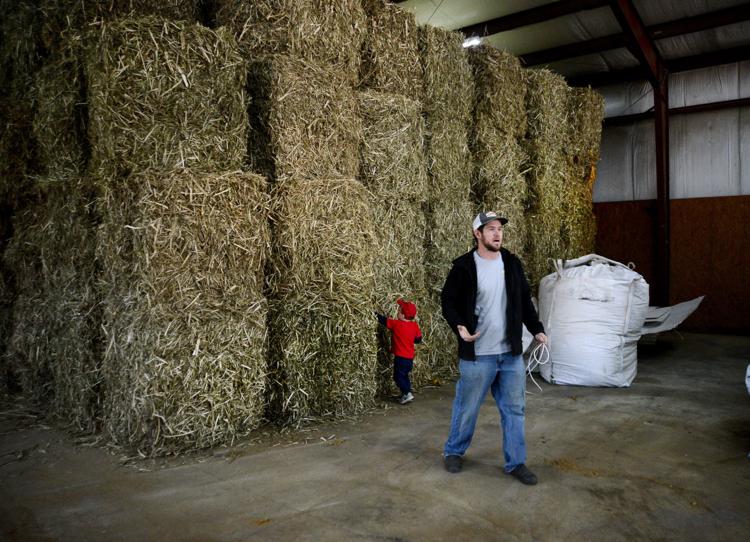 In an effort to protect their investment, the McLeods planted a 60-foot buffer of corn around the perimeter of their fields, but once the plants hit maturity, the smell gave them away.
"One guy pulled out 80 plants by the roots," McLeod said, noting that crop theft is considered a felony.
In September, the Moore County Sheriff's Office was tipped that a theft was expected to occur, and they set up a stakeout hidden in the field. Another time they used a heat-seeking drone to watch for trespassers on the McLeods property.
"I have to say the Sheriff's Office really did a great job. We really appreciate their help and also the Whispering Pines Police also patrol this area."
Politics and Hemp
North Carolina has a big advantage in the hemp industry because of the region's history. There are a number of growers, like the McLeods, who already have substantial infrastructure in place -- greenhouses, drying barns and other farm equipment -- that can easily be converted from tobacco to hemp production.
"Hemp has become one of the things we are trying to figure out. Everyone is trying to figure out this market," said Sandy Stewart, assistant commissioner of N.C Department of Agriculture, who also serves as vice-chair of the N.C. Industrial Hemp Commission.
Stewart was a guest speaker at this year's Farm-City Banquet held in Carthage, where he lives on the family farm where he grew up. He's also a cousin to the McLeod brothers.
"There is an industry here that understands smokables," Stewart said.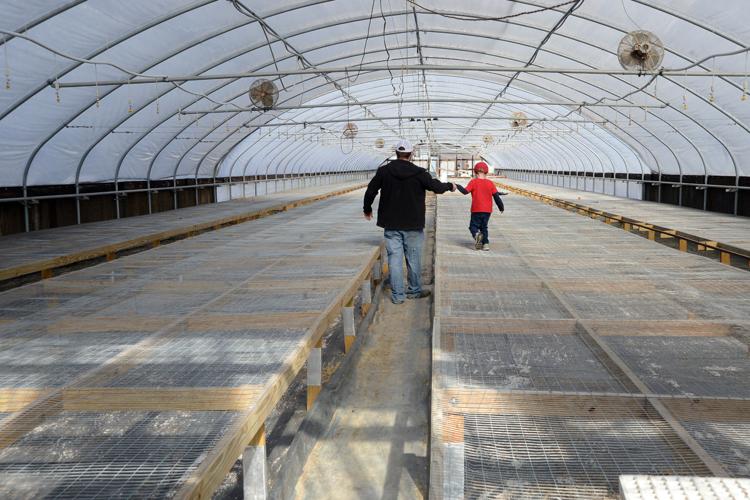 Importantly the state legislature adopted new restrictions that will make smokable hemp illegal as of June 1, 2020; however, there is still plenty of market options for hemp whether in seed, fiber or floral production.
Hemp fiber is less profitable but a safer alternative, at least dollar-wise, since the plants used to make it are male. Different products include twine, paper, carpeting, clothing and even injected molding for vehicle doors.
Hemp seed or the female plant floral parts can be used to make industrial oils and cosmetics, CBD-related products including tinctures, salves and foods.
The CBD oil market could broaden if the Food and Drug Administration (FDA) approves its oil as a food supplement but, for now, regulations on hemp are becoming more restrictive -- not less.
New USDA guidelines will provide farmers 15 days to harvest their crop after it's been tested. Currently the law allows them up to 45 days, and there are concerns that profits will suffer if fields must be cleared before the CBD-rich flowering parts have fully matured.
Taylor Williams, Moore County's agricultural extension agent, said there are 18 local farms that have established a hemp license, and counting legal custodial subcontractors, there are about about 25-30 hemp growers in the area.
"Everything in this county is being raised for CBD oil extraction," he said. "And they are using the existing supply chain that was set up for tobacco production. That is one of the competitive advantages here in North Carolina. That and our climate and soil are very well acclimated to this crop."
Historically, most farmers plant tobacco around April 24. Hemp, however, is more "daylight dependent." Williams said its optimum planting date is closer to the summer solstice.
"Our growers have enough experience that they know the consequences. You want it to flower, and flower at a certain size," he said. "In about 10 weeks, it is ready to harvest."
The goal is to maximize the CBD contents without going over the legal threshold.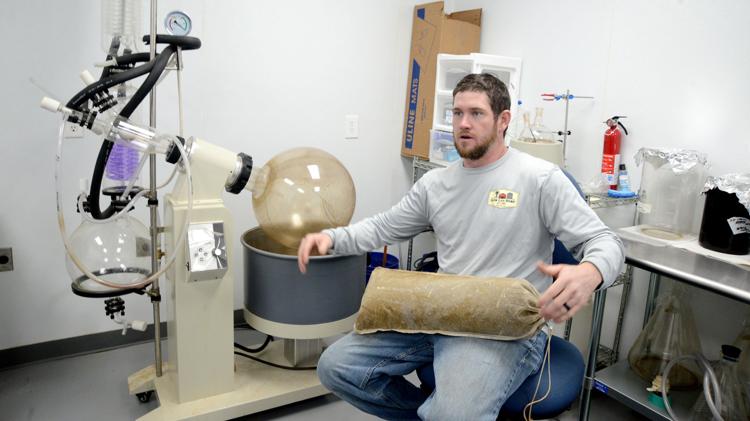 Hemp growers also have to be careful because the plants themselves are very absorbant. Old pesticides in the soil can be drawn up by the plants, as will heavy metals. Hemp is also susceptible to micro-toxins and moisture damage.
"It is really remarkable. They are taking on this complicated crop about which we have very little data and they made it work," Williams said.
He estimated an acre of hemp costs around $12,000 to grow and could be worth up to $35,000. The hemp profit this year across the state was projected at around $20 million.
"In no single year has the tobacco crop ever exceeded about $18 million," Williams said. "But the thing is these prices will not hold. This is a very high risk thing and we don't know where the market is going."
From Tobacco to Hemp CBD Oil
The McLeod family of Carthage has been growing tobacco for decades; but that market has dried up with the ongoing trade war with China.
"We went from 600 acres of tobacco to 250 acres just this year. Next year we'll plant even less," said Martin McLeod.
Instead they decided to try their hand at hemp, repurposing the family's greenhouses, barns and fields to this alternative crop.
"It's kind of neat to go from tobacco, something we know has negative effects on people, to growing this. I have seen the positive impacts of CBD oil firsthand," he said.
His father, Joe McLeod, suffers from rheumatoid arthritis and uses the family's Farm Life Hemp CBD oil daily.
"It works. It doesn't take away all my pain, but it definitely helps," said Joe, noting he's also been able to stop taking blood pressure medicine since starting using CBD oil.
As part of their marketing for Farm Life Hemp, the CBD oil products the McLeods process in Carthage, For more information about Farm Life Hemp, visit online at farmlifehemp.com
According to an article published by Harvard Medical School, the strongest scientific evidence has pointed to CBD's effectiveness in treating seizure disorders and the FDA has approved one CBD oil-based prescription.
But for other conditions -- for example insomnia, inflammatory conditions, and anxiety -- there are no definitive studies. And there are other unknowns about extended use of CBD oil, and without regulation or oversight into manufacturing, product quality varies.
Those interested in using CBD oil should talk to their doctor because the products could affect other medications. The FDA also maintains a consumer website with information about CBD use, production and potential health considerations.