It's been a year-and-a-half since a massive sinkhole formed on West Wisconsin Avenue near downtown Southern Pines, after tree debris clogged a stormwater pipe and heavy rains stripped away the soil around the manmade tunnel.
When a motorist drove over the suspended asphalt, it gave way. Fortunately, no one was injured; however, the damage to the roadway was substantial.
Assistant Town Manager Chris Kennedy reported during Tuesday's town meeting that construction bids were solicited on two occasions. Both times they have come back significantly over the expected budget.
Instead, he said, the town is moving forward with plans to complete the project using internal manpower from the Streets and Grounds staff and rented heavy equipment.
"We have the capability to do it. But it means a sacrifice and displacement of time to (other) services we normally provide," Kennedy said.
He anticipated the sinkhole repair will be completed in September, delaying other street projects that had been planned ahead.
"We have bid it twice and there is no hope if we bid it again it will be any cheaper," Kennedy said.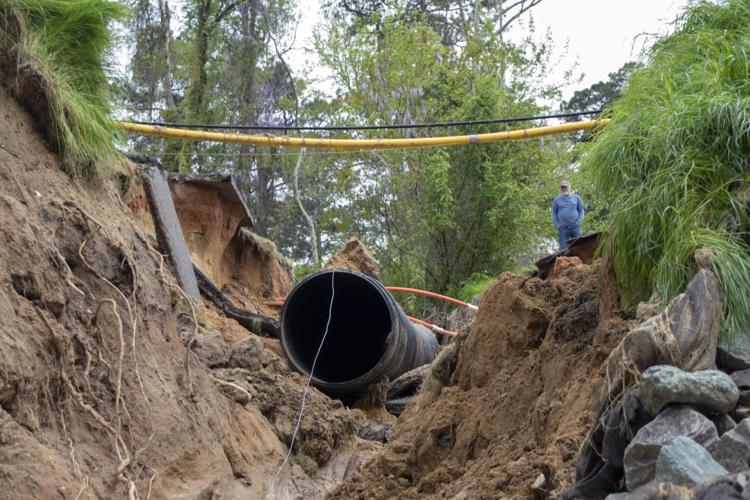 His original estimate was a $100,000 repair. The bids he's received have been as high as $260,000.
The drainage area around West Wisconsin Avenue and U.S. 1 collects a considerable amount of water during inclement weather.
In an interview with The Pilot last year, Kennedy said the previous tunnel design "was solid," but large trees and limbs had been cut down in the general vicinity and not cleared away. When it rained, the pipe clogged, and it compromised the road. The massive sinkhole — estimated to be at least 12-feet deep by 14-feet -- is located next to Spartan Blades.
Kennedy said the cost for the town to close the road off was basically a wash compared to the repair.
The new design calls for a 36-inch reinforced concrete pipe to replace the 42-inch high density plastic pipe that had been at the site previously. The new design also adds a concrete headwall around the pipe and curbing along the roadway.