When Gary and Ann Wooten Kunce began designing their West End farm house on a 60-acre recently timbered spread of land, their plans kept evolving into bigger and bigger dreams.
The same could be said of their barnyard menagerie.
Rescued horses, Muscovy ducks and turtles are here in abundance. You'll also find a "runaway" white dove who recently set up residence, free range chickens, a miniature donkey named Taco, two dogs and enough cats that these high school sweethearts have to confer with each other before figuring out the answer: they have six.
Their newest addition is a pair of mute swans. Gliding across the farm's irrigation pond, the birds' white plumage and graceful necks evoke childhood fantasies about fairy tales and castles. The truth is far grimmer. The bonded pair spent most of their lives in a small, indoor pond — decor, for lack of a better word — at a swanky hotel outside Washington, D.C. Their fountain space was so restricted, they could either swim continuously or take turns standing on a platform only big enough for one at a time.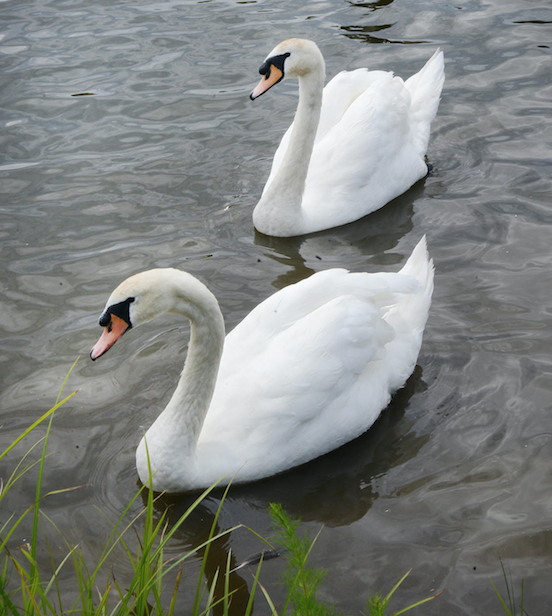 When hotel guests complained, the swans were delivered to Carolina Waterfowl Rescue (CWR) in Indian Trail for rehabilitation and care.
"This is our peak season. We have several thousand animals here," said Jennifer Gordon, CWR's executive director. "We have several hundred ducks and geese waiting for homes, in addition to our wildlife rehabilitation program.
Like many businesses and nonprofits, CWR has struggled mightily the last few months. The pandemic dried up funding resources, but the biggest impact has been on their volunteer base. The organization's 11-acre facility near Charlotte usually schedules 400 volunteers into shifts to help care for around 1,000 baby birds during the nesting season. Hatchlings require feeding every 15 minutes or so.
"We are trying to stay alive. It has been a difficult year," Gordon said.
For the rescued swans, their happily-ever-after story began three weeks ago when the Kunces came calling. They dropped by CWR to adopt a few more Muscovy ducks and were enchanted by the swans.
"I saw them and thought they would be neat to have at the farm," Ann said.
Ditto those same thoughts for pretty much every other creature they've adopted.
Jake was a three-year-old stallion surrendered to Moore County Animal Services because his former owner "couldn't do anything with him." Now gelded, he is quick to poke his head out of his stall for a scratch or treat.
Roho is another rescued horse, pulled from an auction house "kill pen" by Blue Bloods Thoroughbred Adoption and Placement. In the next stall is Dusty, also known as Trusty Dusty, a sorrel from Sandhills Horse Rescue.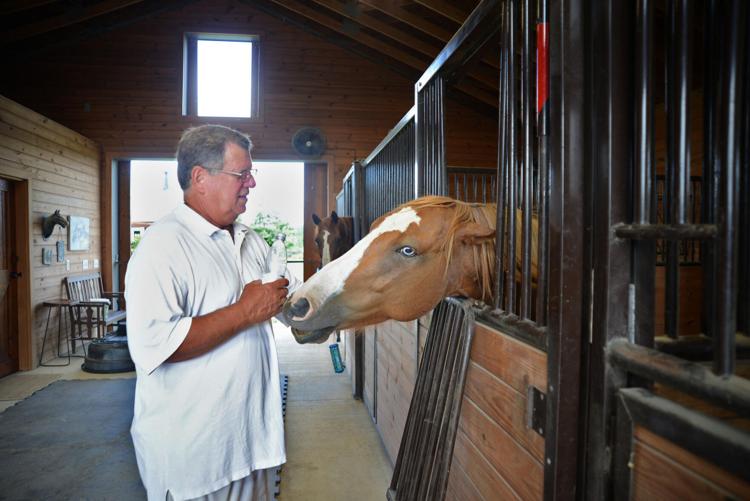 Taco, the miniature donkey, suffered from neglect before he arrived at the farm. He's getting up there in years and his calm demeanor can be deceptive.
"His breakfast looks like oatmeal. But if I forget to put a banana on top, he starts braying like crazy," laughs Ann.
Closer to the house, Fred the rooster struts along grandly. It's pretty clear who is really in charge around here.
To visit the swans for twice-daily feedings, the Kunces stride past thousands of hours of hard work and perseverance.
Their farm is dotted with small, commercial ventures. A future U-Pick-style blueberry patch is growing nicely near the couple's muscadine grape orchard. They also harvest lavender bushes, sell farm fresh eggs and keep bees. The honey is marketed as Toody Bear Honey, named after a beloved cat they rescued from the Pinehurst train trestle.
You can find their Magnolia Lane Farm products sold locally at Nature's Own in Southern Pines. When in season, their lavender can also be found on the shelves at Hollyfield Design in Southern Pines and Burney Hardware in Aberdeen and Seven Lakes.
Back at the pond, they stop to visit briefly with Wingman. The rescued Muscovy duck came to them with a wing deformity — likely the result of poor nutrition when it was a juvenile.
There is also a Canada goose with a broken wing nearby, and a more transient flock of geese keeping tabs on their progress. It's hard to tell who is more excited to see Ann arrive with a bucket of waterfowl food mix and cracked corn: the swans, the geese, the ducks or the enormous catfish lurking below the water.
What's most remarkable is that four years ago this same ground was barren.
"We had talked about having a farm for years. We had looked all over, including in Virginia," Gary said.
Ironically, the couple were living basically next door at the time in the Seven Lakes West community when their realtor showed them the 60-acre tract.
The raw and muddy timbered land looked more like historical images of Pinehurst and Southern Pines taken at the turn of the last century than a horse farm. There was literally nothing left except a few scrub bushes.
Looking to local experts for help, the Kunces brought in Carthage farmer Lewin Blue to design and dig their irrigation pond. They also had to grind down the tree stumps. Instead of burning the torn-out vegetation, they brought in a company that mulched the debris, which enriched the soil.
Gary designed and constructed the barn while local builder Kenny Puckett of KP Quality Builders designed the couple's home.
The farmhouse features Craftsman-style architecture with a soaring post and beam interior design. The home received a Gold award, the top recognition in its category, in the 2019 Builder Awards sponsored by the Moore County Homebuilders Association.
There are no ugly ducklings in this tale.
For Ann, it was love at first sight. One day while she was in home economics class, the Aberdeen gal looked out into the courtyard at Pinecrest High School.
Gary was standing with friends. His leg propped up against a bench.
"He had on blue pants and a burgundy shirt," Ann recalls. "I told my friend, "I'm going to marry him some day."
Gary breaks into a smile and interrupts her reverie, "You should have been paying better attention in class!"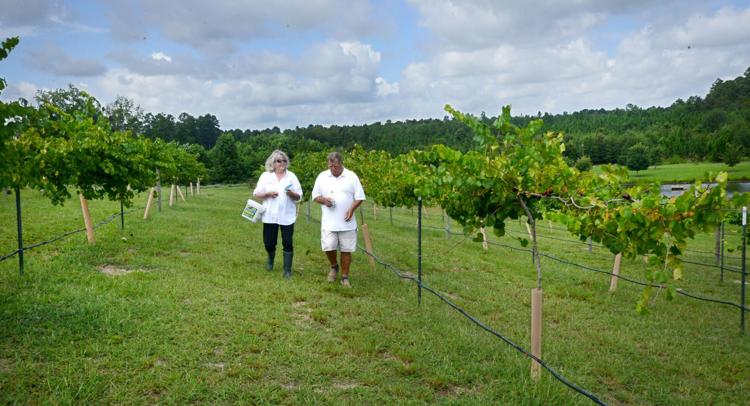 The couple were 15 and 16 years old, respectively. This October they celebrate their 40th wedding anniversary.
Following college, Gary worked most of the intervening years for Duke Progress Energy. Ann established Village Insurance of the Sandhills and First Casualty Insurance Group.
Together the couple also owned and operated a property management company and founded River Jacks Outdoor Trading Co. in downtown Southern Pines.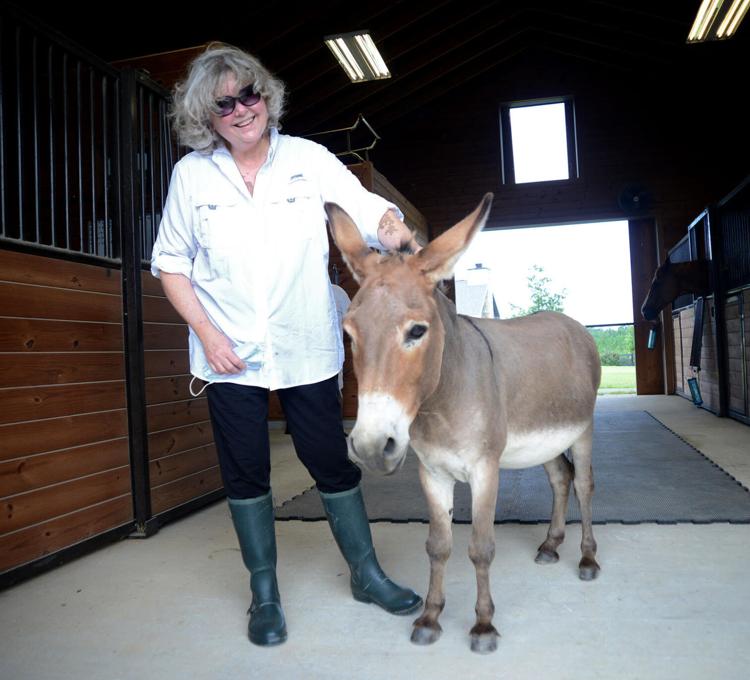 Somehow they managed to find time to travel extensively and owned vacation homes on the coast and mountains. In their younger years, the Kunces even refurbished a sailboat they pulled out of a junkyard.
"We always liked to keep busy," Gary said. "People always say now that we are retired, we should travel but we've already done that. Having a farm, now that is something we hadn't done before."