Two charities teamed up Thursday to spread some sorely needed holiday cheer to children affected by Tropical Storm Florence in Vass.
About 30 bicycles were distributed to families at New Hope Baptist Church on Lobellia Road, one of several areas that experienced heavy flooding when Florence pummeled Vass in September. The giveaway was a collaboration between Project Santa, a Southern Pines nonprofit known for giving bicycles to needy children, and Operation AWOL, an organization launched in the aftermath of Florence to assist flood victims.
Ming Gillis, who serves on boards for both groups, spearheaded the giveaway. Having worked closely with residents displaced by Florence, Gillis knew which families were struggling to afford Christmas gifts for their children.
He identified about 30 families whose budgets had been stretched thin by the storm.
"We specifically hand-picked the bicycles and made sure we had enough for each child," Gillis said.
The median household income is little over $27,000 for Vass, making it one of the most economically disadvantaged towns in Moore County. Nearly a quarter of the population lives below the poverty line.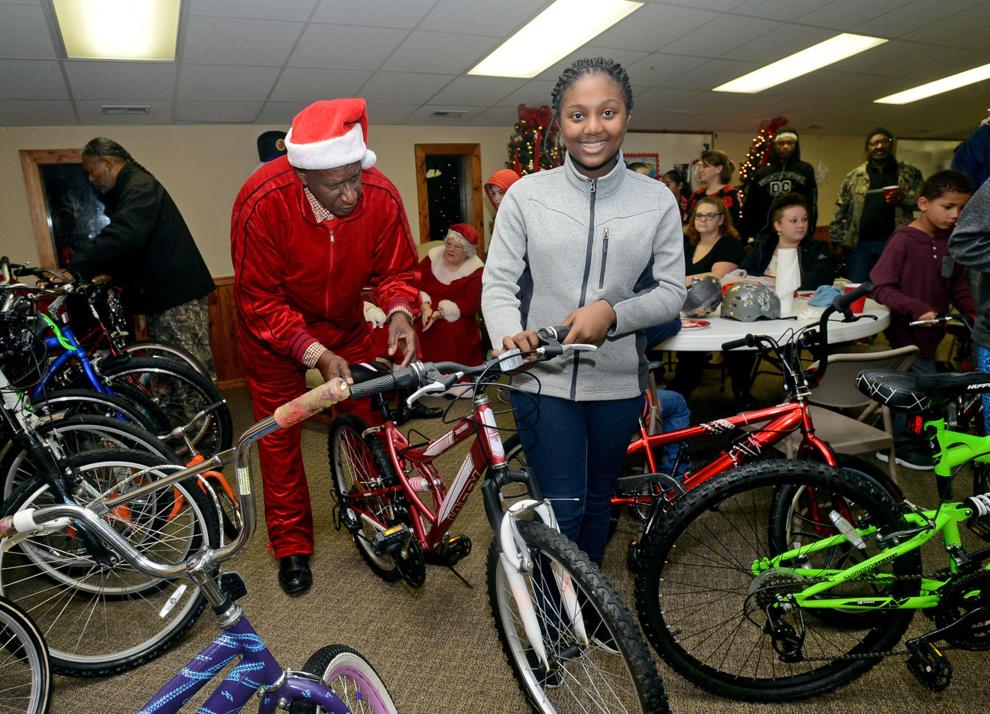 Tropical Storm Florence dealt a crushing blow to the community, where many people had not yet recovered from the damage caused by Hurricane Matthew in 2016. Emergency crews were deployed to flooded neighborhoods to rescue residents, who later returned to find heaps of sodden possessions and uninhabitable homes.
"The Vass area was dominated," said Sharon Thompson, a volunteer with Project Santa. "They lost everything."
Thompson, who assisted with Thursday's giveaway, said she was "heartbroken" after seeing the storm's toll on the small community.
"It's one thing to see the devastation on TV," she said, "but it's totally different to see it in person."
Thompson said she and other volunteers from Project Santa were quick to go along with Gillis' plan to distribute bicycles to flood victims in Vass.
"We wanted to support Mr. Gillis because he's always supported us," Thompson said. "He's been out there with the families since Day One."
Project Santa traditionally holds a giveaway before Christmas in Southern Pines, where children are invited to choose from an assortment of donated bicycles. The event on Thursday allowed children in Vass to pick up bicycles bought specifically for them at a venue that was more accessible to families without transportation.
As the giveaway was winding down, storm-affected residents began filing into the nearby Crains Creek Fire Department for a community meeting organized by Moore County Emergency Management. The meeting was called to share information about grants that can be used to rebuild or replace flood-damaged homes.