America's founding virtues are not something that belong only in ideological discussions, textbooks or courtrooms. A new grassroots movement that has taken root in North Carolina aspires to place permanent replicas of the Declaration of Independence, United States Constitution and Bill of Rights on publicly owned land.
Collectively known as the "Charters of Freedom," these documents honor and provide guidance of our nation's governing principles.
On Tuesday, the Moore County Board of Commissioners heard a presentation from David Streater of Foundation Forward. The educational nonprofit, founded by Vance and Mary Jo Patterson of Burke County, aims to install permanent displays of the Charters of Freedom in all 100 North Carolina counties and, eventually, in all 3,142 jurisdictions across the country.
Each project is entirely funded through private donations. No tax dollars are used.
County Chairman Frank Quis expressed enthusiasm for the proposed project.
"I don't think we want to waste any time on getting on with this. The question is where to put it, but I think we have plenty of (appropriate) places," Quis said.
Pauline Bruno, president of Moore Republican Women, said she was initially introduced to the Foundation Forward mission during a state convention in Asheville. More recently she attended a Charters of Freedom dedication ceremony in Rockingham County.
"I knew we needed to do this in Moore County," Bruno told county leaders. "This is a wonderful project. Let us do this for our children, our grandchildren, our great-grandchildren and the generations to come."
Streater said they call the displays "settings" rather than monuments because they represent the words that formed our nation.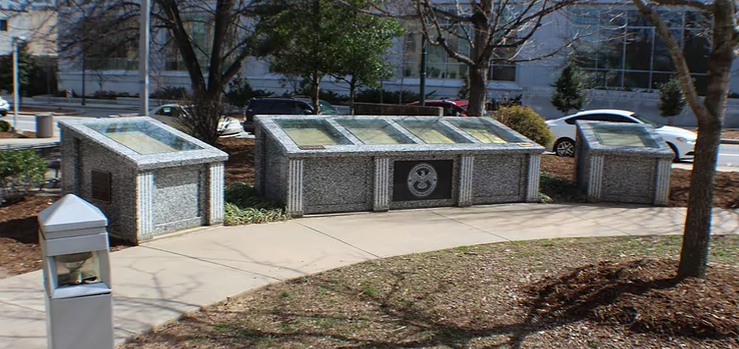 "We are not just preserving history, we are practicing it," Streater said, noting the organization would work with local schools to provide free educational materials about the setting. "We encourage experiential learning opportunities for students."
The original documents are enshrined in the National Archives in Washington, D.C., under glass in a semi-circular display. Similarly, the proposed project would install replicas on bronze tablets under glass on solid concrete bases. The exterior surfaces can be clad in a material appropriate to the surrounding structures, whether that is granite, red brick, or limestone.
Typically each setting also includes permanent pavers for citizens to honor family members, military or first responders, or business sponsors. In addition, a donors' plaque would be placed prominently at the Charters of Freedom setting. Large donors are recognized as "stakeholders" and receive a certificate of ownership and recognition at the Charters of Freedom corporate headquarters. A time capsule is also sealed at each project site to be opened on Constitution Day, Sept. 17, 2087, which is the 300th anniversary of the Constitution.
Thomas Adams, president of the Moore County Republican Men's Club, also expressed his support for the project, calling the Charters of Freedom "our most sacred national documents."
"These founding principles are still alive today and we cherish them," said former district attorney, Maureen Krueger. She encouraged county leaders to select a location where the public could easily view, enjoy and "really learn what these documents contain, not just what they've read on the internet."
Also during Tuesday's meeting, the County Commissioners unanimously approved resolutions calling on the area's federally-elected officials to protect the First Amendment and Second Amendment "to the fullest extent."
Chairman Frank Quis said in several recent meetings, they have heard from a number of citizens concerned about protection of the Second Amendment, and also the First Amendment.
"There is a concern that there are those who, let's just say, are not honoring the spirit of those amendments," Quis said. "We encourage those folks to reach out to their elected representatives in Washington. It is up to you to speak up. We can pass a resolution, but your elected representatives really need to hear from you."
During public comment, Ashley Corsino of Pinehurst said her First Amendment rights were recently denied by the village of Pinehurst. Village leaders recently enacted a new policy that limits the amount of time the public may speak and restricts the content of topics.
Carthage resident Kevin Lewis thanked county leaders for their support of free speech during regular meetings.
"At no time have the county commissioners ever restricted anybody from speaking and that is why I'm concerned about Pinehurst...I implore you to keep free speech open, to not restrict speakers, and not put a time limit on this."