Moore County has been awarded a $20,130 grant to purchase three glass recycling containers to provide adequate capacity at the county's household waste collection sites, especially during periods of high demand.
County commissioners voted unanimously Tuesday morning to accept the grant from the N.C. Department of Environmental Quality and contribute $3,355 in matching funds. The COVID-19 recycling grant was created to reimburse and assist communities with acquiring equipment or resources to support residential recycling programs impacted by the pandemic.
Solid Waste Director David Lambert said the volume of waste received by the county has increased exponentially in recent months — in some areas doubling previous monthly averages — while, at the same time, his department has faced historical shortages in its labor force.
Moore County operates a landfill transfer station on N.C. 5 in Aberdeen, plus the county's seven collection sites where citizens can dispose of household waste and recycling at no cost. Recyclables are commingled and hauled to a materials recovery facility, also known as a MRF.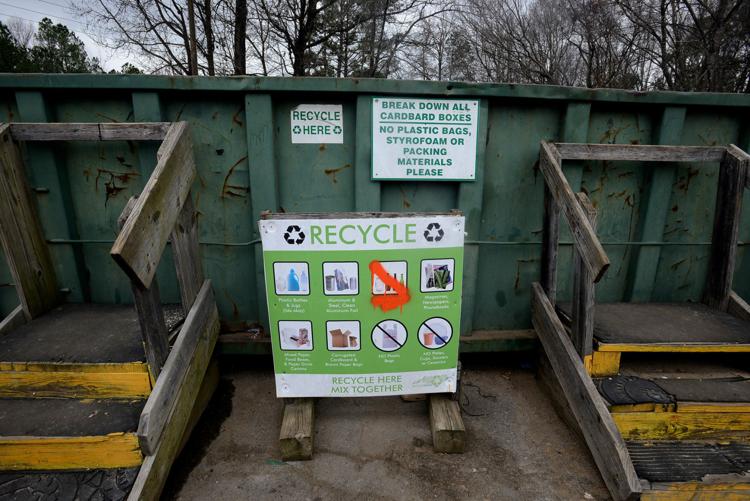 Changes in the global marketplace in mid-2018 caused a cascade effect. As demand for recyclable materials plummeted, disposal costs quickly began to outpace revenue.
In response, Moore County hiked rates for municipalities that use its transfer station and changed how glass is collected and recycled. As those fees ticked up, Aberdeen, Pinehurst and Whispering Pines all opted to eliminate glass from their curbside recycling programs last year. Instead they have encouraged their residents to use the county's collection sites for glass recycling.
Moore County also formed a public-private partnership with Strategic Materials to develop a new aggregation site last year. The company refurbished a "glass bunker" at the county's landfill property, and the county installed separate glass storage bins at each of its seven collection sites. Strategic Materials collects the glass from the landfill once a month or so, at no charge to the county, and hauls it 100-miles to its specialized processing facility.
Lambert reported 884 tons of glass were recycled in fiscal year 2019-2020) versus 400 tons the prior year.
To meet this sudden increased demand, Moore County recommissioned several 20 to 30-year-old open top bins set aside for disposal for glass collection. In addition, since the pandemic, one of the county's busiest collection sites had to be temporarily closed and the county implemented limited collection measures to prioritize materials and reduce recycling contamination.
"The boxes were, and remain, in damaged condition," Lambert said. "There is one in really bad shape. Some others can be repaired and welded and kept in circulation."
The NC-DEQ grant will be used to purchase replacements for the most damaged bins and create some redundancy in the system to supplement storage capacity at some of the county's busier glass collection sites.