As Mark Wagner was cleaning out his desk in the Pinehurst Village Hall for the move to the new $4.9 million community center, he came across original plans for the facility — from 2006.
"This has been a long time coming," said Wagner, the village's parks and recreation director, on Wednesday afternoon as he and his staff continued settling into their new digs.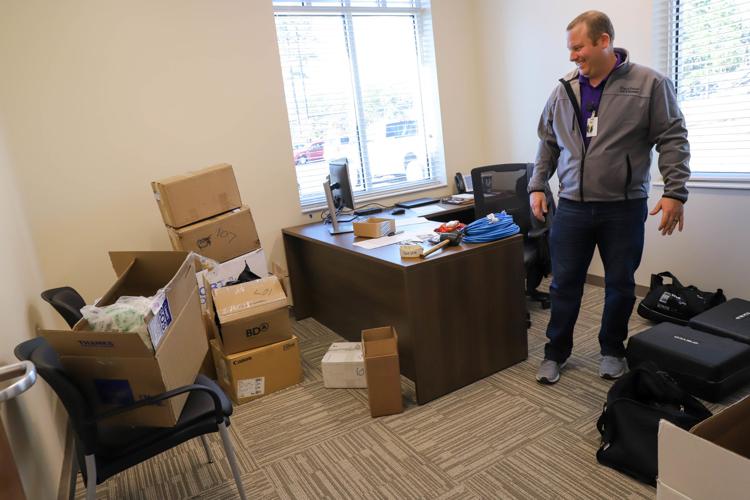 The village first proposed a recreation center in 2005 and added it to its five-year capital plan. But the plans kept getting pushed back because of other pressing priorities and eventually were mothballed.
A previous council resurrected plans several years ago, based on results of its annual community surveys that found residents were not satisfied with the quality of indoor recreation space. The council began socking away money from budget surpluses and other savings.
While the center ended up costing nearly $500,00 more than originally projected, the village was able to pay for it without having to borrow any money, using some of its saving to cover the overruns.
The parks and recreation staff began moving into the center in Canon Park on Rattlesnake Trail last Monday, more than two months after it was supposed to be finished.
"We are just happy to finally be here," Wagner said, as village staff and contractors continued putting finishing touches on the building. "We have a pretty extensive punch list that the contractor still has to complete within 30 days."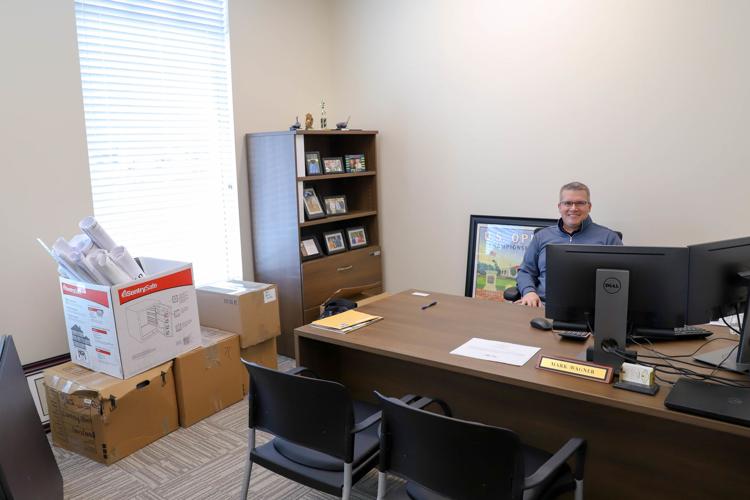 Bad weather and numerous problems with some of the subcontractors caused the delays, Wagner said.
The village received a temporary 30-day certificate of occupancy so it could at least be in the facility at the start of the year and avoid further disruptions to schedules for various classes and programs, especially its youth basketball leagues.
Wagner said most of the items on the list are relatively minor, such as fixing damaged tiles, painting touch-ups, finishing window trims and landscaping.
"We have been able to start holding classes and other programs," Wagner said.
In addition to setting up their offices, Wagner and his staff have been busy doing other things around the facility.
On Wednesday, Wagner, athletic coordinator David White, events coordinator Megan McDonald and events assistant Emily Zalneck were unboxing and setting up patio furniture as a landscaping crew worked nearby.
Inside, Chief Information Officer Jason Whitaker, members of his staff and other village staff workers were running lines and doing other work to get the wireless network running.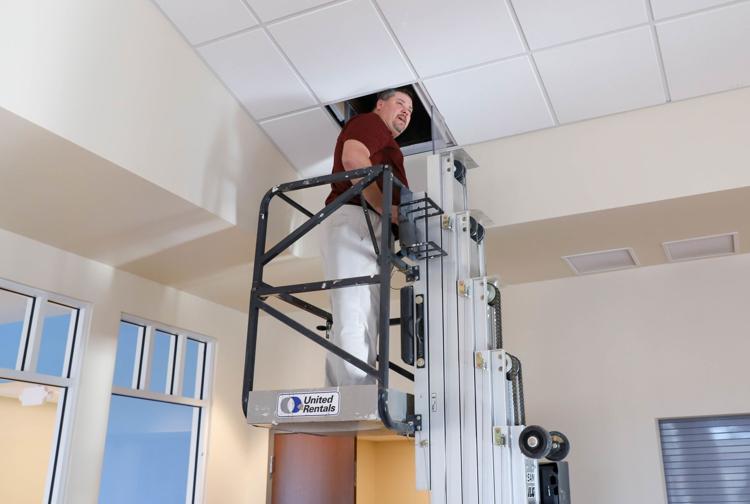 "We are getting there," Wagner said of having things fully up and running.
Wagner said the village had hoped to be in the center in early December for the start of its basketball leagues. That had to be delayed until Jan. 4. He said the season will be extended a couple of weeks to make up for the late start.
The adult leagues, which normally start in the fall, were not held.
The village and its contractors had been racing the clock in hopes of finishing the work before basketball season since the gym at Pinehurst Elementary School has been torn down, along with the rest of the school, to make way for a new campus on the same site.
Several classes have been held in the center during the week. On Wednesday, an art class was going on in the arts and crafts room.
"We love our new art room," one participant said. "This is wonderful."
Wagner said the public reaction so far has been positive.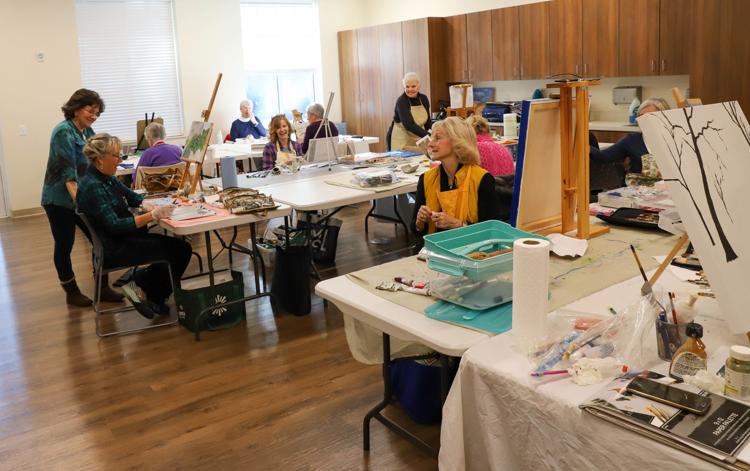 "People really love it," he said. "It is a great facility that is going to allow us to do so much more."
Several years ago, those art classes were held in the lobby of the assembly hall at Village Hall where the council and other boards meet.
An internal study done four years ago determined that that village did not have nearly enough space for its various classes and programs. It recommended that a new community center be built that would also include a gym.
As an interim measure, it recommended that the village lease space in a commercial building off Rattlesnake Trail, which was dubbed the Rec Room, and the kitchen at Community Presbyterian Church for cooking classes. Those classes had been held at the Fair Barn, which took away time the facility could be rented to outside groups.
The lease on the Rec Room space ran through Dec. 31.
"We were at the point where we had to get into the building," Wagner said.
The village broke ground on the 19,693-square-foot center in December 2018. It has a full-size gymnasium with court lines for basketball, volleyball and pickleball, as well as a multi-purpose room, arts/crafts room, programs room, wellness/dance room, offices for the parks and recreation staff, restrooms, storage and a small catering kitchen.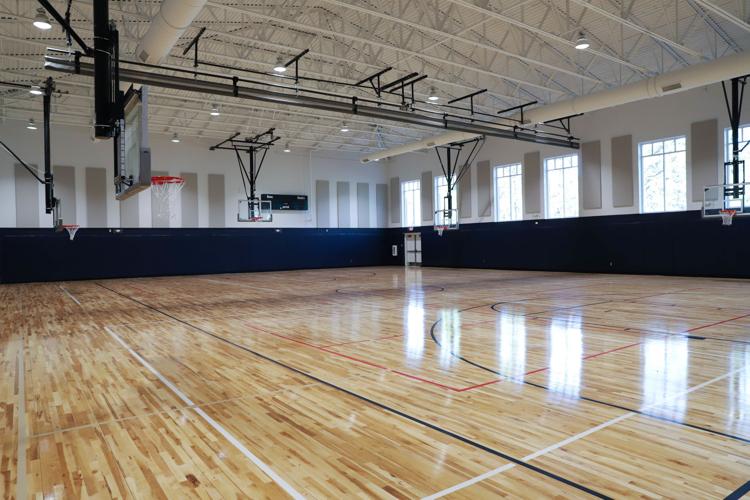 A patio on the side of the building faces the ballfields and playground in Cannon Park and connects to a picnic shelter that Wagner said will be updated.
Wagner and White both said they are glad to have everything under one roof now, with the athletic fields right next door.
"We were pretty spread out before," Wagner said. "Now we can just walk down the hall to check on a program."
White added, "It is a great asset for our community that a lot of people will use."
Wagner said the center primarily is for the use of its parks and recreation programs, but that it can also be rented for outside groups. The previous Village Council adopted an extensive fee schedule for the center last year.
He added that the village has already gotten a lot of interest from various groups about using the new gym for tournaments.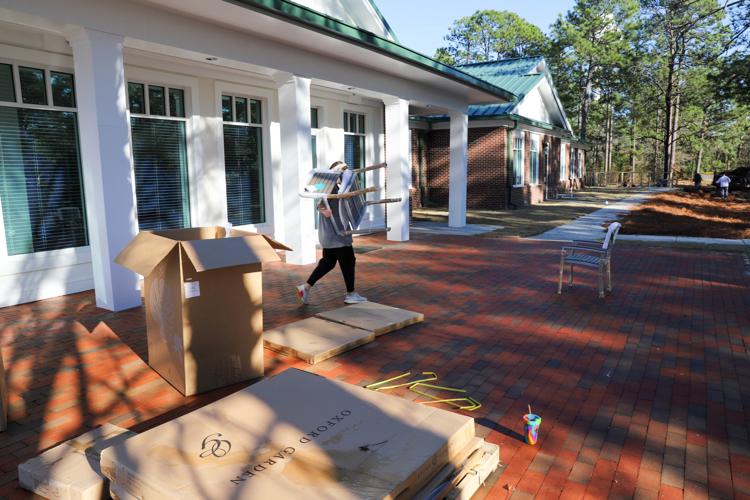 "We will have to find that balance about what we can accommodate," he said. "It is us first and foremost."
Wagner said once everything is finished, the village will hold a ribbon cutting and grand opening for the public.
"This is a big investment for the community," Wagner said. "But it's going to be serving the village for a long time and pay itself out."