Katie Ireland is a bit fuzzy on the details of Sept. 25, 2019. It was about 9 p.m. and her view was partially obscured by a lighted sign when she pulled directly into the path of an oncoming vehicle in Carthage.
What's certain is her recovery has been nothing less than miraculous: a blessing magnified two-fold when she delivered a healthy baby girl in May.
Ireland, 29, learned the day before her accident that she was pregnant. The last thing she remembers was sitting at the stop sign at the intersection of Brinkley Road and U.S. 15-501, thinking the road was clear.
A wrecker driver was the first person on the scene. He'd heard the emergency call over the police radio and decided to head that way. He had only minimal medical training but very likely saved Ireland's life, calming her and holding her head steady until more help arrived.
Moore County EMS was able to stabilize Ireland and, once at FirstHealth Moore Regional Hospital, she was immediately prepped for air care transport to the UNC Hospitals trauma center in Chapel Hill.
Her injuries were myriad; a ruptured spleen, lacerated liver, broken ribs, multiple fractures in her pelvis, and a broken vertebrae.
It would be two days before her neurologist discovered the most gruesome damage: the ligaments in her neck were severed. Referred to sometimes as "internal decapitation," or Atlanto-occipital dislocation (AOD), this is often a fatal injury.
"Outwardly, to look at her she had no injuries except for some cuts and bruises," said her sister, Brittany Arsi. "Internally there was a lot of bleeding. We were told she had less than a 10 percent chance of surviving the accident and less than a 1 percent chance of surviving without deficits."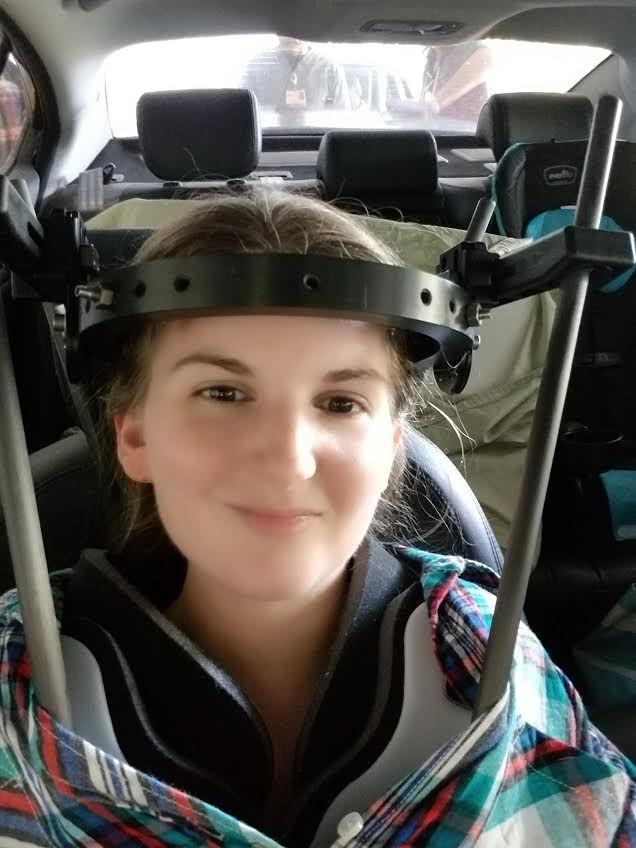 Within an hour and half, Ireland was wheeled back in for emergency surgery to fuse her skull to her spine.
"The doctors said their goal was to save her and that is what they were focused on," Arsi said.
It was only after Ireland survived being fitted with a halo brace did her medical team finally check on the tiny six-week old fetus. She recalls waking up three days later in the intensive care unit.
"They had found a heartbeat!" Ireland said. "They said this was a miracle baby."
It would be another month before she was released from UNC Hospitals followed by more weeks of in-patient rehabilitation at Moore Regional. Ireland's fiance, Zachary Womack, never left her side.
"If you can imagine, I was in halo with a traumatic brain injury and I had morning sickness. I was throwing up all the time," Ireland said. "The doctors were also very stringent about what pain medications I could have because of the pregnancy. It was awful."
She had to relearn to walk once her pelvic fractures had healed. On a lighter note, her sister joked that once she was back on her feet, Ireland's next challenge was finding appropriate clothing.
"You couldn't fit anything around Katie's shoulders because of the halo and then she had this growing belly. Our family's Christmas pictures are something to see," she laughed.
The halo brace was finally removed on Dec. 31.
"That was an awesome day," said Arsi, "and the whole time her belly was getting bigger and the baby was hitting all the milestones for gaining weight."
Emma Charlene Womack was born on May 11, delivered by C-section at Moore Regional in Pinehurst.
"It doesn't feel real until you actually hold a baby," said Ireland.
"I can breathe on my own, I can walk and the baby is fine. Yes my leg feels funny all the time and they've told me I'll never be able to move my neck naturally, but that is the least of my worries."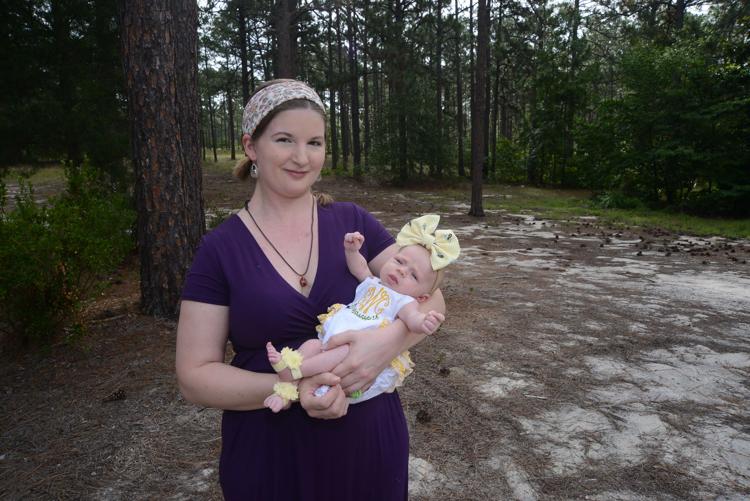 Arsi said she is still amazed at her sister's resilience and recovery.
"Her vision is blurry and she has some trouble with her arm and leg (mobility), but she is clever and funny and she remembers her life."
"It's been a helluva journey. She had an amazing medical team both here at FirstHealth and at Chapel Hill. We also have an incredible community with everyone reaching out to make sure she would be okay," she added. "We have a great little town."