When Carthage adopted a new social media policy last month, several Facebook users accused the town of trying to silence critics.
Dorothy Dutton, the town clerk, said the policy was written to "keep things more organized and respectful" on the town's Facebook page. 
"To be clear moving forward, the public has not lost the ability to comment entirely," Dutton wrote in a Facebook post explaining how the policy will be implemented. "The difference is that the town is the only entity that can make original posts and tagging of the Carthage clerk or the Town of Carthage is not allowed without approval." 
The policy allows Dutton and other employees with access to the town's Facebook account to take steps to prevent the "inadvertent establishment of a public forum." But some residents questioned the constitutionality of the measure, claiming it flouts the precedent set earlier this year by Davison v. Randall.
That lawsuit involved a Virginia man who was temporarily blocked from a public official's Facebook page. A federal appellate court held in January that the banning was unconstitutional.
The case was litigated by the Knight First Amendment Institute, which also brought the ongoing lawsuit challenging President Donald Trump's ability to block critics on Twitter.
Jake Karr, a legal fellow at the institute, said the policy in Carthage does not appear to run afoul of the First Amendment.
"As a general matter, a viewpoint-neutral policy isn't prohibited by the constitution," said Karr, who reviewed the policy at the request of The Pilot. "A town or government typically has the authority to close a public forum, but in closing the forum, it can't discriminate based on viewpoint."
Karr said some of the rules and procedures that local governments use to conduct public meetings can be analogous to social media. Many municipalities, for example, allow citizens to directly address elected officials during meetings, but only during periods set aside for public comment. Even then, citizens are given a limited amount of time to speak.
Undermining the Mission
Dutton created the Facebook page in October 2017 to share event announcements and emergency updates with residents. She said Facebook is a useful tool for the town, but a surge in disparaging comments and harassing messages had threatened to undermine the platform's effectiveness as an organ for community information.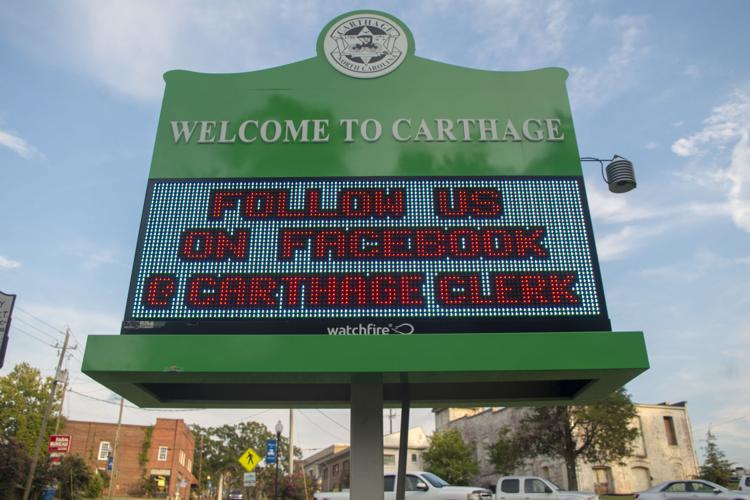 According to Dutton, the backlash began after a hearing for a proposed apartment complex in July. Dozens of people turned out to oppose the project, with critics speculating the apartments would diminish the quality of life for nearby homeowners.
A spokesman for the developer contended that the 66-unit complex would help address the area's dearth of affordable housing. Ultimately, the Carthage Board of Commissioners voted three-to-one to issue a conditional-use permit for the project.
The project's opponents were not happy about the decision. Dutton said the town's Facebook page was soon inundated with derogatory messages and comments, some of which were aimed at her. 
"That was really the final straw," she said in an interview Monday. 
Dutton based the town's social media policy on a template provided by the School of Government at the University of North Carolina at Chapel Hill. Town commissioners unanimously approved the policy on Aug. 19. 
Some residents, Dutton said, accused Carthage of infringing on their freedom of speech. She said people also criticized the critics for forcing the town to adopt a social media policy in the first place.
"There were definitely some mixed feelings about it," Dutton said, adding the Facebook-fueled furor has since died down. 
Why Towns Favor Facebook 
The controversy was somewhat surprising, since similar policies have been in place for years in Southern Pines, Aberdeen, Pinehurst and Robbins. Like Carthage, those towns are more active on Facebook than other social networks.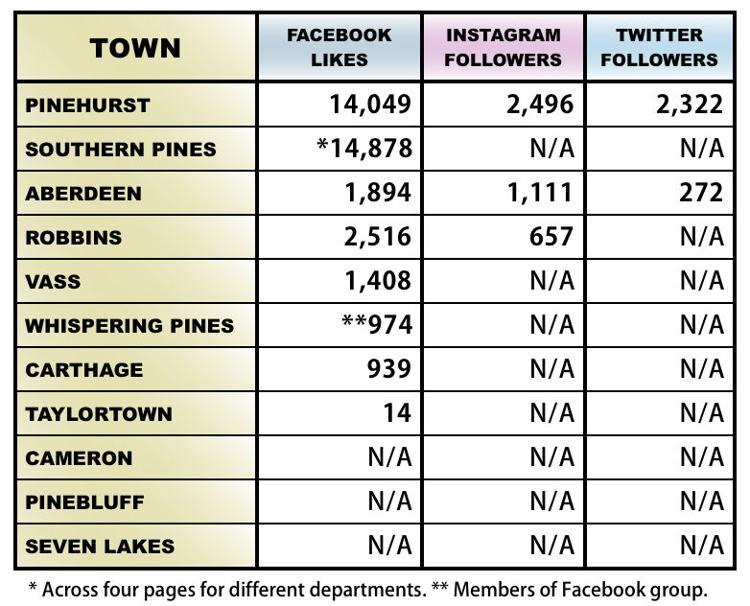 Some towns use the platform differently than others. Instead of interacting with users through a dedicated page, Whispering Pines communicates though a Facebook group with about 974 members. 
Southern Pines does not have a de facto Facebook page. Instead, the town's website directs visitors to pages for the library, police department, fire department and parks department. The four pages have a combined total of about 14,900 likes, though there is considerable overlap between their audiences.
The official Facebook page for Robbins was created by David Lambert, the outgoing town manager, in August 2016. More than 2,500 users like the page, an impressive following for a town with a population of fewer than 1,100 people. 
The town is also active on Instagram, the image-sharing app owned by Facebook. About 657 Instagram users follow @RobbinsRising, an account launched by Lambert in June 2018.
But Facebook, he said, is "where the people are."
Lambert believes Facebook is Moore County's most popular social network because the platform appeals to older residents. People ages 65 and older made up an estimated 24 percent of the county's population in 2015, while the same age group represented slightly more than 15 percent of the state population. 
"Facebook is user-friendly and it crosses all the age barriers," he said. "Not everybody is on it, but everybody knows someone who is."
The platform's ubiquity, Lambert said, makes it an "easy way to engage" with residents.
"If I get a call about a water main leak while I'm driving, I can pull over and get the word out in seconds," he said. "And when people lose power during hurricanes, they can still see updates about local roads and power outages when they pull up Facebook on their phone."
Dutton also believes Facebook is an effective vehicle for sharing information about natural disasters. She used the platform to post updates about road closings in Carthage during Hurricane Florence.
"Having that tool is priceless," she said.
Some social media platforms, Lambert said, are not as "conducive" to government communication. Apps like Snapchat, which is used to share ephemeral video clips and photographs, make it difficult for towns to archive posts, which are technically public records.
Still, Lambert said it's important for towns to embrace multiple social media services. Cross-posting, he said, can be a smart practice for municipalities looking to build their audience on a different platform.
"If you make a video in TikTok and share it on Facebook, that lets people know you're also on TikTok," Lambert said, referring to the video app that soared to the top of download charts earlier this year. "I think social media for governments is a necessity, but when Facebook dies, you're going to need another platform." 
A shortened version of this article appears in the Sept. 11 print edition of The Pilot.