The arrival of food trucks in Moore County caused a bit of an uproar a decade or so ago. Not everyone was on-board with the idea of roving restaurants competing with established brick-and-mortar restaurants, particularly in the downtown areas.
Times have changed and, while you won't be seeing a food truck idling at the curb on Broad Street in Southern Pines on a typical day, town leaders showed willingness during their recent work session to update their food truck regulations.
Local business owners Rachel Jurgens, Brandon Goodman and Mark Parson presented a conceptual plan for a "food corral" at the corner of old U.S. 1 and Morganton Road, adjacent to Jurgens' Pony Espresso business.
She said the site is ideal for this type of set-up, where there is some dedicated infrastructure, such as restrooms, seating and off-street parking for multiple food trucks to operate concurrently.
Assistant Town Manager Chris Kennedy said the current Unified Development Ordinance (UDO) restricts an eligible property — typically lots zoned for General Business — to a single truck at a time.
"The idea is a food corral would be more park-like, with a commercial use," he said. "But with the first one in the door, there is an element of the unknown."
Kennedy recommended the best way to address such requests would be to update the UDO to create a Conditional Use Permit process, which requires an application, public hearing and council approval.
Jurgens said food corrals are popular on the West Coast and said the business hours are family-friendly, in the sense that most operate between 11 a.m. and 9 p.m.
Councilwoman Carol Haney said she liked the idea and the location that Jurgens had selected as a potential "first test" of the concept.
"That corner has been kind of empty for awhile. I think it is wonderful for families and gives them another reason to come together," Haney said. "And this spot is visible from so many places."
After going around the table, Mayor David McNeill tasked planning staff with developing a proposed update to the UDO as discussed.
Loft-Style Apartment Building Concept
The food truck corral idea was just one idea for downtown the council considered last week. Local builder Marcel Goneau speaking on behalf of Wolfbridge Development, LLC, also presented a modified plan for an undeveloped lot in downtown Southern Pines.
Earlier this year, Goneau provided a conceptual drawing for a multi-use building at the corner of Bennett Street and New York Avenue, diagonal to the new Southern Pines Growler Co. building currently under construction. Parking is a primary concern with few off-site options.
On Monday, he presented a newer concept for an 88-unit loft apartment building with a rooftop pool. He described the project as "ambitious."
Plans as presented called for 100 percent development of the site, which would not be permitted under the town's ordinance. Goneau said he is negotiating with an adjoining property owner to see if he could acquire enough additional ground to meet the town's 70/30 impervious surface threshold.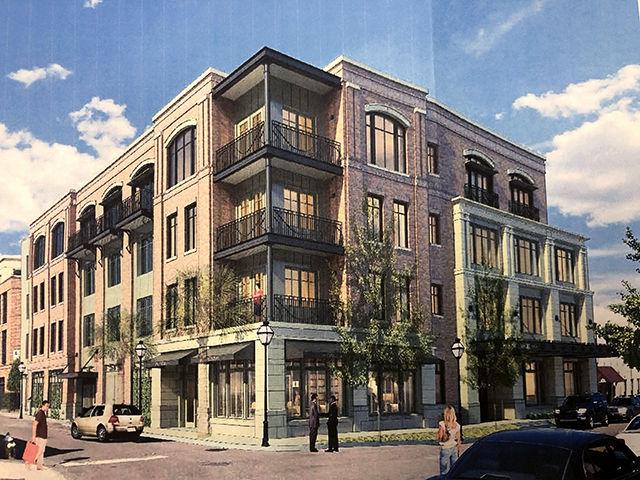 Due to the steeply sloped topography, Goneau designed a below-grade parking lot that would extend underneath the town's existing public lot on the neighboring tract. Altogether he projected off-street parking for 207 vehicles would be possible.
The four story building would include a pool on the top level, and as drawn exceeds the town's maximum building height regulations.
"I realize this is ambitious with our town's UDO. But what I wanted to continue was a conversation to see where we might go. To see if we can find some common ground," Goneau told Town Council members. "Our town has evolved over time, and as things evolve, I have what I hope is another step in that."
He submitted an architectural rendering for consideration that was inspired by a similar project in downtown Charleston, S.C.
Goneau said the loft apartments would be upscale, but believed it to be an apples-to-oranges comparison to other luxury properties in Southern Pines, such as the Legends at Morganton Park.
"When you step outside your door, the downtown area would be your amenity," he said. "You don't have to get in your car and drive. And I hope you can see the benefits that a project like this yields to our downtown."
"This is something new and it will take conversation...my hope is that we can have more conversations about how we might accomplish a project like this," he added.
McNeill encouraged Goneau to continue to work with town staff on the parking issue, noting he liked how the conceptual drawing put most of the parking out of sight.
Councilman Mitch Lancaster said he would support doing something different and big, as long as it was viable and benefits the town's parking situation.
"I would be willing to let him build on top of the town's parking lot land, which might lower the building height because it could spread the project out," Lancaster said. "The town would still get double the amount of parking and that to me sounds like a better project."
McNeill said prior to potential approval, Goneau would be required to submit a conditional use permit application and present the project during a public hearing.