A healthy smile is a happy one. On Friday, the staff at FirstHealth Dental Care brightened a few smiles to a gleam just in time for the holidays with special gifts and a visit from Santa Claus.
Jill Malmgren, executive director of America's Tooth Fairy, a Charlotte-based nonprofit dedicated to increasing access to dental care access and resources for underserved children, presented FirstHealth with a $5,000 grant, plus Oral B and Crest provided donations of toothbrushes and tubes of toothpaste.
"Our role is to find how we can equip those clinics with boots on the ground, in a community, with the resources they need," Malmgren said, noting this past year the organization has provided resources that impacted more than 900,000 children and caregivers.
Established in 1998, FirstHealth Dental Care operates a full-time flagship dental office in Southern Pines, and two part-time school-based dental clinics in Biscoe and Mt. Gilead, to serve children from birth to 21 years who receive Medicaid, or are uninsured and qualify by income level. The three clinics, collectively, average almost 4,000 visits annually.
Dr. Sharon Harrell has served as FirstHealth Dental Care's director from day one and is the regional healthcare system's chief diversity officer.
Harrell received her dental degree from the UNC School of Dentistry in 1987, where she serves as an adjunct professor. She completed an advanced general dentistry residency at the University of Maryland Dental School in 1988, and a master's degree in public health at the UNC Gillings School of Global Public Health in 1990. She has received the American Dental Association Golden Apple Award for outstanding leadership in mentoring for her work with high school students, dental students, and dental auxiliary students from Montgomery Community College and Central Carolina Community College, and young dentists.
In 2011, she was the first recipient of the Pediatric Oral Health Service Award given by the North Carolina Academy of Pediatric Dentistry. Harrell was also selected as a recipient of the North Carolina Dental Society's Citizenship Award, chosen as the Health Policy and Management Alumnus of the Year at the UNC Gillings School of Global Health, and participated in the first Surgeon General's report on oral health satellite media tour.
In addition to her administrative and clinical responsibilities, Harrell serves on the FirstHealth Physician Group's executive council and is a member of the FirstHealth Provider Wellbeing Committee. In January 2020, Harrell was presented with the inaugural FirstHealth MLK Leadership Award.
"When we opened our doors in 1998, about 70 percent of our patients had never seen a dentist or had not seen one within a year," she said.
Harrell credits the Foundation of FirstHealth for ensuring the clinic has the same technology and services to offer its clients as any other dental office. In fact, it was one of the first practices in the area to adopt digital radiography thanks to a FirstHealth grant.
"The only difference is we work with the underserved. We have the same cutting edge technology."
The Foundation of FirstHealth became an affiliate of the America's Tooth Fairy program. Harrell said their partnership has helped the clinic offset costs for  supplies, such as tubes of sealant, plus preventive care items they can hand out to patients.
About 99 percent of FirstHealth Dental Clinic's patients live 200 percent below the poverty line, the qualifying threshold for care. Harrell said any time the economy is not doing well, including during the recent pandemic, the number of patients that need their services increases.
A recent addition to the clinic's toolkit is silver diamine fluoride. If a cavity is discovered during a routine cleaning appointment, they apply this fluoride treatment to stop further decay while a follow-up appointment is scheduled.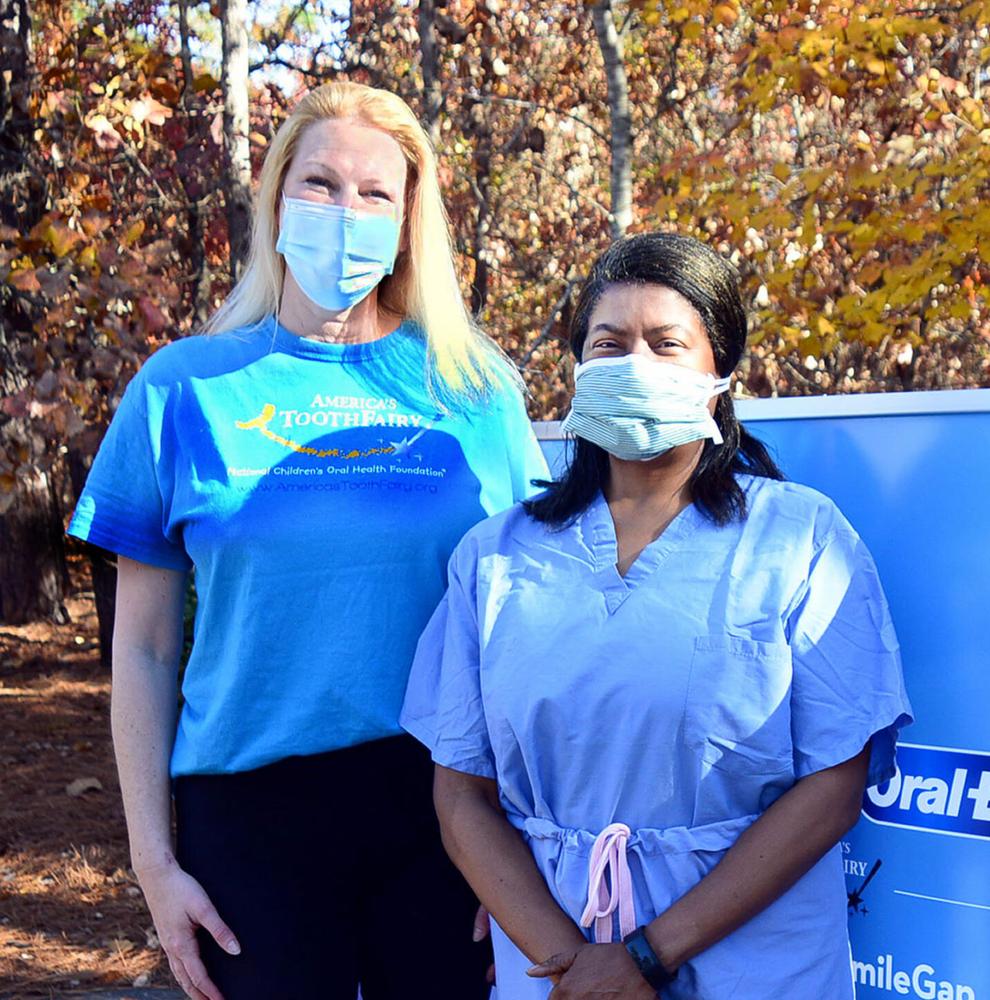 Harrell said to achieve their mission they are also very intentional about hiring staff who have a passion and heart for serving at-need children. On a typical day, the clinic in Southern Pines will have one dentist, three assistants and a hygienist working with young patients.
"We try to offer great customer service for our patients and caregivers because they are facing so many challenges. We roll out the red carpet for them because these are often people who don't get that red carpet experience."
"It is very rewarding work," Harrell added. "The most fulfilling part at the end of the day is knowing you helped someone."