In observance of Veterans Day, the Tunnel to Towers Foundation is honoring those who have served our country by providing mortgage-free homes to eleven veteran and military families, including the family of U.S. Army Specialist Christopher Michael Harris.
Foundation Vice Chair George Siller oversaw a ribbon cutting ceremony last week outside of the Harris family's Fayetteville home. 
Tunnel to Towers has paid off their mortgage in full, after previously announcing their acceptance into the Foundation's Gold Star Family Home Program on Memorial Day.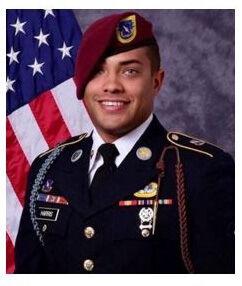 SPC Harris, 25, was killed in action in Afghanistan on Aug. 2, 2017. He was just one month into his first deployment when a vehicle packed with explosives detonated near his convoy, taking his life.
He left behind his pregnant wife, Britt, who was expecting their first child. She welcomed their daughter, Christian Michelle, in March 2018.
The Tunnel to Towers Foundation's Gold Star Family Home Program honors the legacy of those who have made the ultimate sacrifice while serving our country by providing the surviving spouses and young children with mortgage-free homes.
"I feel like I took on a lot by myself after Chris passed, and I tried my hardest to make good financial decisions for myself and our daughter, but at some point it became a lot to do alone," says Britt Harris. "Being a first time home buyer was a lot of stress, and even more hard work. The Tunnel to Towers family helped take that stress away, helped to give me more financial freedom and helped ensure that our daughter and myself have more security. We are eternally grateful!"
She says that choosing Veterans Day for the payoff was a beautiful sentiment.
"Memorial Day was also mine and Chris's private wedding anniversary, and the same day that we had been accepted by Tunnel to Towers, and the week before Veterans Day was Chris' birthday," she says. "So to me it's perfect. It feels like Chris is part of all of this with me."
This Veterans Day, Tunnel to Towers has also paid off the mortgages on the homes of 11 other families across the country.
The Tunnel to Towers Foundation's mission is to honor the sacrifice of FDNY Firefighter Stephen Siller, who laid down his life to save others on Sept.11, 2001. To date, the Tunnel to Towers Foundation has spent more than $250 million to honor and support our first responders and veterans and their families.