When Manfred Rothstein was a boy, in Baltimore, he collected baseball cards and event pennants. When Manny grew up, he put away childish things, became a physician and started collecting back scratchers.
Not buttons off Civil War uniforms.
Not Renaissance medical instruments or political campaign buttons.
Not Elvis commemorative stamps.
Not long-handled wooden rakes from the dollar store.
Not chubby plastic fingers emblazoned with an auto insurance logo.
Some are whimsical. Others, hand-wrought works of art. All perform their intended function.
Taken together, his then-collection of about 600 made the 2007 Guinness World Records Yearbook, as the weirdest new collection.
That assortment now numbers 1,000 scratchers from 51 countries, displayed in cabinets moved to his Pinehurst home when "Dr. Backscratcher," as patients called him, closed his 40-year medical practice in Fayetteville.
His specialty: dermatology. Figures, since dry skin causes itching in places difficult to reach.
A funny thing happened on the way to Rothstein's dermatology residency at Duke University School of Medicine. He received a promo scratcher from the company that makes Atarax, an itch medication.
"It was just cheap plastic… a souvenir," Rothstein recalls.
Still, something clicked. When the Rothsteins traveled, instead of bringing back keychains, postcards or T-shirts he looked for backscratchers. "So what if (shopkeepers) think I'm an idiot. I'll never see them again."
As time passed, "I found another and another. But how many ways can you make a stick with a hand on the end?"
Who says the stick has to be a stick, or the business end a hand? Surely, something more creative relieves notalgia parasthetica.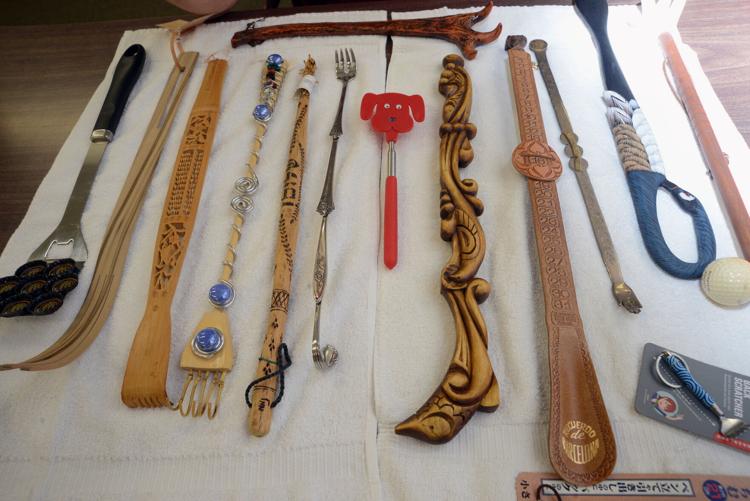 Italy yielded a birchwood shaft. A Russian ceramics artist affixed a caduceus (medical symbol) as the scratcher. Rothstein prizes a jade hand from Southeast Asia.
A glassblower obliged at an Austrian Oktoberfest. His cowboy scratcher is a bison bone. Several represent golf, with manmade turf forming the scratching part and two golf balls massage irritated skin. Reindeer horns, brass from India, a bird of paradise from Palau, plus kitsch from the USA: the Statue of Liberty scratches with (ouch) her pointy torch. He has coastal lighthouses, a hillbilly corncob version and many Disneyfolk.
Look, if a fella can make a silk purse out of a sow's ear, why not, in reverse, a backscratcher out of a silver fork?
Most were priced in the $5-$10 range, $20 tops, although their artistry and raw materials suggest more.
Word got around. First, he asked friends to search out scratchers on their travels. Then, prospective patients began bringing them in, which didn't hurt business. Some arrived with tales.
"This guy from Saudi Arabia promised to bring one back, but I never heard from him," says Rothstein. Then, out of the blue, a stranger walked into the office with a handful of backscratchers. Turns out he learned of the promise through the Saudi Arabian and delivered.
Rothstein tapped other markets, notably Reminisce Magazine, which glorifies nostalgia.
"I put a notice on their classified page that I collected backscratchers," he says, which netted 30 or 40 donations, with few duplications.
Rothstein knows of only one other collector, an Israeli, who has 100, but did not answer correspondence.
News of Rothstein's penchant got around. "Everybody said I should be in Guinness," he says. "I wrote them, but didn't think I'd hear back." He did. Bad news. "We don't do collections," the letter said. However at Christmas Rothstein noticed the Guinness Annual included two pages of collections, including oddities like airplane barf bags and yo-yos.
He wrote back, accusing "You do do collections." The publishers advised him to apply, fill out forms, send clippings and affidavits to authenticate his claims.
Sure enough, his assortment made the listing.
There's more: Rothstein participated in a nationwide skin cancer detection effort that generated thousands of screenings by dermatologists in every state.
Time trudges on, trampling the simple hand tools of yesteryear. Electric toothbrushes and battery-operated screw drivers paved the way for vibrating/illuminated backscratchers. Rothstein's not interested. He prefers a kangaroo paw, alligator claw or hand-carved rib bones.
With a choice like that, who needs a nimble-fingered spouse?
Rothstein is ready to rest on his laurels after being featured on TV and in national publications. Some less-spectacular specimens are packed away. But the retired physician still lights up while discussing ones that represent family trips, near and abroad. Which means for anybody itching to hear a good sleuth story, this doc's got your back.