What happens when a metallurgical engineer, a spacecraft designer, a microbiologist, an air traffic controller turned preacher, a website designer, hospice worker, several teachers and business folk get together?
The same thing that happened in River City, when Professor Harold Hill whipped a group of rag-tag kids into a marching band. "Music Man" Hill proved bogus. New Horizons Band isn't. Their swing and concert bands composed of enthusiastic seniors jam once a week at Sandhills Community College, then pack up their instruments and take the show on the road to churches and retirement facilities, as well as an occasional parade or public concert.
The New Horizons Band in the Sandhills will hold a free concert at 3 p.m. on May 8 at the Mo…
Man, you ain't heard nothing till you've heard "Alexander's Ragtime Band" bounce off the walls at Chapel in the Pines.
During a recent concert at Quail Haven Village, wrinkled faces lit up and arthritic joints jiggled.
A joyful noise, indeed, made by guys and gals who know Ellington, Hampton, Goodman and Miller as more than a "Jeopardy!" category.
"This was exactly what I was looking for," says tuba meister Neal Yocom, once a high school band director in the U.S. and abroad, got his lip back in shape. That accomplished, Yocom yearned to improv a la Satchmo Armstrong.
Now, "I get to play all the fun parts."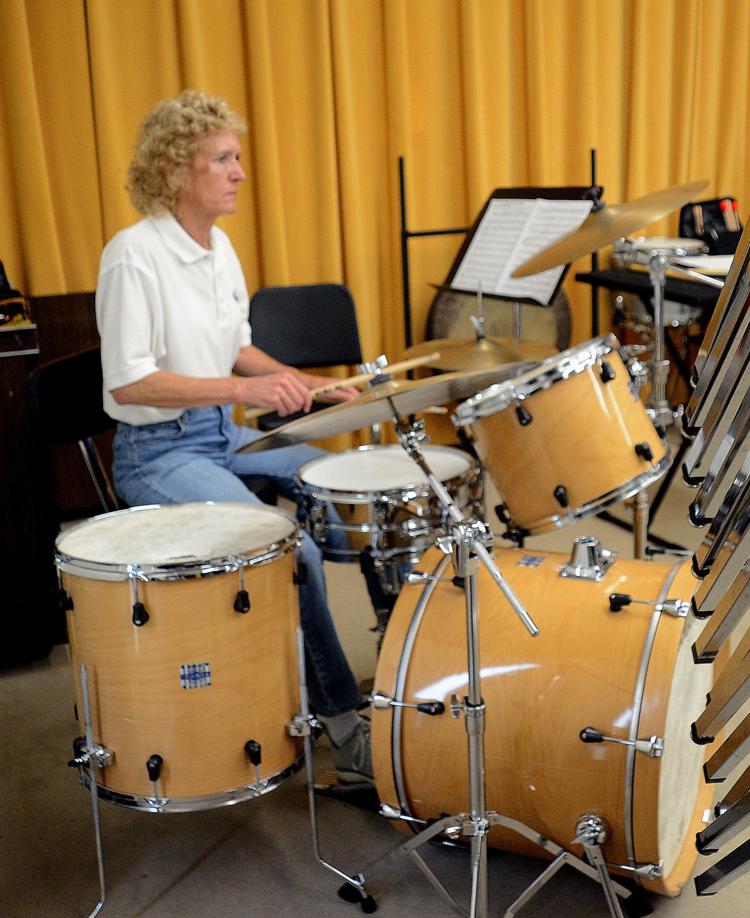 The New Horizons International Music Association was founded in 1991 by a professor emeritus at the prestigious Eastman School of Music, University of Rochester, as a way for people over 50, with or without experience, to learn and play band instruments in a supportive, non-competitive environment. Their mantra: Your best is good enough. The nonprofit now numbers 195 senior bands worldwide. New Horizons Band in the Pines was organized in 2008, with 12 members, now grown to 40, give or take. The organization receives support from the Arts Council of Moore County and N.C. Arts Council. Dues are $70 per year. Since SCC has no band, students may join as part of their curriculum.
The band's success isn't surprising to Ed Dunn, who hadn't touched his clarinet in 57 years. Luckily his daughter had saved it, since participants must rent or buy instruments.
"There's a magic in music that unites with the human soul," Dunn philosophizes.
Math may be part of that magic given that several members are retired from related professions.
"Music and numbers go together," concludes electrical engineer Lionel Bryson.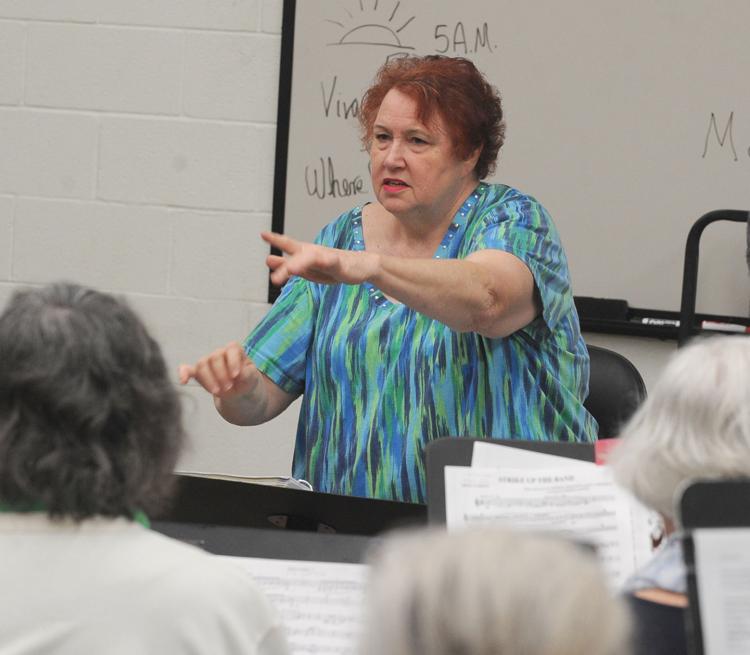 Nostalgia must be another part according to the biographies and anecdotes members contribute to an online introduction. For the older crowd, swing and marching band tunes bring back sock hops and proms, pep rallies and football games before participants had to pass through metal detectors to enter either.
Commitment flows from the top. Director Bob Romine, well into his 80s, recently wielded the baton with one (broken) arm encased in a sling. No surprise, given Romine is professor emeritus, former chair of UNCP music department and its band director for 22 years.
Even so, neither Romine nor co-director Mollie Wilson winces at the occasional sour note. Their method: forge ahead instead of stopping to correct.
"They have the patience of saints to put up with us," notes alto sax player Tom Hollerman.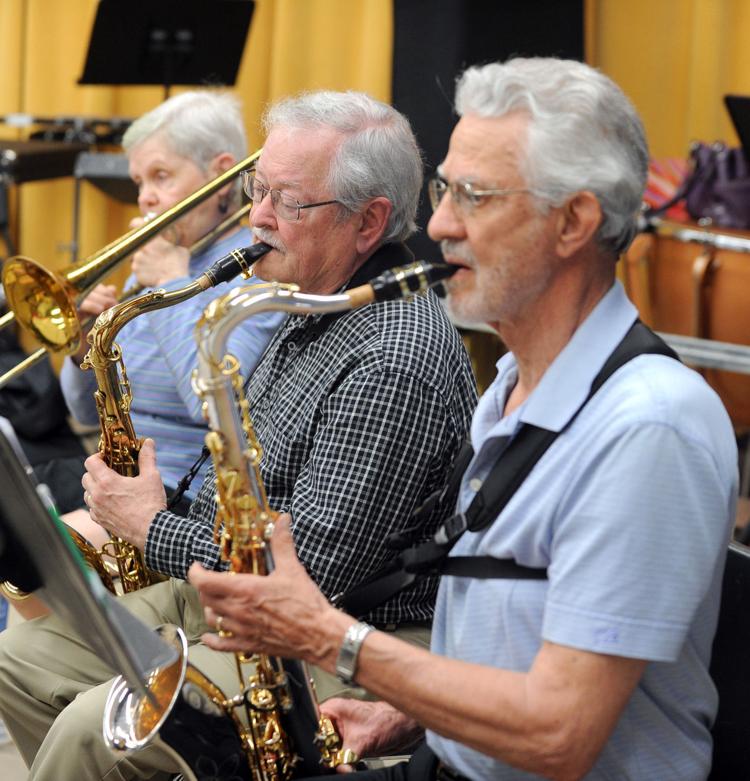 Another benefit: Playing an instrument offers a respite from technology. Neal Yocom reasons "It's hands on, more like doing something physical…an athletic performance."
With the fun come a few realities. Percussionist Maureen Hirsch — whose only experience was band mom for her four children — learned she had to disassemble the drums, find a van that would hold them, load and reassemble at the venue. Tom Hollerman built a soundproof practice room at the "suggestion" of his wife.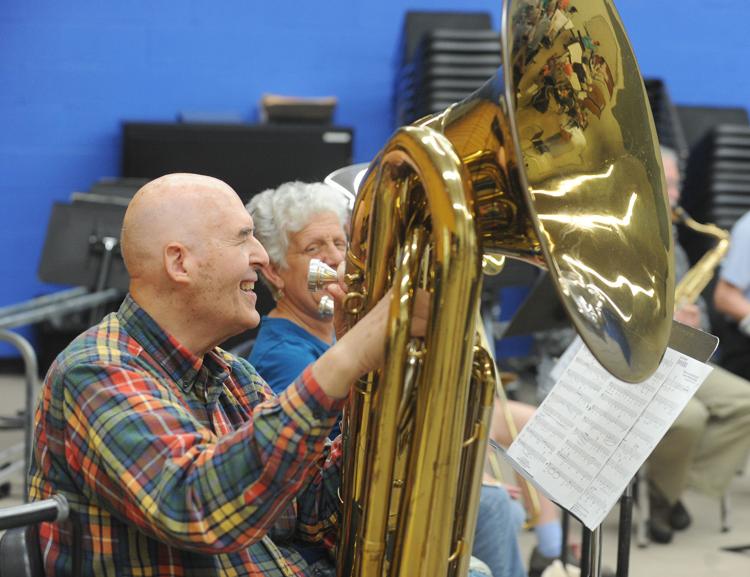 However, Ed Dunn says when weekly practice starts, everybody settles down, with good results: "The pieces that were hard last year aren't hard now."
About those pieces, which Romine matches to his audience:
"Remember 'Moon River'?" he asks residents gathered in the cool Quail Haven parlor on a hot afternoon. Nods suggested everybody recognized the Academy Award-winning ballad from "Breakfast at Tiffany's," the slow-dance fave of the tumultuous sixties.
"Sentimental Journey," a World War II anthem was just that for onlookers who swayed to the familiar refrain.
"It brings back memories," says Therese Brunette, rolling her eyes.
"I can't sit still," Elizabeth Dennington demonstrates, her toes keeping cha-cha rhythm to "Cherry Pink and Apple Blossom White." Other residents mouthed the words to "All of Me" and Duke Ellington's "Night Train." Romine got a good laugh after explaining that "Basin Street Blues" originated in New Orleans' red light district.
This, for sure: Nobody nodded off.
The band confines performances to about a dozen venues but might consider others. They haven't been approached for a wedding — even a senior wedding — although they did play at the funeral of a member. Socializing in the form of outings, picnics, holiday parties reinforce the commraderie.
Perhaps the sheer volume of big-band sound taps into the emotions of musicians and audience alike; a patriotic march causes shivers while a jitterbug channels carefree youth. Love songs regularly evoke tears, even from percussionist Trish Williamson, who began in fourth grade but hadn't beat a drum since college.
"This is a dream come true," Williamson says. "Every time I get a chance to look out into the audience I well up with tears of joy."
Lionel Bryson: "Music is something to look forward to. It takes you out of the daily grind."
Tom Hollerman: "If I were to lose it now, there would be a void."
And so … the band plays on.