In 1700, a young man named John Lawson left London, landed in Charleston and soon undertook a two-month journey with a group of traders and Indian guides through the Carolina backcountry, then pretty much unknown, ending up near the Pamlico Sound.
After that trip, in 1709, Lawson wrote "A New Voyage to Carolina," a travel journal about his experiences with the environment and people.
In 2014, author Scott Huler took a journey of his own, deciding to retrace Lawson's steps for himself. In his new book "A Delicious Country," Huler shares his own experiences along that route.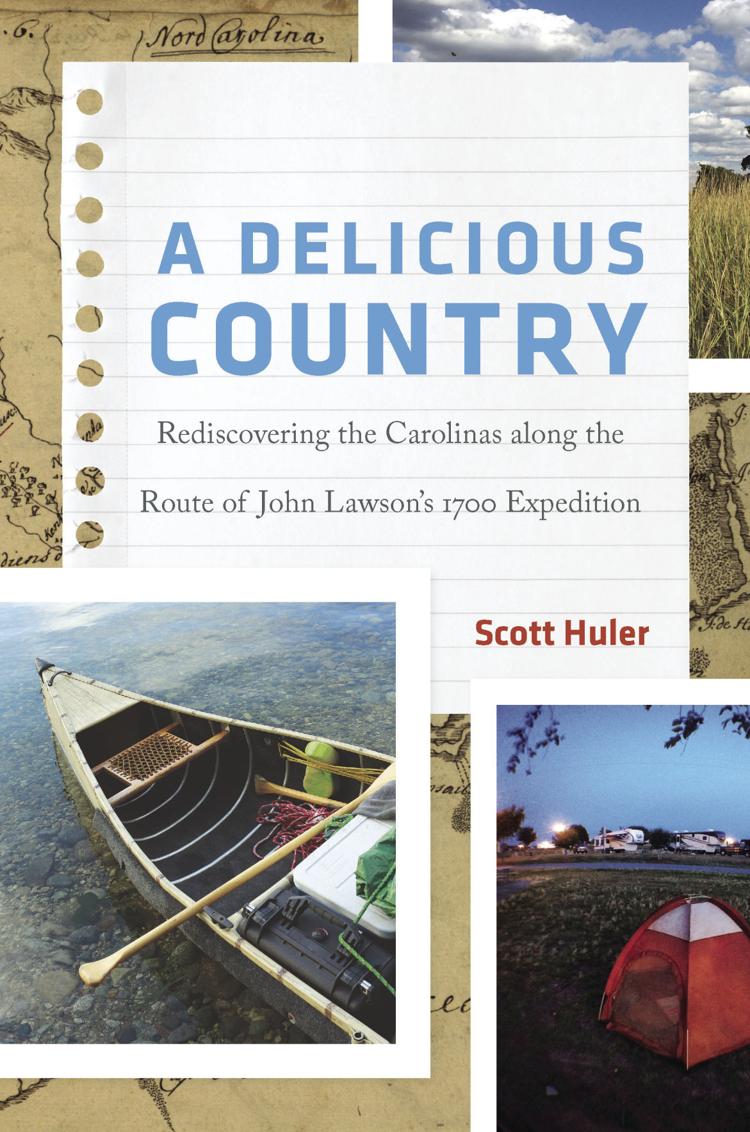 Huler will be at The Country Bookshop at 5 p.m. Wednesday, April 10, to discuss and sign copies of the book.
Scott Huler says in a question-and-answer session provided by publisher UNC Press that when researching his last book, "On the Grid," he wanted to get a sense of what his yard would have looked like before the Europeans showed up.
"Various enterprises in land records both colonial and modern resisted and dispirited me, but as I looked into it, I ran across the Lawson fellow and realized he had walked through the Raleigh area in 1700," Huler says.
Huler knew about Lawson's book, but soon came to realize that there was no modern equivalent.
"Learning that nobody had ever written that book — or in fact retraced his journey — was one of those moments a writer lives for," he says. "Lawson walked through these lands as a new observer, and the book he left behind informs us to this day To have the opportunity, as someone who moved to North Carolina myself, to do the same thing and leave a record that could perhaps be at least comparably valuable was the best work thing that ever happened to me."
Huler says Lawson, who held found and develop both Bath and New Bern, has been pretty much forgotten.
"He was captured and killed by the Tuscarora in 1711, the very first casualty of the Tuscarora War," he says.
Lawson was a complicated character, according to Huler.
"On one hand, he was very advanced in his thinking: he loved the Indians and saw them as fully human, even advocating intermarriage and describing them as morally superior to the Christian colonists," Huler says. "On the other hand, he was a man of his time and had no trouble acquiring their land to develop for his own purposes. In this way he's a perfect expression of that moment when European society was emerging into modernity, still carrying
some pretty bestial ideas and practices with it, as colonial history powerfully demonstrates."
Huler says he found many similarities between the Carolina of today and that of Lawson's time.
"I was totally unprepared for the way I found my journey to perfectly echo Lawson's," he says. "Lawson walked through at a tipping-point moment; he notes that 50 years before him, before smallpox and rum and dispossession, there would have been six times as many Indian people as there currently were. He described seeing empty places where native people had lived and understood that he was seeing his world change completely; a hundred years later, this colony was the United States.
"As for me, when I walked through the Carolinas, I too walked through a small-town environment changing completely: textile mills closed, family farms sold out to huge agribusinesses, small towns almost emptied. A constant presence in my photo feed was images of abandoned buildings being reabsorbed by the landscape. Native Americans still suffer from the problems that began with European arrival, and many people I visited were direct descendants of people who would have been there when Lawson came through. Overall, I could never avoid the sense that, like Lawson, I was walking through Carolina at a time when the past was utterly gone and the future unimaginable."
Huler says their journeys had differences as well.
"Lawson took his long walk at age 25, and he pretty much didn't know anybody on this entire continent; for him to canoe out of Charleston and pop up two months later and 600 miles away was no trouble to anybody," Huler says. "I, on the other hand, had Mini Mites soccer games to attend and Sunday school carpool to manage, so long-term disappearance wasn't an option. I went out for two, three, four days at a time (seven at most) and came back to organize for the next trip, write up notes, and post descriptions and images on the website blog."
Huler is the author of seven nonfiction books who has written for several newspapers and magazines as well as appeared on several NPR and American Public Media radio programs. He is currently the senior writer at Duke Magazine and lives in Raleigh with his wife, June Spence, also a writer, and their two sons.
The Country Bookshop is located at 140 NW Broad St., Southern Pines. For information, call (910) 692-3211.