Perhaps you have heard of the musicals "Mame" or "Hello Dolly", or even 'La Cage aux Folles"? All of them were Tony award winning musicals of Broadway and all written by the legendary Jerry Herman, a composer who wished to bring great stories and great joy to his audiences. And we can all use more joy and uplifting music right about now!
The new show presented Jan. 9-10, by the Sandhills Repertory Theatre at BPAC's Owens Auditorium on the campus of Sandhills Community College, celebrates the life and music of this incredible and gifted man. "Jerry Herman on Broadway" will present the same cast as "Gershwin on Broadway" and feature hit song after hit song, such as "If He Walked Into My Life", "I Am What I Am", " I Won't Send Roses", "Mame", "Hello Dolly", "Bosom Buddies" and many more. The show also features amazing tap dancing by two of Broadways best dancers! This show celebrates the return of musical theatre, the return of living life fully and embracing all that musical theatre can offer. 
The Sandhills Repertory Theatre is also committed to donating a percentage of net profits of ALL their shows to establish the Sandhills Theatre Arts in the Schools (STARTS) fund,  a fund to help support the theatre arts in all Moore County public schools. "Research, including my own, has shown how the theatre arts enhances learning, creates social networks and builds resilience, team building, self esteem and confidence in kids. Performing arts in general fosters creativity and imagination and strengthens neurological links, which, in turn, enables learning and supports academics. Most people enjoy the arts so it is important to support the arts – either through attending performances, sponsoring a show or simply volunteering to help us develop a sustainable theatre organization with a focus on musicals."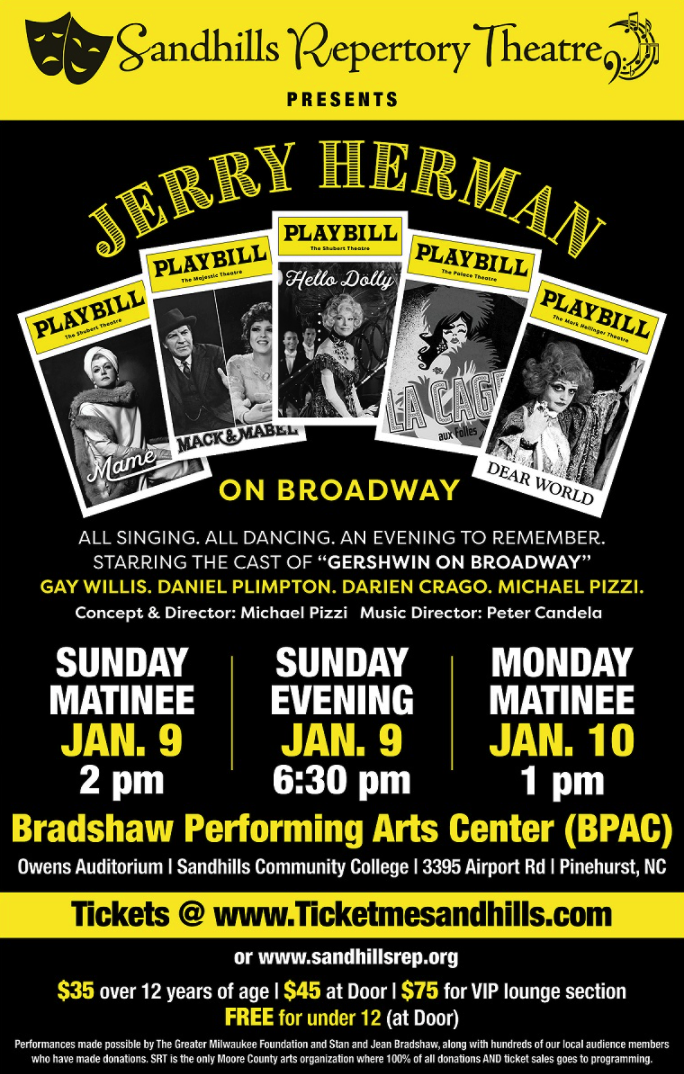 Shows are scheduled Sunday, Jan. 9 at 2 p.m., Sunday, Jan. 9 at 6:30 p.m., and Monday, Jan. 10 at 1 p.m. Tickets are available online at www.sandhillsrep.org (all ticket types available) and through www.ticketmesandhills.com. Tickets are $35 general admission (13-64). At door tickets are available if not sold out and are $45 (general admission). Age 12 and under are free. Special VIP tickets for the side lounge seats are $75. The BPAC is a large venue which allows the audience to spread out. We will abide by requirements of the venue at the time of performance.
"Always, Patsy Cline" featuring the music and story of Patsy Cline will be available soon for performances at the Bradshaw Performing Arts Center (Owens Auditorium). And in June, a concert version of "Anything Goes" complete with a live orchestra and no less than 6 Broadway performers in leading roles !
If anyone would like to volunteer, be a donor or sponsor, or get on the mailing list, please email Dr. Michael Pizzi at sandhillsbroadway@gmail.com.