For nearly 2,000 days, Jennifer Love Gironda has fulfilled her New Year's resolution of Jan. 1, 2012. In five stacked plastic tubs are nearly 2,000 art pieces to prove it. A piece for every day and a theme for every month — trees in October 2012; The Grateful Dead in June 2015; charcoals of legendary men of music during March 2016; and many, many, women, drawn in a fashion sketch style, with big eyes and dexterous arms.
She calculates that she will reach the 2,000 mark on June 22.
"Since I made the commitment, my life is all about art," Gironda says. "It's like if you have a leak, and it gets bigger and bigger until it's full on gushing out. I kind of feel like that with my creativity."
Just past her childhood home on a back road in Cameron, neighbored by tobacco fields and dilapidated sheds, a teenage Gironda saw pulsing New York vibrancy spray-painted onto old barns. The huge murals were fruit of local teacher Robin Calcutt's "barnstorming" project, "and seeing them made me wonder what else was in the world," Gironda says.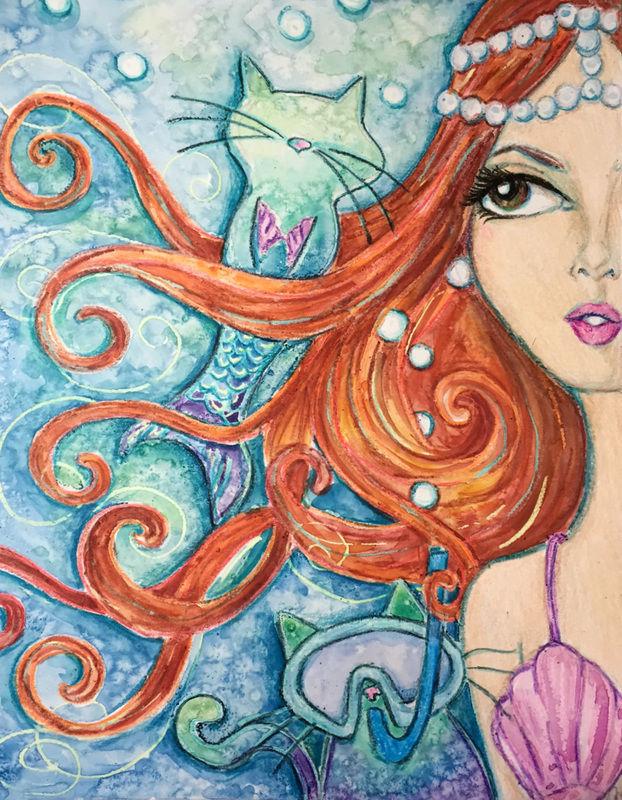 In eighth grade, Gironda wrote a letter to Calcutt, who at the time was Union Pines' art teacher. She introduced herself, her approach to high school and her desire to be accepted into art class as a freshman.
"I knew then that she was going to change me as a teacher," says Calcutt, who is now the director of planning, accountability and research for Moore County Schools. "I couldn't wait to see what she would create."
Gironda set herself apart in the classroom by her "internal drive to succeed," Calcutt says.
Calcutt not only helped focus that drive, she helped to expose it at local venues and polish it by taking slides with Gironda of her best work.
"One time, she didn't make an A, so she pushed back," Calcutt says. "I had to decide how to give her more effective feedback. I learned how colleges gave feedback…a basic critique…and I saw the quality of work go up for all the students."
"Mrs. Calcutt would never just tell you something; everything was told like a story, and you felt like you were the only person she was talking to, like she'd make eye contact, smile and wink," Gironda says. "I wanted to do that."
Awarded the North Carolina Teaching Fellows Scholarship just after high school, Gironda earned bachelor's degrees in art education and textiles and a master's degree in art education from East Carolina University. She threw herself into teaching, but by the time she left North Carolina for Florida, where she lives with her husband, John Gironda, she felt dissatisfied.
"I felt like I was being an art teacher, but not an artist myself…even though it's the most important thing to me," Gironda says. "What is it that's missing? What story am I not telling?"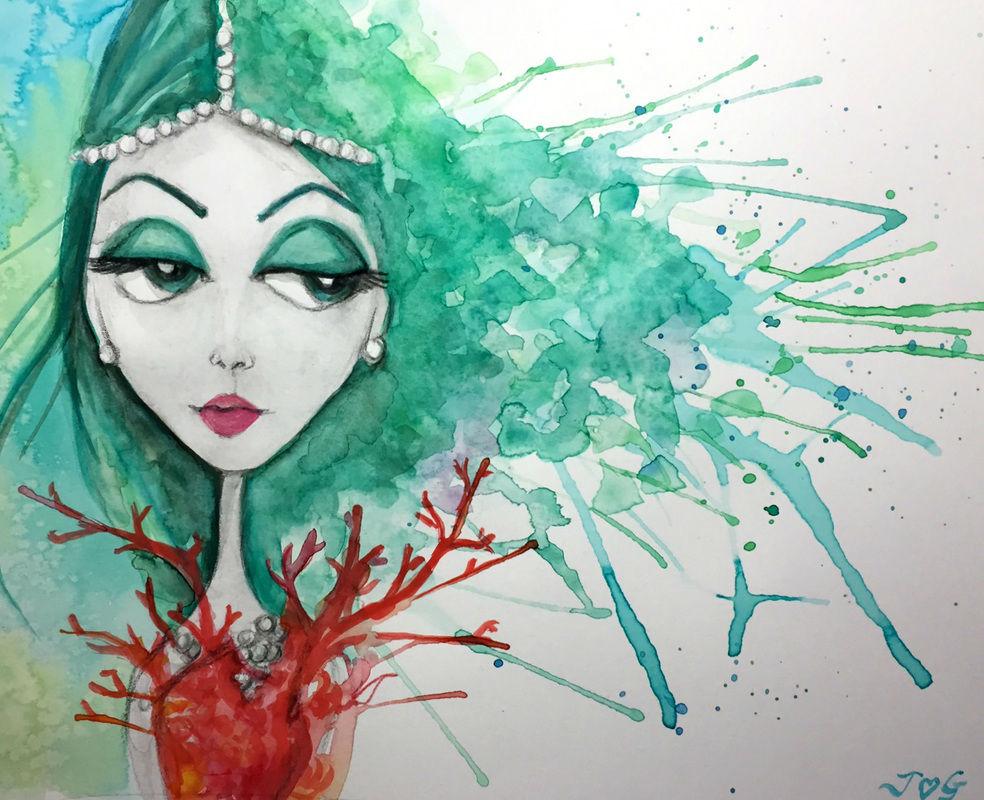 Gironda attended a Florida Humanities Council seminar on the works of the author Zora Neale Hurston in 2010.
"That was the catalyst," she says. "I bought a bunch of canvases, went home and painted 16 paintings immediately."
The next summer, she attended a workshop with textile artist Anna Carlson, cementing her desire to create more.
Gironda started drawing prolifically, then found an online community called creative everyday.com before beginning her own resolution to make a piece of art every day.
"One of the first things I learned to draw and felt successful drawing was the eye," Gironda says. "That's the first thing I draw because it's the first thing you need to know about the person and their story."
First her drawings were inspired by magazine cuttings and now they just come freely from her mind. They're completed between a half hour or several hours. With their facial differences and changing environments, the women are all the same: nameless and ageless.
"She's kind of my muse," Gironda says.
Sometimes, the muse has wings. Aside from teaching art classes at Lake Worth Community High School in Lake Worth, Fla., Gironda draws angels with little affirmations and deposits them in random places. She's left more than 1,000 #AngelDropART pieces, all inspired by her best friend Amy German, who passed away in a car accident.
"From a bereaved parent's point of view, one of the things we fear most is that once we lose a child, they might be forgotten," says Jennifer German, Amy's mother. "Jenny has not let Amy be forgotten."
One of Gironda's first angel drops was accomplished with Jennifer German. They ended up at Lee County Library in Sanford, opening books in the arts section and self-help section and sliding an angel inside.
A retrospective of Gironda's first five years of consecutive art was shown at the close of 2016 in Florida, and drew a successful crowd.
But Gironda's dream isn't to see her work in a gallery — it's to see her girls, her muse, on cards and bags that people can "afford, use and touch other people with," she says. "I think my art gives me my voice. I talk through whatever material I'm using and put my mark on the world."