It's a bone-chilling morning draped in fog and drizzle, but Mark Epstein reaches down among the brussel sprouts, plucks a tender leaf and offers it to me.
"Ever had one raw?" he asks while stuffing another into his mouth. "The cold weather makes them sweeter. They're great in salads."
Epstein is among the growing movement of highly educated, ex-urban, first-time farmers who cultivate land sustainably and intensively on the small-scale. They are satisfying the increasing consumer demand for local and sustainable foods and shrinking the distance between the farm and table — bringing the community focus of agriculture back to life.
Walking with him through fields that unfurl from a hill and the surrounding pine forest, just two miles from Pinehurst Village, you sense he's not only an idea guy with boundless energy but also someone who is happiest digging in the soil of his land, Flow Veganic Farm.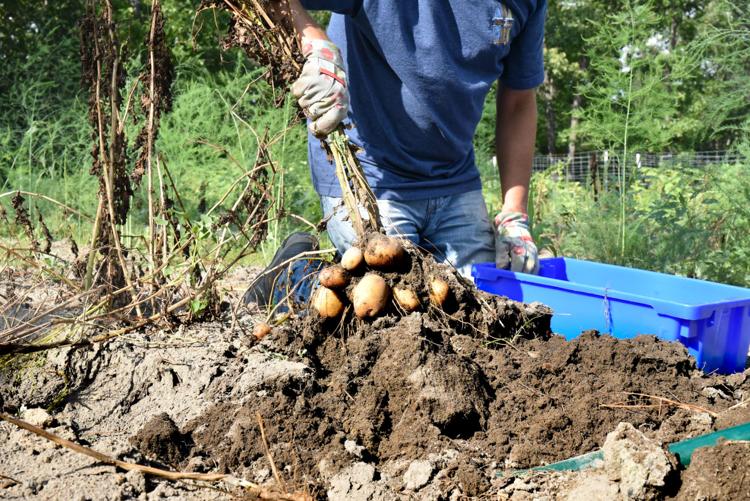 He and his wife, Jules Latham, moved to the area in 2001 and decided to grow a garden behind their home.
"It was simple. An idea and some action," he says with a laugh.
But soon the garden-behind-the-house morphed into the farm-across-the-street when in 2008 they purchased five acres of forest, then another 10, to create the farm of bigger ideas.
He acknowledges that he didn't know anything about the soil.
"It was acidic; sugar sand on top of hard-packed clay," Epstein says. "Miserable stuff and nothing would grow. But we had a plan and weren't going to turn back.
"We're vegan, and we read a lot about building soil and growing healthy food, but most of what I read used animal products to build soil fertility. That's when I learned about biochar."
Biochar is biomass charcoal, and it is made by super-heating untreated wood waste to more than 1,000 degrees in an oxygen-free environment. The resulting biochar, which looks like charcoal, adds nutrients and moisture to the soil making a habitat for healthy microorganisms.
Epstein built a massive brick kiln to make biochar exclusively from the trees he had cut down from their forest and other locally sourced wood.
In addition to the biochar, they make their own veganic compost from cover crops and local vegetable and forest waste to work into the soil. The animal-product-free compost cooks in three large forced-air composting bins and that, along with biochar, sustainably improves the soil.
After letting the soil develop and grow, they started selling food and biochar in 2016. Flow Veganic Farm is in the long process of becoming a USDA Certified Organic farm. They recently started selling their food locally to restaurants and through Friends Harvest Share box subscriptions during the growing the season.
"We take the approach that diversity is good, so we grow what we like to eat," Epstein says. "The diversity also gives us the ability to rotate our crops to different parts of the farm each year, and that makes stronger plants, a more sustainable environment and healthier food."
The production on just two-acres of the farm is staggering. Rows of arugula, lettuce, peas, asparagus, and garlic grow alongside fields that will hold summer tomatoes, peppers, okra, and melons. A wildflower garden will soon support nearby beehives that are essential pollinators for the farm. Strawberry plants amble across the field's walkways while the fickle weather bites the blossoms of blueberries.
At present Epstein, who's worked in the investment management and technology industries for over 25 years, and Latham, an environmental lawyer, operate the farm with the help of two full-time employees.
While they recognize that many young first-time farmers struggle with leasing land and start-up costs, they understand their careers have afforded them the flexibility of growing the farm gradually.
"We are reaping the benefits of doing this slowly," says Epstein. "We're ready now to showcase the benefits of veganic farming, biochar and by providing healthy food to the community, he comments. "And it really feels good to be growing food in a manner that reflects our values."
Claudia Watson is a North Carolina Cooperative Extension Service Master Gardener Volunteer.