In a video interview during the first round of the U.S. Senior Women's Open, reigning champion Laura Davies did not underplay the difficulty of the 18-hole course at Pine Needles.
"It's scary out there," said Davies, who is the winningest women's golfer in her native England's modern history.
The video shows Davies standing in front of a USGA banner that was positioned inches away from Bell Pavilion. Absent from the frame were the many fans leaning against the pavilion's railing, about 30 feet above Davies' head.
There was rarely much distance between the players and fans at the start of the four-day championship, which allowed spectators to walk alongside their favorite golfers on the fairways. Sitting with friends at the pavilion on Thursday, Judy Wood said the event was more intimate than previous tournaments she had attended at Pine Needles.
"Because I've been here for a couple of U.S. Opens, I'm more surprised about what isn't here than what is," said Wood, who lives in South Carolina. "There's no bleachers on the 18th hole and no TV towers, but it's also not as crowded, which is nice."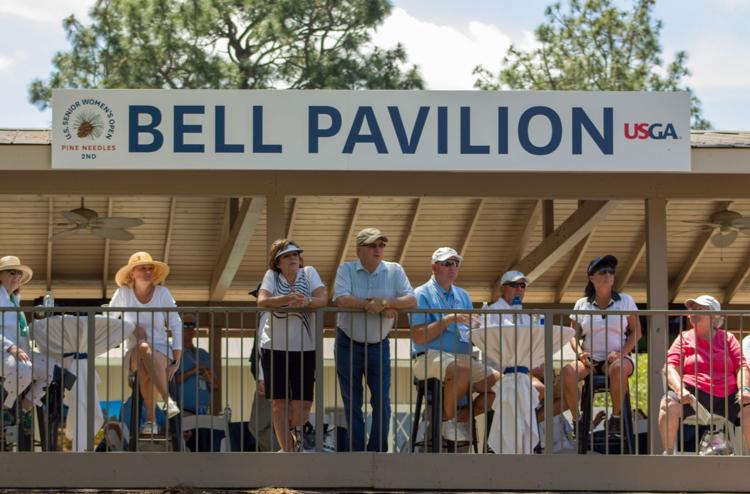 The third and fourth rounds of the championship will be televised this weekend by FS1. Davies is defending her title against a field of 120 players that includes seven former U.S. Women's Open champions. 
Created for players age 50 and older, the U.S. Senior Women's Open debuted last year at the Chicago Golf Club. The average age of the competitors is 56, nearly a decade younger than the federal benchmark for Medicare and 13 years older than Babe Didrikson Zaharias was when she became the oldest winner of the U.S. Women's Open at age 43.
Dorothy Moore traveled from Florida to support Marylyn Lovander in both championships.
"This is definitely a great venue," Moore said of Pine Needles. "And they seem to have it so much more together this time."
Moore said she was pleased to find that the USGA-run gift shop had a large supply of championship-branded visors, pennants and other items. 
"Last year, they ran out of merchandise before the first round even started."
John Vasquez, one of the shop's employees, estimated that about 65 varieties of championship-related merchandise are available at the store. He said business was brisk during the first day of tournament play.
"We've been doing well," Vasquez said. "The T-shirts and flags have been selling very well."
While many tournament-goers followed their favorite players across the 250-acre course, several attendees staked out between the first and 18th holes. From there, the fans had a clear view of the scoreboard and easy access to the concessions stand.
"It's the perfect spot," said Donna Krupcale, who lives in Cary and was not rooting for any one specific player. "I'm just enjoying the beautiful weather and watching these legends of golf."
Nancy Heagle of Murrells Inlet felt the event suffered for a lack of places to sit. She wondered why organizers did not put up bleachers for fans. 
"The seating that is here is not very copasetic to getting up and seeing what's going on," said Heagle, who watched Thursday's action from a table at Bell Pavilion. Peggy Shufside agreed, citing the scarcity of seats as her "biggest complaint." 
Danielle Ammaccapane held the opening-round lead heading into tournament play on Friday. Single-day gallery tickets are available for $20 at the gate or online, with no added cost for parking.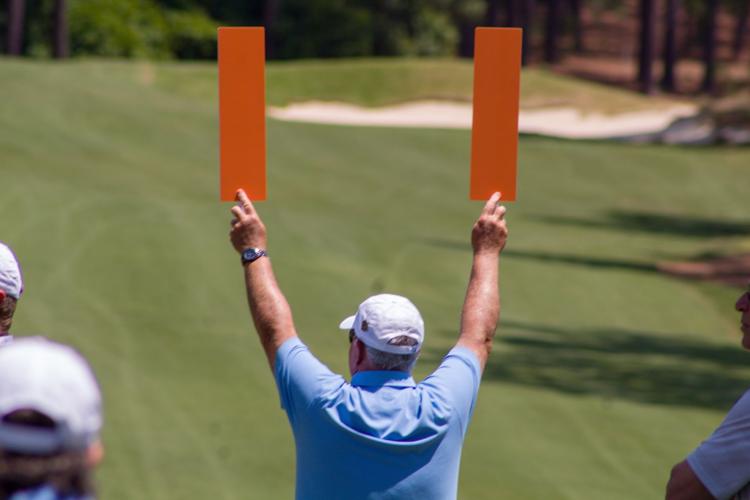 Free passes are available for active military personnel and veterans. Provided with support from R. Riveter and The Heritage Flag Company, these passes include gallery admission for a guest.
Children and teens age 18 and younger receive free admission to the tournament. A clinic for junior golfers will be held from 3 to 4 p.m. on Saturday.
For information and to buy tickets, visit USGA.org.