Chloe had risen early. A fourth grader at Pinehurst Elementary, she dressed for school and then went to lay down for a few minutes with her mother in the master bedroom. Her two-year-old sister slept in the nearby crib.
It was 6:30 a.m., Friday, Oct. 8.
Amy Fields was sleeping contentedly. She'd spent the last year renovating the family's historic cottage in Pinehurst with assistance from her aunt, Martha Viall, who lived across the street, and her two daughters. It was the start of a three-day holiday weekend and they were preparing to repaint the final unfinished side of the house.
A bang broke the morning calm. Fields assumed a picture frame had fallen off a wall.
Penny, the family's Shih Tzu/Yorkshire terrier mix, began barking. It was shrill and urgent. Almost simultaneously, another noise pierced the home. It was a repetitive chirp.
Fields assumed it was Chloe's alarm clock going off on the far side of the home. She got up, reached for the bedroom door knob and turned it: the nightmare had already begun.
Ten steps away, smoke was pouring out of the laundry room. The family's smoke alarm, never before activated, was chirping away.
The fire seemed small and contained in one space. Fields' first instinct was to try and extinguish it herself. She didn't want to frighten the girls unnecessarily.
But the granddaughter of the late Robert Viall, a longtime chief of the Pinehurst Fire Department, knew what she had to do.
"I heard his voice telling me, 'no.' It was training I'd had as a child, that first I needed to get everyone out of the house and call 911."
Fields retreated to her bedroom and woke her children. Chloe took her little sister, Riley, on one hip. She secured the family's two small dogs, Penny and Pepper, on the other, and ran into the backyard.
Fields called her aunt, whom she'd expected to arrive momentarily to drive Chloe to school. She told her to bring a fire extinguisher, then called 911.
A garden hose was coiled on the back deck, attached to a power washer. In her panic, Fields could not uncouple the two. She instead grabbed scissors, cut the hose, then dragged it running full blast into the laundry room.
The flames had climbed the wall. Within seconds she faced an inferno.
"It was terrifying. It was like a stream of fire that began moving across the ceiling. I learned later that it was a flashover. When synthetics reach a certain temperature they can become explosive. The entire room caught fire instantly."
Outside, her aunt had arrived.
Viall realized Fields' car would be in the way of the fire trucks that were en route. She was able to maneuver it across the street.
"My father was with me. I could hear him telling me to move the car. Then I saw the children. I heard him tell me to get them in the car. That was the quickest and safest place to put them."
The fire was so hot, the house's windows began shattering.
Another neighbor on her way to drop off her kids to school drove down the street. Viall asked her to watch over Chloe and Riley so she could join Amy, who was still inside fighting the blaze.
"I had never seen fire behave like that. It was like a battle between good and evil," Fields said.
When the first firefighters arrived, they broke down the front door and launched an attack from two sides. Water from their powerful hoses jetted through the house and struck her in the chest.
"It was like the devil had been taking down the house, but God won," Viall said.
The family was spared, but in less than 10 minutes, the flames consumed the interior of the home.
A Family Neighborhood
The 1,700-square-foot cottage on McDairmid Road is known to neighbors colloquially as Aunt Jeanne's place. Jeanne Fields and her husband were some of the first to settle in the community near Airport Road, in the 1950's, during the post-World War II housing boom.
Jeanne Fields was from Scotland and, as such, was friendly with Donald Ross's family and the Tufts family.
Amy Fields, no relation to Jeanne, also has local roots that reach just as deep. Her great-great grandfather was Nathaniel Viall, one of the earliest settlers in Southern Pines in the 1800s. Her great-grandfather Wesley Viall owned and operated the Carolina Pharmacy in the village of Pinehurst, where Drum and Quill is now located. It was the "Grand Central Station" of its day, Martha Viall said, where everyone including Donald Ross would hang out to chat.
Martha's father, Robert, fought in WWII and when he came home, settled across the street from "Aunt Jeanne" with his wife, Matel, who taught school at Pinehurst Elementary. Bob Viall was a volunteer fireman with Pinehurst Fire for 40 years, before retiring as chief. The company recognizes its annual firefighter of the year award in his name.
Amy was his first granddaughter.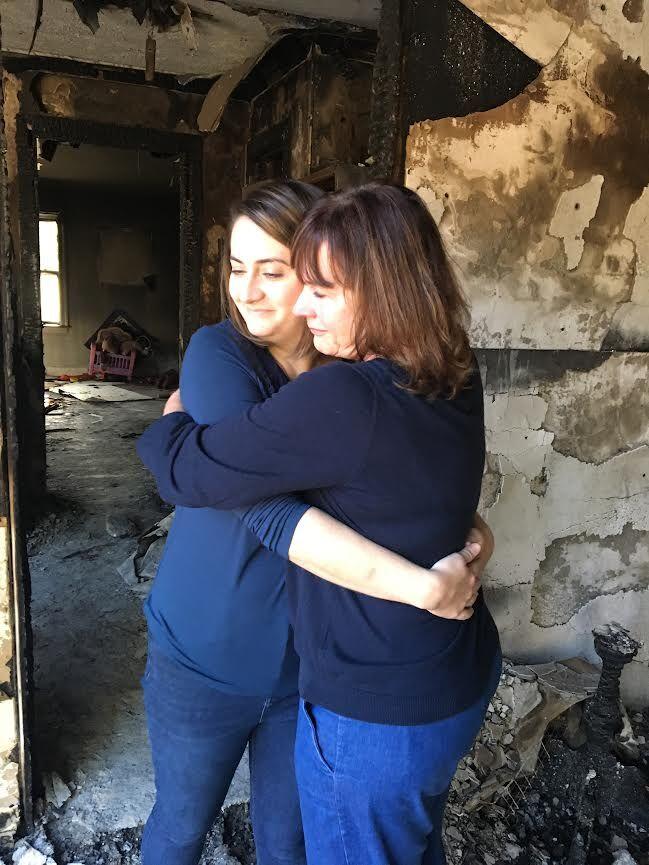 "This was always a family neighborhood filled with generational owners. I still have a set of dominoes that Aunt Jeanne gave to me," Viall said.
On the anniversary of her father's death last year, the little house on the corner went up for sale. Viall had never married and had no children of her own. Amy, who works for PNC Bank in the Raeford area, was looking to move back to Moore County.
It was a perfect arrangement for both. Viall bought the historic cottage across the street from her parents home. She and Fields began a top-to-bottom renovation.
Saving Christmas
On a sunny Saturday in early December, Amy, Chloe and Riley are playing outside Viall's home, where they've lived since the fire. Martha visits from her Greensboro on weekends, and hopes to retire soon full-time to Pinehurst.
A police patrol car rolls quietly up the driveway.
Pinehurst Police Lt. Michael Ebel gets out and introduces himself. He explains that his shift had handled traffic control the day of the fire.
"We knew there were kids involved. From all the calls we run, we know how difficult that can be," Ebel tells Fields. "We got together and discussed it, and we've put our money together and would like to take the girls Christmas shopping."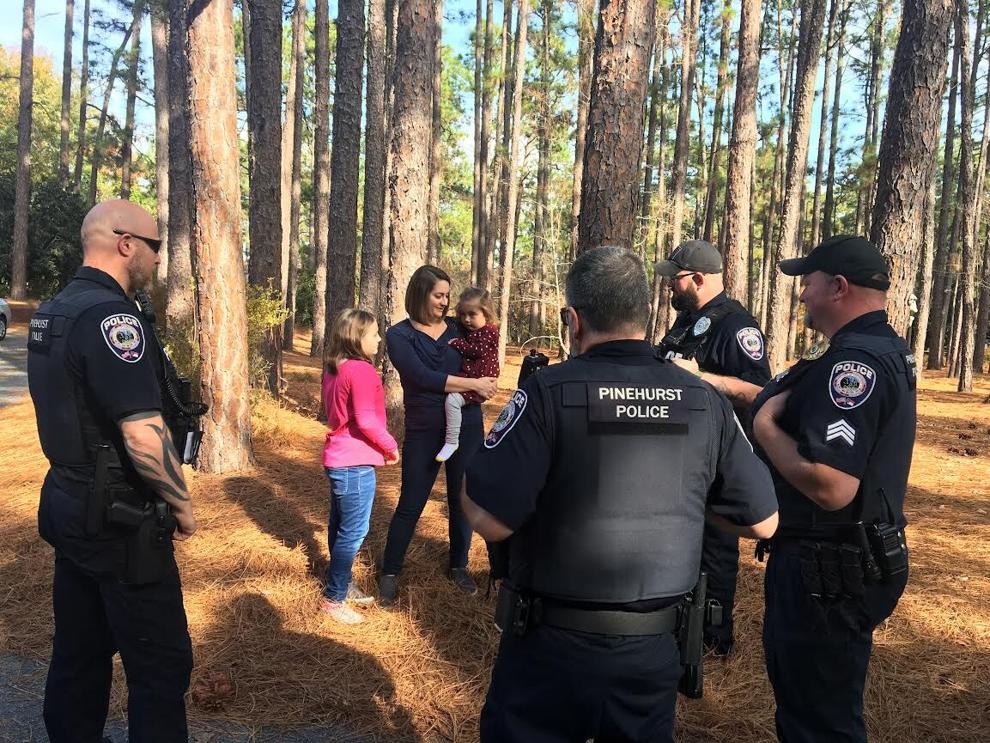 This is the first time that Ebel's four-officer team has sponsored a 'Shop with a Cop' outing.
Two weeks later, Amy and her mother, Robin Calcutt, and her girls meet with Ebel, Sgt. Joseph Whitlock, Senior Patrolman Hunter Damber, and Patrolman Richard Ferrante at Walmart in Aberdeen.
Chloe has a tough time narrowing down her choices. She walks from aisle to aisle with Ferrante in tow, selecting some small stocking stuffers. With some gentle encouragement, she finally picks out some nicer items for herself.
Riley jumps right into action, picking out baby dolls, a doll-sized bathtub and stroller. Coming around the corner in her mother's arms, she points at a giant toy fire truck.
Fields said both girls were traumatized by the fire. Riley, in particular, has been confused by the devastating aftermath. When asked, the toddler will say her home "is broken."
The red fire truck went into the shopping cart with the baby dolls. There were no toy police cars on the shelves.
"We'll make sure she gets one," Ebel says with a smile.
Advice for All
The official fire investigation report identified two possible causes for the blaze, both electrical in nature. Fields has no doubt which one she believes is the culprit: a lithium battery, fully charged and unplugged, stored in the laundry room.
In July, she used points on her bank card to acquire an electric lawn mower and leaf blower to take care of her yard.
"They came with an interchangeable battery pack with two batteries. The instructions said to charge them outside for an hour or so, and then to keep them indoors in a temperature-controlled environment. They malfunctioned and exploded," Fields said.
The insurance company decided to pay the claim rather than fight the battery manufacturer, Fields said.
Unfortunately, due to the rising costs of materials and labor, Viall's policy was insufficient to rebuild the house. Fields also did not carry renter's insurance, so the family's belongings were a total loss.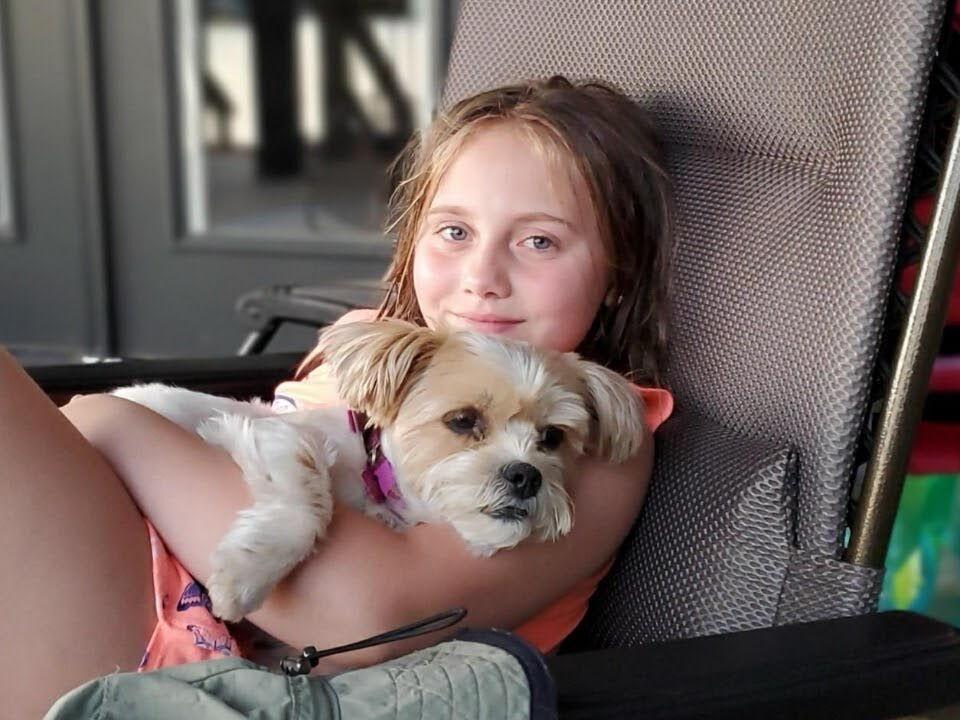 "I never thought that a battery that was not being charged would be a risk to my family. I would have never had them in the house," Fields added. "I mean, if you think about how many of us have products in our homes with lithium batteries. It made me want to share our story."
Donna Page, Pinehurst Fire Department's fire and life safety educator, said Fields did right by her family.
"When a house fire happens at night, she was fortunate to get her children out of the home. When we arrived on scene, it was a very large fire," Page said. "Fire affects everybody. We've had these things happen with other department member families that have been involved in house fires.
"The biggest thing we recommend is to make sure your home has working smoke detectors. Make sure they are checked regularly and that the batteries are up-to-date. That early detection is key."
If you think there is a fire, evacuate everyone in the house and then call 911. Page said there are all different kinds of fires and they may react differently depending on what materials are inside your home.
"Fires today, there are carpets and finishes that burn faster and give off more toxic fumes. Once a room gets hot enough, it will self-combust," she said. "There is nothing in a house as valuable as you and your children."
Page also encouraged families to practice fire drills at home.
"(Amy) was fortunate because her children were in the same room with her. Fires are scary and you may be cut off from each other. Practicing can make it not as scary because you know what to do."
Pinehurst Fire also offers year round fire prevention education opportunities, including a Junior Fire Academy during the summer geared toward middle school-aged children. Earlier this year, the company also conducted its inaugural Fire Academy class for adult citizens.
Fields said she is forever grateful to the firefighters, police officers and her community. She also hopes her experience can help prevent someone else's tragedy.
"You need a family fire plan, you need to understand what fire dangers may be in your home, and you need to review your fire and home insurance policies. These are three things I want people to think about," Fields said.
"People I didn't even know before this happened have surrounded our family and have helped us cope and be able to heal. That sense of community is one reason I wanted to move back to this area, to raise my children here. I've always believed in community, that it is important, but I never imagined it would play such a role in this experience. It is overwhelming to see the kindness of people."
A Go Fund Me account has been established to help the Fields family rebuild. All donations are appreciated, visit https://gofund.me/d4f1b535