The Southern Pines Town Council has unanimously approved a preliminary development plan for expansion of the Legends at Morganton Park apartment complex.
Caviness & Cates, a Fayetteville-based builder, developed the initial complex in 2012, which features 288 luxury apartments, a children's play area, clubhouse and pool. The proposed expansion of 144 units would bring the overall development to 432 apartments on 27 acres.
Plans for the new section include three buildings, each with 48 units, a new outdoor seating and fire pit area, in addition to construction of a new dog park for residents.
Access to the proposed new section would be provided through an entrance on Carlisle Street, in addition to a connection with the existing parking areas off Brucewood Road.
During a public hearing held June 8, land planner Bob Koontz of Koontz Jones Design presented the application on behalf of Caviness & Cates. He noted the tract is currently zoned for general business/office use, which includes multifamily residential development.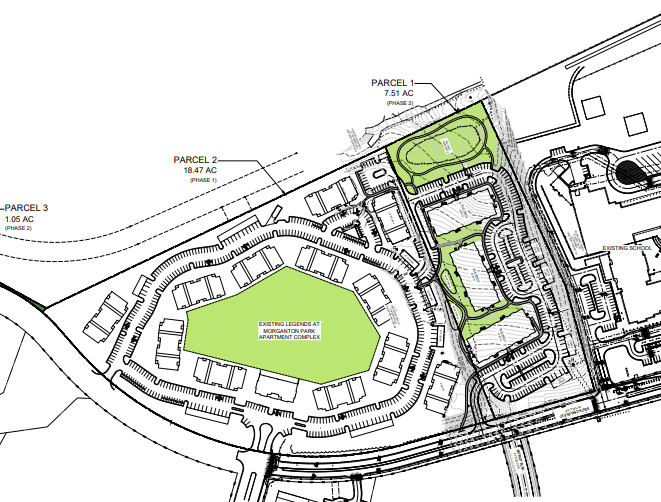 Traffic from Southern Pines Elementary School, in addition to the approved but not-yet-built facilities for Sandhills Pediatrics, and the Pinehurst Surgical Clinic and Pinehurst Medical Clinic sites were included in the traffic impact analysis (TIA) report completed by Kimley-Horn.
The additional 144 apartment units are anticipated to increase overall traffic generated from the development by 1,054 trips on a typical weekday. No additional road improvements or traffic lane modifications are required, according to the analysis.
Councilman Bill Pate asked at what point the development would trigger the need to construct a road connection between South Carlisle Street and Tanglewood Drive.
Town Manager Reagan Parsons and Koontz both responded that all of the recent new project development at Morganton Park North has occurred on the eastern side of Brucewood Road. A connection to Tanglewood Drive would likely be incorporated as part of a development plan for any projects proposed on the downside slope, to the west of Brucewood Road.