Tara Plantation of Carthage is under investigation after an ex-employee of the assisted living facility shared video of what appears to be an unconscious coworker on social media.
The video was recorded about 5:20 a.m. on Feb. 12 by Stephanie Alston, a member of the housekeeping staff at Tara Plantation who has since been fired. In the nearly three-minute clip, a female employee who appears to be sleeping or heavily sedated is slumped over in a swivel chair with her head between her knees.
The woman, who Alston identified as a medical technician, is seated behind a counter, on which an unattended pharmacy bag is visible, in the facility's Alzheimer's unit. Near the end of the video, the woman can be seen grasping for a nearby crate containing what appears to be a tube-shaped container and a ballpoint pen.
According to Alston, the video was sent to the Moore County Department of Social Services on Feb. 13. Alston claims she and her co-worker Rachel Hough, who is heard talking to Alston in the video, were fired the next morning for filming the incident.
Later that day, Alston uploaded the video to Facebook.
"We was wrongfully terminated from my job today because I wanted to protect the residents that were in danger," she wrote in the video's caption. "I'm leaking this to the world to show everyone what your family could be dealing with on a regular basis."
Tara Plantation is now the subject of a multi-agency investigation involving DSS, the Carthage Police Department and the state Division of Health and Human Resources.
Carthage Police Chief Bart Davis says the investigation was prompted by complaints forwarded to DSS about the video's content, but officials are also looking into other issues in connection with the facility. Authorities have conducted multiple interviews since Thursday with former employees and current staff members at Tara Plantation.
Davis said the Police Department had not "found anything that would result in criminal charges" as of Tuesday morning. The investigation, he said, is primarily focused on civil issues that would fall under the jurisdiction of the other agencies involved with the case.
Cobey Culton, press assistant for the Division of Health and Human Resources, said in an email that the agency is "aware of the situation and investigating."
Tara Plantation is an 80-bed assisted living center that caters to elderly patients suffering from dementia and Alzheimer's disease. The facility is located in the 800 block of South McNeill Street, but property tax records list a Richmond County mailing address for the company.
Alston said she began working at Tara Plantation in 2014 as a nursing assistant and medical technician.
"I couldn't handle both jobs," she said, "so I stopped working there until 2016, when they went under new management."
Hundreds of Facebook users left comments on Alston's video, which had been viewed more than 56,000 times as of Tuesday morning. While most of the comments expressed support for Alston's decision to share the video, some viewers criticized her for filming the incident instead of calling 911 or alerting a supervisor.
Writing on Facebook in response to the criticism, Hough said the employee in the video has a history of passing out on the job. Angel Dooley, acting administrator of the facility, was made aware of previous incidents, Hough said, but to her knowledge "nothing was done."
Dooley declined to comment on the investigation when reached last week by The Pilot.
Alston and Hough allege that Dooley is not qualified to serve as the facility's administrator, a concern echoed by members of the Moore County Nursing and Adult Care Home Community Advisory Committee. In a quarterly visitation report filed in July, committee member Judie Luse wrote that Dooley "does not hold an Assisted Living Administrator's license."
Shortly after sharing the video on Facebook, Alston posted photographs from inside Tara Plantation showing stained furniture, wastebaskets overflowing with trash and crushed-up medication left in disposable dinnerware. One of the photographs shows a visibly soaked adult diaper lying on the floor.
Kathy Huffman, owner of Tara Plantation, provided a statement to The Pilot on Monday about the issues documented by Alston and Hough. Her statement does not address the unattended pharmacy bag or Alston's claim that an administrator at Tara Plantation was notified of previous incidents involving the employee in the video.
The following are excerpts from Huffman's statement.
Unfortunately, we will never know what was wrong with the staff person in the video. Ms. Alston, who was recording the video, rendered no aide to this staff person, even after unsuccessfully trying to wake her. In addition, Ms. Alston failed to notify a supervisor when the video was recorded, and did not contact the owner, or dial 911 for help. Immediate action should have been taken and it is unfortunate that Ms. Alston's action was to simply video someone who was in distress as opposed to rendering aide to her fellow employee.
As for the pictures, Ms. Alston was an employee in housekeeping and Ms. Hough was in transportation and laundry. Ironically, it was both Ms. Alston and Ms. Hough's jobs to clean areas and items in the home that are in need of cleaning. In other words, if they would have performed their jobs like they were supposed to, these problem areas would have been addressed. Sadly, they chose to use their time taking videos and pictures as opposed to performing their jobs.
As has always been the policy of Tara Plantation, we welcome the Department of Social Services and the Division of Health Service Regulation as well as Environmental Health Services to perform whatever inspections or investigations they deem necessary. They are a great support to our home, staff, and residents.Tara Plantation strives to provide the best care possible. It "takes a village" of people with heart, companion, honesty, and dedication and we are proud in doing what it takes to do just that.
Alston says a previous video of the same employee in an apparent state of unconsciousness was allegedly filmed weeks before the incident on Feb. 12. That video, she says, was shown to Dooley.
In response to Huffman's assertions about the photographs, Alston said she was documenting issues that had gone ignored by other members of the facility's staff.
"The pictures were taken before I cleaned up," Alston said. "Whose responsibility is it to clean up when I'm off? For her to defend those pictures, that lets me know they are trying to cover up."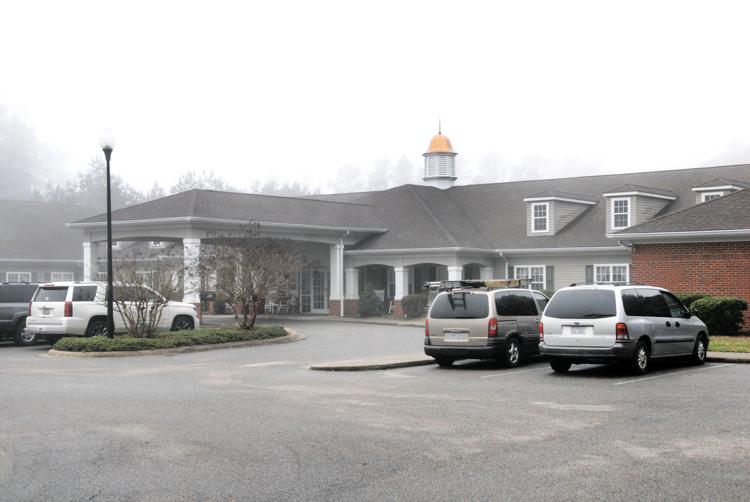 Several people, some whom identified themselves as ex-employees of Tara Plantation, have shared similar allegations about the company's treatment of would-be whistleblowers. In a comment posted on The Pilot's website, Monica Eddins wrote that her mother, a former employee, "would come home crying about how residents were being treated."
"She had pictures and tried reporting it to higher authority and they fired her, too," Eddins said.
Writing on Facebook, Curtis Self said his wife is an ex-employee who "witnessed abuse" while working at the facility. When his wife tried to notify an administrator, Self said "she was told to deal with it or cut ties."
Hough says she wanted to warn visitors about the conditions at Tara Plantation, but feared retaliation from the administration.
"I needed my job," she said, "but so many times, I wanted to say, 'please don't put your family here.'"
Alston says her former employer cited "irresponsible and unprofessional" behavior as the official reason for her dismissal. She says she stands by her decision to make the video and send it to DSS.
"I don't feel bad about losing my job over this," she said. "God has bigger plans for me."
Tara Plantation was roiled by a previous controversy in 2007 when its then-director and four other employees were charged with conspiring to sell medication that had been prescribed to residents.
In 2008, the state Division of Health Service Regulation levied a $14,000 fine against Tara Plantation for failing "to ensure health care referral and follow-up for two residents: one who was administered the wrong medication; the other experiencing a skin breakdown." The company paid $4,000 as part of a 2010 settlement that required Tara Plantation to provide training to its employees.
Other fines were issued in 2012 when a resident with dementia was allegedly left unsupervised in the facility's courtyard, and in 2013, when the company was accused of failing to implement new policies after a resident suffered "multiple falls which resulted in injuries and bruises." Both cases were successfully appealed by Tara Plantation, according to information from DHSR.
During the agency's most recent annual inspection, Tara Plantation was rated as a three-star facility, with six demerits based on citations for "noncompliance with the rules related to resident care and services."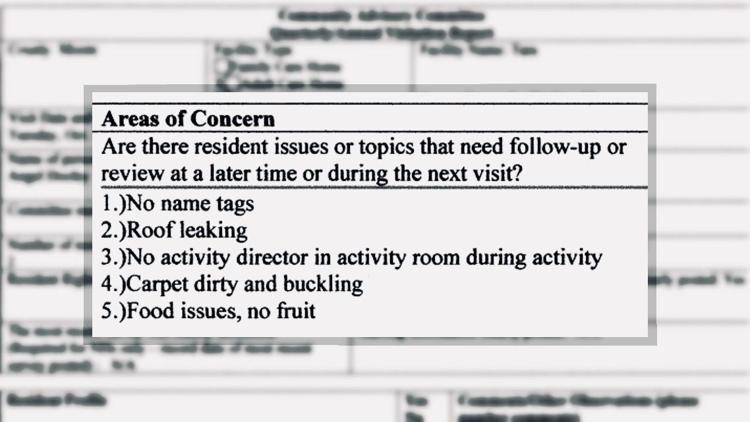 Conditions at Tara Plantation have been documented in recent visitation reports from the Moore County Nursing and Adult Care Home Community Advisory Committee.
In the quarterly report for July, visiting committee members wrote that "several (residents) were unkempt and looked dirty" and there were "odors throughout the entire facility."
The report described the building's carpet as "frayed, torn and could be a hazard for walkers" and "badly stained, with several new areas of urine stains."
In the latest quarterly report, which was filed in October, a committee member observed an "unpleasant odor" in the facility's memory unit and described the carpet as "dirty and buckling."
The building's roof was leaking, fruit was not being offered to residents and employees were not wearing name tags, the report said.
Alston plans to file for unemployment benefits to take care of her bills while she searches for a new job. She says she hopes her video will help bring "justice for the residents."
---
Correction: An earlier version of this article, which has been continuously updated since it was first published on Saturday, incorrectly referred to Tara Plantation as a nursing home.