Moore County home to four microbreweries and a cider house, may soon have a new offering on the spectrum of spirits.
A Southern Pines couple with strong ties to the military community received an enthusiastic recommendation of approval Thursday from the Southern Pines Planning Board for their plans to build a resort-like distillery campus off U.S. 1 at Yadkin Road.
Brad and Jessica Halling of Rickhouse Properties have submitted a rezoning application and a Conceptual Development Plan for the American Whiskey Co. project. As presented, plans call for developing 4-acres of an existing 15-acre site in the town's light industrial area.
The Hallings four-phase plan includes construction of a distilled spirits plant with production and storage facilities, plus a cocktail bar, commercial kitchen and restaurant, retail area, office space for the business, and private tasting areas. Later phases include expansion of the plant and construction of additional storage facilities, in addition to an outdoor stage and entertainment area facing the wooded rear portion of the property.
"This is a post-military retirement purpose-driven project for us," Jessica Halling said, noting the couple spent considerable time discussing what kind of business they wanted to bring to the community. "We are surrounded by so many military and civilians who are extraordinary quiet professionals. We felt that whiskey, because whiskey and soldiers go together, is just an amazing medium to send messages of gratitude and thanks to these extraordinary people."
The couple, who've lived in Moore County since 1990, also feel the facility will promote Moore County and encourage military entreprepreneurship, business growth and key relationships with Fort Bragg. The branding of the distillery's products will primarily feature military themes and be consistent with higher end spirits.
Brad Halling retired as a Sergeant Major with a remarkable personal history of service in Special Forces. His wife, Jessica, a former JAG officer retired as a Colonel.
"We are very excited about being a small business in the community that people will be proud of," said Jessica. "We look for this to be a cool gathering place in our multi-generational community.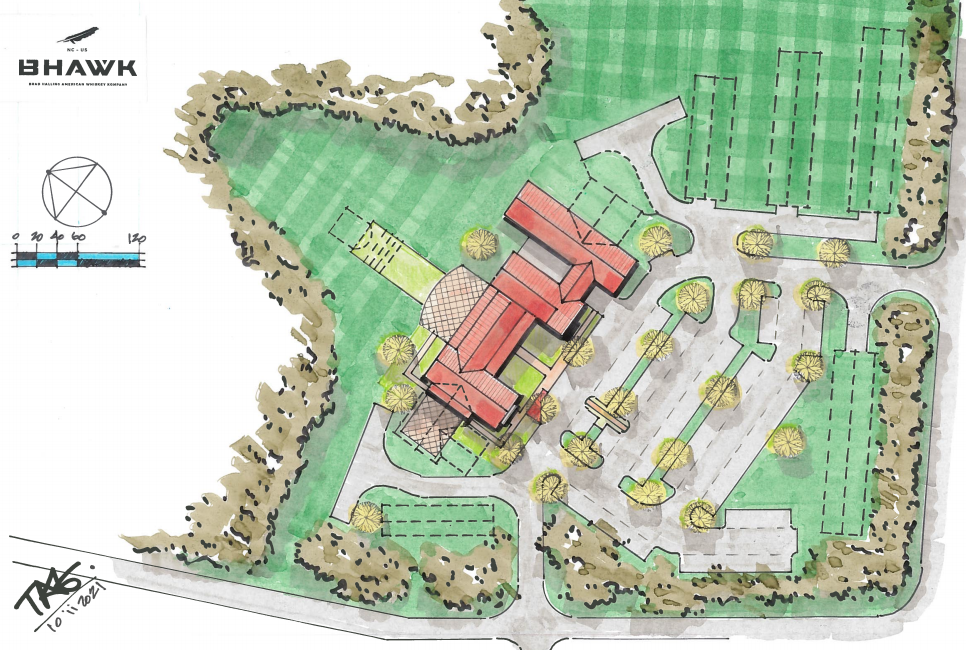 We are regular people trying to make the American dream happen for the second time in our lives."
In late 2019, the N.C. General Assembly passed bipartisan legislation to advance distillery development in the state by lifting bottle sale limits and allowing for cocktail bars to operate within distillery manufacturing plants.
Halling said they envision a small, regional distillery facility where guests -- marketed specifically to small groups visits -- can take a tour, try samples and have a bite to eat, and the opportunity to purchase merchandise at one location.
The addition of a restaurant feature and the outdoor stage are consistent with a higher end brand and facility campus, and these amenities would be consistent with the greater Southern Pines community, Halling explained.
The proposed site is undeveloped with a large open area, where the facility is proposed for construction, and a wetlands and wooded area to the rear of the property.
Neal Smith of Neal Smith Engineering, speaking on behalf of the Hallings application, said the undeveloped site has delineated wetlands that will not be disturbed. More importantly, there is a known hazardous waste contamination issue and the Hallings are working closely with the N.C. Department of Environmental Quality (NCDEQ) on a site evaluation and remediation plan under the Brownfields Program.
The Hallings said they were aware of the concern prior to purchasing the property and they have paid a higher fee for an accelerated testing program with all work being done by NCDEQ. The entire 15-acre site will be tested, not just the projected development area, and the state's project manager will provide the Hallings with mitigation or remediation options.
"If they deem anything unsafe, there will be a land use restriction in the agreement," Jessica Halling said. "The environmental study was needed for us to qualify for a small business loan. That was the motivating factor for the Brownfields programs but the contamination (level) is very low."
The Hallings requested a Planned Development rezoning for the project, despite its location in the town's light industrial area, because this category allows for and encourages mixed uses that are compatible and mutually supportive.
A neighbor expressed concern about potential traffic impacts to the immediate area, particularly along Yadkin Road. Neal Smith responded that a traffic study would be conducted as part of the planning process. He also noted that during the required neighborhood meeting there was general consensus that a distillery campus was preferable to a light industrial plant.
Southern Pines Planning Board Gary Carroll spoke in favor of the proposal following a unanimous recommendation of approval.
"I think this is a great project for this area and I look forward to seeing it happen. I wish the new owners good luck," Carroll said.
A public hearing has been scheduled on March 9 for the Southern Pines Town Council to consider the rezoning request and preliminary development plan.