Hurricane Florence left a trail of uninhabitable homes in the wake of its destructive lurch through Vass in September.
Dozens of residents were displaced by the storm, which caused extensive flooding in neighborhoods adjacent to waterways that connect to Little River. Anxious to learn of their options, more than 40 flood victims gathered inside the Crains Creek Volunteer Fire Department on Thursday for a community meeting organized by Moore County Emergency Management.
They were handed packets with information about residential mitigation programs offered by the Federal Emergency Management Agency. Depending on which program they apply for, the displaced residents could receive money to leave, rebuild or elevate their sodden homes.
During the meeting, Scot Brooks, director of Moore County Emergency Management, warned that it could take some time before any checks are signed. There is also no guarantee, he said, that every application will be approved.
Of the 30 residential mitigation applications submitted by the county after Hurricane Matthew in October 2016, only seven were approved. The approvals were announced in August, a few weeks before many of the applicants' homes were damaged again by Florence.
"Those people are still not settled," said Brooks, who explained that the county is required to solicit bids for the approved projects before work can begin.
But Brooks said he is hopeful that relief will come more quickly this time around.
"The state of North Carolina, the state contacts I deal with, are telling me they have learned a lesson from Matthew, and this will be a faster process," he said.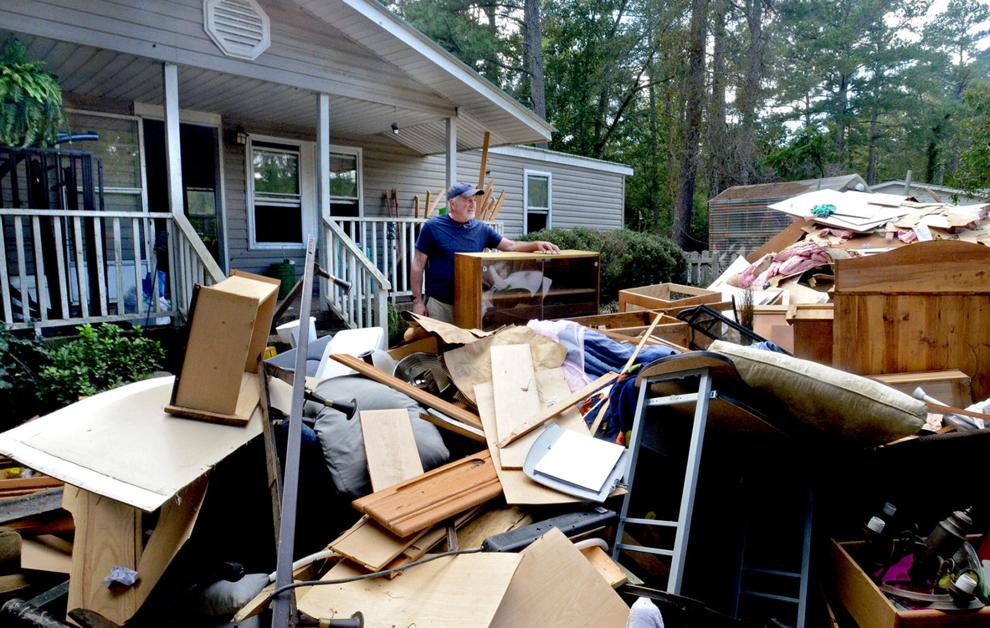 While he cannot control the pace of state and federal agencies, Brooks said he can at least speed up the county's role in the process by submitting all the applications at once.
"My reason for having this meeting is, I want to give everybody in the neighborhood an opportunity to apply," he said. "My fear is that I'll get a couple of people and send in their applications, and then a month later somebody says, 'what about me?' When you start having one application floating around in state and federal government, that could be a problem."
Some of the flood victims at the meeting have been receiving money from FEMA to pay for temporary housing. Brooks suggested the agency may work more quickly to finalize a mitigation deal with those residents, which is more cost-effective than making monthly rent payments as part of a prolonged application process.
According to Brooks, flood victims who are approved for residential mitigation deals are not obligated to accept the offer.
"If you get the appraisal and like the appraisal, you can say, 'Yes, let's proceed,'" Brooks said. "If you don't like the appraisal, you can stay where you're at. It's entirely up to you."
The destruction wrought by Florence was a major setback for people in Vass, where the median household income is a little over $27,000. Nearly a quarter of the town's population lives below the poverty line, making it one of the most economically disadvantaged communities in Moore County.