Few school districts elected to re-open physical classrooms to students in the middle of the coronavirus pandemic last August.
Those that decided to offer families in-person learning did so despite lingering questions about the virus and whether the now-common practices of mask wearing and social distancing would sufficiently curb the spread of COVID-19 among children, teachers and other staff.
The work of a research group from the Duke Clinical Research Institute and University of North Carolina School of Medicine known as the ABC Science Collaborative has gone a long way toward resolving many of those questions over the last six months.
School districts statewide will be moving more students back onto campus over the coming weeks following a bipartisan agreement approved earlier this month in the General Assembly and signed by Gov. Roy Cooper.
Moore County Schools was among a handful of districts to offer on-campus learning to students in kindergarten through high school back in August. It's again poised to be in the first 10 of North Carolina's 115 public school districts to offer in-person learning to students in grades six through 12 five days per week.
Thanks to the districts that started the year on hybrid virtual and in-person learning schedules, schools across the state know more about how to manage day-to-day operations while the pandemic continues — and that kindergarten students can generally be relied upon to wear face coverings during the school day.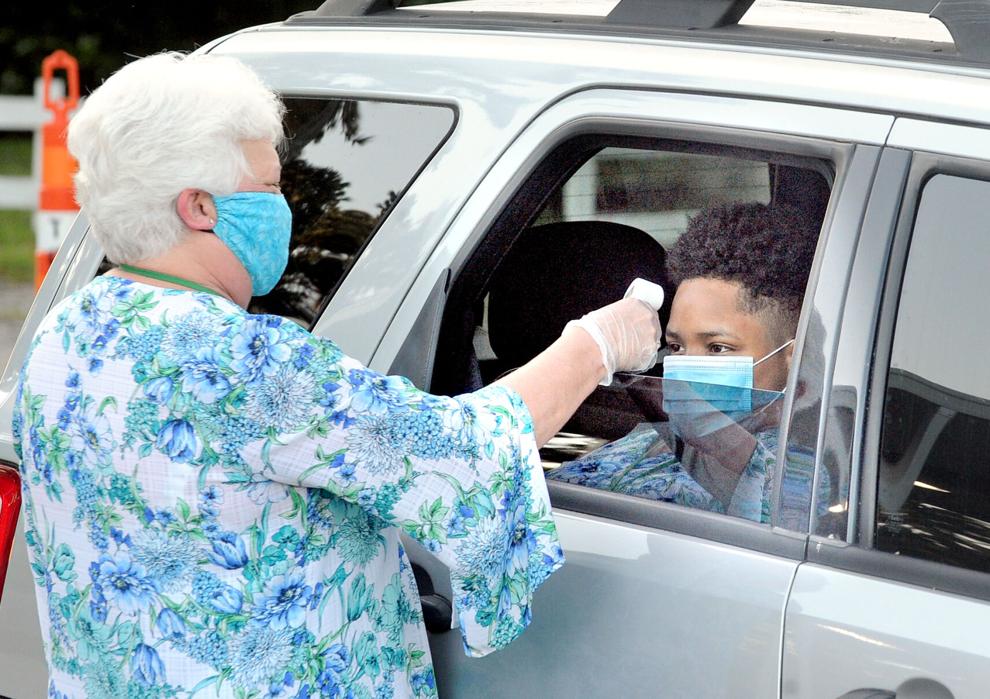 "We all have to go back to what our knowledge base was at the time to appreciate what we've all gained since that time and how the ABC Collaborative, particularly the Duke Clinical Research Institute has contributed to that knowledge base," said Moore County Schools Superintendent Bob Grimesey.
Learning Amid the Learning
Moore County Schools was one of 11 school districts to participate in the ABC Science Collaborative's study of newly reopened campuses over the initial nine-week grading period from late August through October. Those districts enrolled more than 90,000 students, and all were operating under "Plan B," the more aggressive reopening allowed by the state at the start of the year.
In size, the participants ran the gamut from Mount Airy City Schools with fewer than 2,000 students to the Iredell-Statesville district with more than 20,000.
Participating school districts contributed data on the number of confirmed COVID-19 infections in their schools. Contact tracing by the schools themselves and in conjunction with their local health departments identified cases passed by "secondary transmission," or between students and staff members on a school's campus, as opposed to primary infections originating outside of school.
"The key deliverable for schools is to prevent in-school transmission," said Dr. Danny Benjamin, a pediatric infectious disease specialist at Duke and co-chair of the ABC Science Collaborative.
"Lots of kids are going to come into Moore County Schools with COVID — we're right in the middle of a pandemic. Lots of people are going to come onto school property with an infection. The key is to prevent people from giving it to other folks while they're on school property."
Over the first nine weeks of the academic year, the 11 subject districts recorded a far lower incidence of COVID-19 transmissions within their schools than was recorded in their communities at large.
Those districts recorded 773 cases in that time period, including 32 identified on-campus transmissions. Researchers determined that, based on the transmission rates in their associated communities, those schools were expected to record between 800 and 900 secondary coronavirus transmissions.
"In retrospect it's not really that surprising because you've got a group of people who've spent their lives dedicated to the safety of adults and children on their properties," said Benjamin.
"You tell them how to prevent school shootings, they do that. You tell them to make sure everyone is vaccinated — for measles, mumps, rubella and polio — they do that. You tell them about earthquakes and fires, they do that. You tell them about identifying and reporting child abuse, they do that."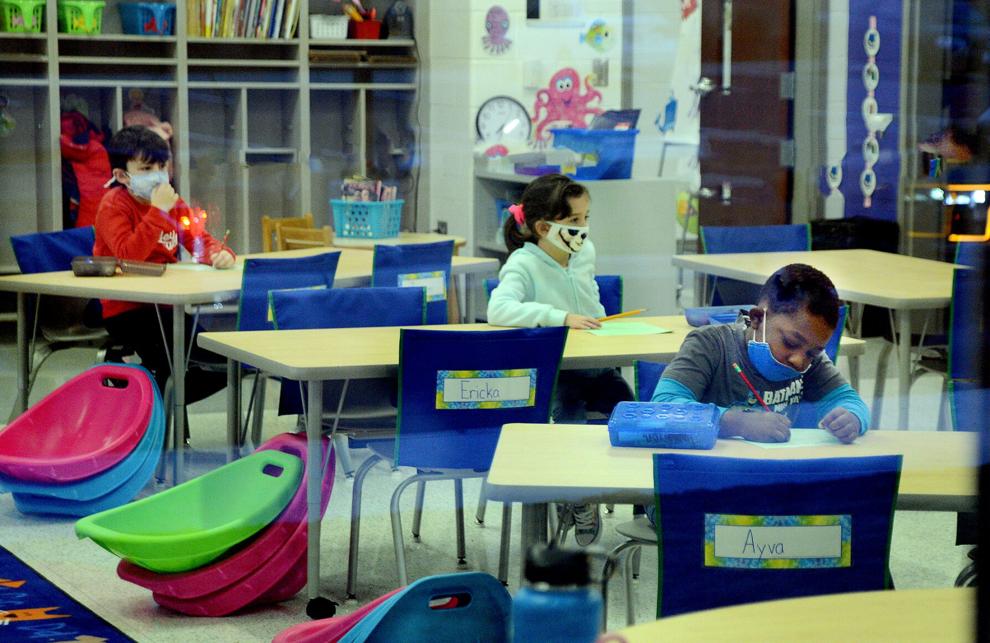 Subsequent data collection over the winter included Surry County, increasing the enrollment in participating districts to more than 100,000. The data collected reinforced the conclusions of the first nine weeks' study, which was published in January in the American Academy of Pediatrics' peer-reviewed medical journal.
Between late October and the end of February, those 12 districts recorded 200 on-campus transmissions among nearly 4,000 total recorded cases in their schools.
"We had to understand the relationship between community spread and spread within our schools and dissect the difference between spread of the disease during the school day and the existence of the disease as a result of exposure by our students and employees outside the school," said Grimesey.
"I believe it's led to this recent turning of the tide for reopening schools, that it's informed everyone's growing confidence that schools are actually one of the safest places for students and for school employees when those schools adhere to their COVID-19 mitigation protocols."
Resolving unknowns
Findings from the collaborative have helped influence school administrators' recommendations to the Moore County Board of Education as the district has moved more students onto campuses at a time.
Typically schools have taken the more cautious approach in light of the unknowns: cordoning off playgrounds and frequently sanitizing high-touch areas to prevent the virus from spreading via contaminated surfaces.
"We do wash our hands and we disinfect and we've got to make sure we clean and use the right procedures, but we learned very quickly that research wasn't showing that's how COVID-19 was spreading," said Grimesey.
"Very early on the yellow tape started coming down from the playgrounds, because, with the playgrounds not available, there weren't as many things for kids to do outside."
The same information spurred Grimesey to change his initial recommendation last fall for elementary schools' shift to Plan A from four days per week to five. Moore County Schools under Plan B established Wednesdays as remote learning days for all students so that custodians could have free access to the entire campus to sanitize between separate cohorts of students.
While the Moore County Health Department has weighed in on these recommendations as well, Grimesey said that working with the ABC Collaborative has enabled more proactive planning throughout the pandemic.
"In our meetings with DPI or DHHS and even our local health department, by their nature they have to make sure we're all following the research as it now stands, but the ABC Collaborative allows us to look at the areas where research may change," he said.
"So in our future planning for what can we expect from the influences of future research and the influence of vaccinations, we get a little bit more speculative so we can look ahead beyond just complying with the current rules."
'We've Adapted'
Through the collaborative, Moore County Schools also had access to more data illustrating transmission rates across the grade levels, which showed the differences to be incremental between elementary, middle and high school grades.
So last fall, as administrators began to engineer schedules for the second semester — with K-5 in Plan A, grades 6-12 in Plan B and all students who opted for virtual learning in the district's online academy — it was with an eye to a simple transition of middle and high schools to Plan A.
A week after Gov. Roy Cooper signed the compromise legislation permitting local districts to shift students in grades six through 12 onto campus full-time, Moore County Schools stood as one of eight districts in the state with plans to do so before the end of March. Several others are adopting a four-day schedule, with nearly 20 more scheduled to move to a four- or five-day attendance plan in April.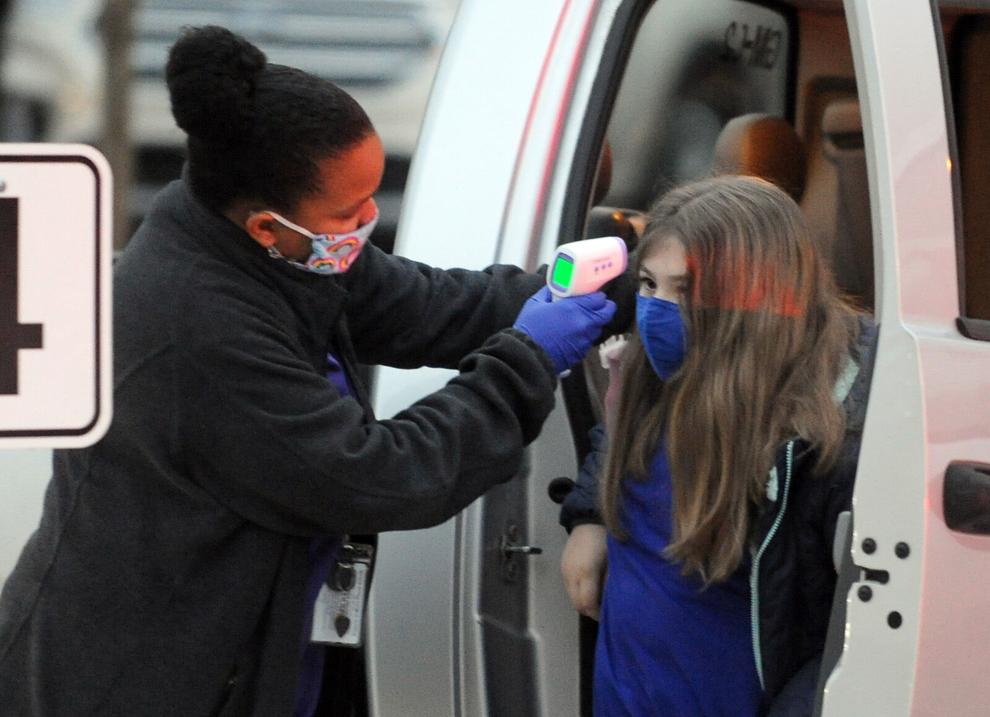 "It's not like we're in a race, but I believe there's something to be said for the fact that we've learned our lessons, we've adapted to the research, and that has positioned us in a way that we can bring out middle and high school students back and we have confidence we can do so safely," said Grimesey.
"Our transition from a school district that was sharing all the deep concerns about the reopening of schools in August to becoming one of the school districts in NC that was among the first to have all K-12 students back in school was a credit to our health department partners and all of our employees and our families, but I think that what really put us into this leadership role was the counsel that we received through our involvement with the collaborative and in particular Dr. Danny Benjamin and Dr. Mike Smith."
More Studying
North Carolina is requiring all districts that reopen their middle and high schools under Plan A to submit their COVID-19 transmission data to the ABC Science Collaborative. To support that expansion, the state is providing the collaborative with $500,000 in funding.
Benjamin said that going forward the collaborative will serve as an impartial interpreter of new data to offer a verdict on the safety of Plan A for older students.
"We're simply the neutral third party that's providing a service to the districts and to the state so there's a safe, reliable, reproducible way to transmit these data," he said.
"If you're a parent in Moore County, you know Moore County Schools has a track record of safety they've established within and without since August. You can, with confidence, send your child — or if you're an employee send your spouse — into that environment with confidence. Other schools in North Carolina deserve that same level of rigor, that same level of transparency, that same level of dedication to safety that Moore County has had all along."
The district's numbers so far, with older students on Plan B and elementary school students on Plan A observing three feet of social distance, indicate to researchers that the measures in place to prevent the spread of COVID-19 will continue to prove effective.
Enforcing social distancing measures on school buses has also limited the number of students that can be on campus at the same time. Benjamin said that the experience of commercial airlines, which have recorded very little transmission, is also promising for students.
"It's probably okay be to be on a school bus, as long as you have a mask on, for 20 or 30 minutes or however long your school bus ride is," he said.
"The data are already out and are strongly in favor of sending kids to school full-time. The risk-benefit ratio is strongly in favor of sending kids."
Rethinking Quarantine
The standard post-exposure quarantine period may be the next subject to come under scrutiny as more schools come on board with the collaborative, as participating districts bring more students on to campus at a time, and as more teachers become vaccinated.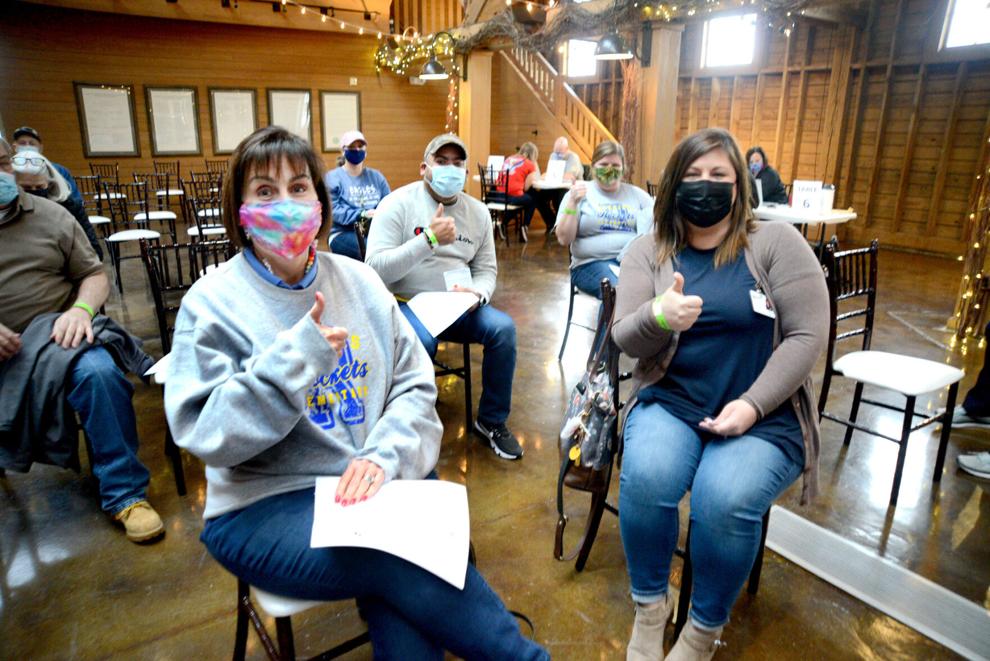 Grimesey has himself combed through enough of Moore County Schools' quarantine data that he's noticed many more students being shifted to virtual learning for each confirmed case as the spring semester goes on. During the second week of January, 34 confirmed in-school cases each resulted in an average of 12.3 absences due to quarantine.
Though there were fewer infections recorded between March 4-12, the ratio of absences due to quarantine was just over 30 for each COVID-19 case.
This week the N.C. Department of Health and Human Services adjusted its quarantine guidelines to reflect guidance from the Centers for Disease Control and Prevention indicating that those who are inoculated against COVID-19 need not quarantine after exposure if they aren't exhibiting symptoms and live outside of a group setting.
The CDC has also issued alternative quarantine options that would reduce the 14-day quarantine to 10 days if no symptoms develop or seven days with a negative test five days post-exposure. But the state isn't currently recommending those options for K-12 schools.
"We have a lot of questions right now and I would say that all my colleagues agreed, to what extent is it necessary for us to be quarantining as much as we are? Does the presence of a single positive case mean that everybody needs to be quarantined?" Grimesey said.
"Trying to manage that, the disruptive effect of that is a lingering legacy right now that is under study."