There's been a steady interest in local recycling efforts since disposal fees began to skyrocket last summer. Those costs prompted Moore County to hike rates for municipalities that use its transfer station and also changed how glass is collected and recycled.
"We've had an overwhelming response from the public. We have fielded tons of phone calls and inquiries from people who want to know how they continue to recycle while incorporating the changes we've had to make," said Chad Beane, who heads up the county's solid waste program.
"People are eager to do the right thing. That is one thing we've taken away from this, is that people want to recycle and that is good news for us," he added.
However, solid waste and recycling program expenses continue to outpace revenue. For the current fiscal year, revenue generated from tipping and disposal fees at the county landfill — which represents the primary source of income for the Solid Waste Division — were $1,567,420. Total expenditures are running $2,225,333, a difference of $657,913.
Moore County operates a landfill transfer station on N.C. 5 in Aberdeen, plus the county's seven collection sites where citizens can dispose of household waste and recycling at no cost, and a household hazardous waste collection site in Eagle Springs.
Beane said it takes approximately half-a-penny of the county's general fund to cover the difference between revenues generated and total expenditures for the operation and disposal of Solid Waste and Recycling in Moore County.
In an effort to reduce recycling costs, Moore County formed a public-private partnership with Strategic Materials. The company refurbished a "glass bunker" at the county's landfill property, and the county installed separate glass storage bins at each of its seven collection sites. Strategic Materials collects the glass from the landfill once a month or so, at no charge to the county, and hauls it to a specialized processing facility.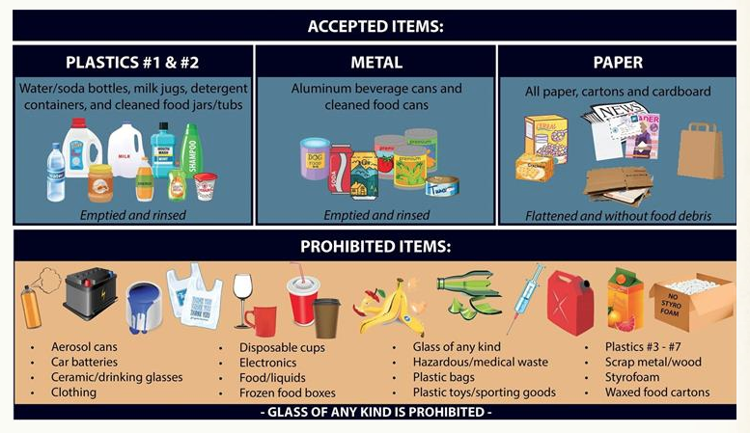 Aberdeen and Pinehurst both eliminated glass from their curbside recycling programs, and have encouraged their residents to use the county's collection sites instead.
"We've been happy with the decision we made to remove glass from the single stream recycling process. The new program has been going successfully for about three months now," Beane said.
"Hats off to citizens that have stepped up and willing to adapt to the new process. It is also a good testament to our employees who have relayed this information to people at the collection sites about recycling their glass separately," he added.
Beane said the total tonnage of recycled materials has dropped because of the change.
"The county has seen a cost savings because glass contributed a significant portion of the recycling weight we were charged for," he said. "As far as county collections, we are excited about where we are gong with this. We feel we have a good grip on recycling and the procedures we've put in place."
But there is still work to be done to reduce overall costs, particularly with contaminated recycling loads.
Municipalities that opt in can bring their curbside recycling to the transfer station where it is compacted, mingled with recycling from the county's collection sites, and hauled to a materials recovery facility, also known as a MRF.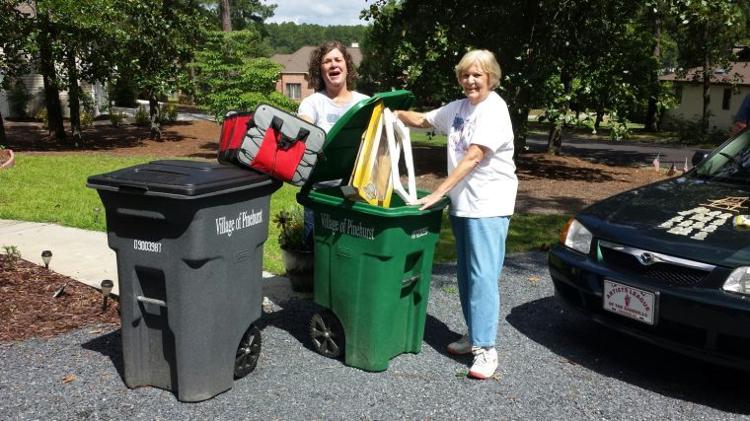 "The municipalities that offer curbside recycling have done a tremendous job of outreach and communication to their citizens about what is and what is not acceptable recycling materials," Beane said. "We went from 40 percent contamination on loads to 20 percent and even 10 percent contamination on some loads," he said, noting that 10 percent or less contamination is the county's goal.
Though even with these improvements, controlling costs has been problematic.
"We've been operating with a disposal and tipping fee that is just enough to cover our costs. But we had not figured in contamination in our original calculation," Beane said.
When a load is determined to be contaminated by the MRF, it is hauled back to Moore County — incurring costs both directions — and is still then charged appropriate disposal fees for landfilling.
"We are making strides and yes, we are getting it cleaned up. But we are still just making ends meet and barely covering costs," he said. "When recycling is done right, there is a cost savings. When recycling is done wrong, there is a huge penalty of costs associated with it."
On Tuesday, Beane will present updated budget numbers to the Moore County Commissioners.
"We anticipate there will be an increase to our tipping fees for the next fiscal year. This is a higher cost that will be applied to anyone who utilizes our transfer station for recycling," he said.
In addition, Beane and state recycling officials will meet with representatives from the Triangle J Council of Government and local leaders on Monday, April 29, at Pinehurst Village Hall for a special meeting to discuss recycling.