A quiet and effective leader, Tony Price was honored by the Moore County Board of Commissioners on Monday for his impactful work with the Moore Free & Charitable Care Clinic (MFCCC).
Located on Trimble Plant Road in Southern Pines, the Moore Free Care Clinic -- as it is more commonly known -- provides primary care services on a sliding-scale fee to adults who meet eligibility guidelines. The clinic was recognized for a statewide award in 2016 and is accredited by the North Carolina Association of Free & Charitable Clinics (NCAFCC).
Recently, the clinic completed an expansion that doubled the size of its previous space with the addition of two exam rooms, a larger pharmacy space, two treatment rooms and several new office spaces for clinic staff and volunteers.
Price, a retired Verizon executive who was named the clinic's chief executive officer in 2011, was recognized for nearly single-handedly raising sufficient private funding for the project, while managing the clinic through the COVID-19 crisis with no interruption of services to clients.
"It is my privilege to be able to read this resolution," said County Commissioner Catherine Graham, who served alongside Price when he chaired the Social Services Board. "The clinic is such a great asset to Moore County."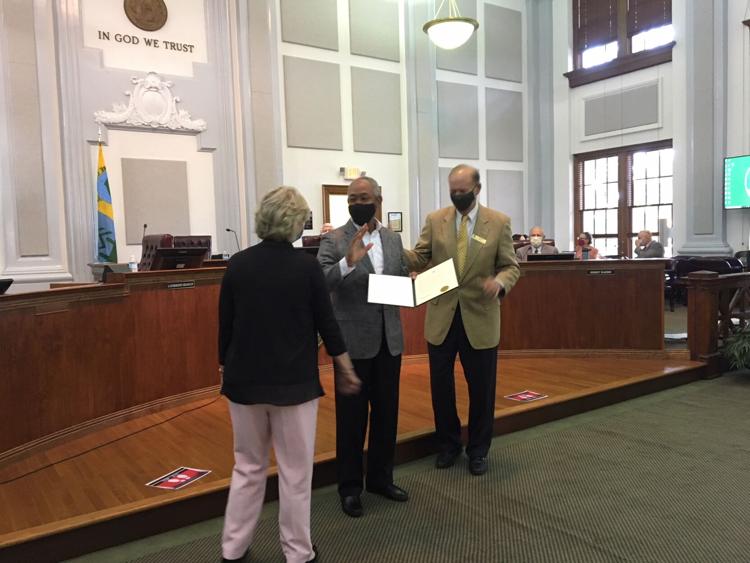 It is estimated that nearly 14,000 Moore County residents do not have health insurance. The MFCC assists mostly adults between 18 and 64 years -- the age groups largely left uncovered by federal Medicare and Medicaid programs -- and who do not have access to insurance through their jobs or cannot afford to buy it on the marketplace.
The clinic typically enrolls 300 new patients a year, and a majority suffer from one or more chronic conditions — like hypertension, diabetes or heart disease, and behavioral health services — that can be effectively managed with consistent care and medications. Therefore, the clinic prioritizes education and support for healthy lifestyle changes.
Importantly, these healthcare services are provided at little to no cost to patients. Funding comes primarily from individual donations from businesses, civic organizations, churches, grants and community members.
Every single dollar donated to MFCC provides approximately $29 in medical services.
Price, who was recently sworn in as a member of the Moore County Board of Health, was honored for his leadership role in growing and sustaining the clinic as "an invaluable community asset."