For many upperclassmen at North Moore High, seeing was believing when they returned to school this fall and found earth moving in preparation for the largest expansion in the school's history.
"At first I didn't think it would actually happen. I thought it was a joke," said junior Trinity Cockman. "We didn't really expect that it would be done before we leave. We're excited that it will be done next year."
On Friday, Moore County Schools celebrated construction beginning on a 39,000-square-foot addition to the campus, which serves about 530 students from Robbins and the surrounding area.
The most prominent feature of the expansion is a longed-for auxiliary gymnasium. Though North Moore's men's and women's athletic programs are as numerous as Union Pines — and Pinecrest has only one more with lacrosse — it is the only one of the three high schools that still makes do with a single gym.
"It's exciting for me to be able to stand here and be part of this event," said Pam Thompson, who represents the Robbins area on the Moore County Board of Education. She also graduated from North Moore.
"For years, we've heard our students here at North Moore, our teachers, our staff, our coaches talk about the inconvenience of having to use one gym for all of the sports. Students have to get up at 4 or 5 in the morning to get to the gym to practice, and some wind up at 9 or 10 (at night) simply because there are so many sports using one facility. So we are just so appreciative."
Designated weight training and wrestling rooms, as well as new locker rooms for athletic teams will round out the addition to North Moore's athletic facilities. The project also involves about 8,000 square feet of renovations, including the existing locker rooms for PE classes.
A new academic wing will include six classrooms, four science labs, and classroom space for special needs students.
"This is an important step for us to have equity among all three of our high schools, and providing every student in Moore County with appropriate facilities that will help them achieve not only academic success, but also athletic success," said school board Chair Helena Wallin-Miller.
Accounting for about 25 percent of North Moore's building space once it's complete, the new expansion will be situated along the eastern edge of campus. In recent years, the district has come to view the high school's open layout of individual classroom buildings as a liability rather than a charming feature. The new building will connect the administration office to the gym and auditorium building at the rear of the school, tying in two existing classroom buildings on the way.
"There will be no more modular units on this campus when we're done," said Superintendent Bob Grimesey. "As with all of our new construction, the classrooms and the science labs will be outfitted with enhanced technology and we will incorporate the most modern standards for classroom instruction. We will have the most advanced science labs in Moore County on this campus."
North Moore opened in 1965, the second of the three current high schools to replace smaller community-based schools as part of a countywide consolidation. Since then, it's been expanded once with the addition of what's now classroom Building D in 1989. Construction on the new expansion is expected to wrap up in late 2020 in time to open to students in February 2021.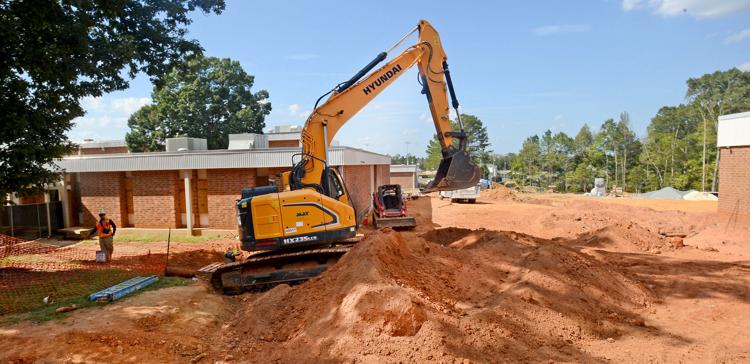 In the meantime, a six-classroom modular building — which will be moved off-campus when the addition opens — has been moved into the bus parking lot to make room for construction. But students are maintaining a positive attitude about the payoff after the temporary inconvenience.
"When we came to school and it was closed off we started to get excited," said junior Samantha Hunt. "It's been really hard, because we have track and if it rains practice gets cancelled because we don't have anywhere else to practice. We have had to come in early for soccer and cross country and it's just a pain to have to wake up so early."
County commissioners resolved to pay for an expansion at North Moore through private financing. This past May, they agreed to borrow up to $16.5 million for the project. In June, the school board awarded a $12.9 million contract to Monteith Construction, which was $1 million over the original budget.
"Up here, we did what we could with what we had. Today, we're working with what we have," said Otis Ritter, who represents Robbins on the Moore County Board of Commissioners.
"When this is built, students, treat it as your own. Take care of it. Looking at this campus, they've done that for 50 years. Then, most of all, take advantage of this education that's offered to you here so that you can leave from here and feel that you can go to college or start a life with dignity."
Lonnie English, Robbins' mayor and a member of North Moore's first full graduating class in 1969, lauded the school board and commissioners for moving forward with the expansion
"What we really need are people who will not just discuss the situation, but who will do something about it," said English. "So on behalf of Robbins' board of commissioners I would like to thank and give praise to the school board, the county commissioners, and the community for coming together to make this project happen for North Moore High School for the future of our children and their children."

North Moore's enrollment has tapered off as the Robbins area has suffered economically, but Principal Jenny Purvis pointed out that the school has a vibrant and active student body. In addition, a plan for countywide school redistricting now under consideration would shift more students to North Moore in the next few years.
"The students that you see out here today are our student government leaders. They are officers for our school and leaders in our school and our community. This is for them, and our work is for them. They represent the Mustang Way each and every day: respect, responsibility and integrity in everything we do," said Purvis.