Jean Brady was only 8 years old when her brother died in Germany during World War II. 
A 19-year-old with the 89th infantry division, Pfc. Raymond Vick mailed his final letter to his family in Nash County on March 26, 1945. He was killed in action that same day.
Brady now lives in West End, where she keeps a collection of artifacts from her brother's short life. She has wanted for years to find a pair of military decorations awarded to Vick after his death. 
Following a conversation with Brady at the Moore County GOP's annual Ronald Reagan Dinner in Pinehurst, U.S. Rep. Richard Hudson offered to have his staff track down Vick's missing World War II Victory Medal, along with the late infantryman's lapel pin for honorable service. The decorations had been lost for nearly 75 years.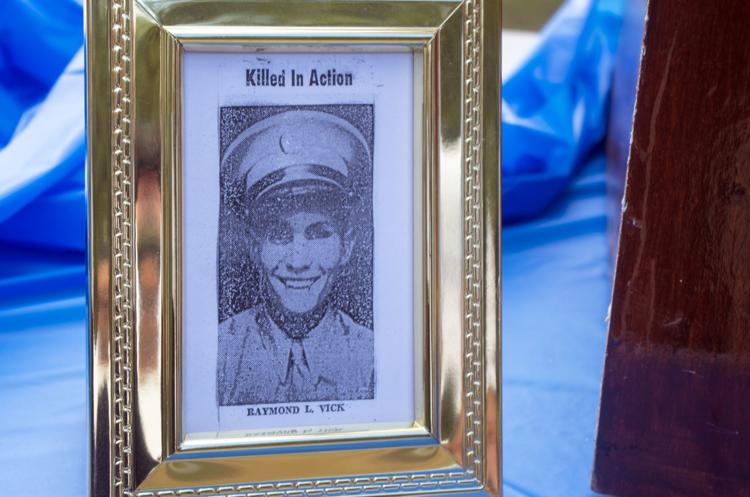 Last week, one of Hudson's aides contacted Brady with good news. 
"When his office called and told me they had (my brother's) medal, I was so excited I was bouncing off the wall," Brady said.
Hudson presented the recovered awards to Brady during a brief ceremony Monday in front of American Legion Post No. 12 in Carthage. While Hudson said his staff had to clear "a lot of red tape" to obtain the decorations, the process itself was "not tremendously hard."
"If there are other families in the community who are looking for medals that have been lost, they ought to contact our office," said Hudson, who represents both Moore County and Fort Bragg. "That's part of the service we provide."
Hudson said ceremonies like the one held in Carthage are "important because we're losing so many of our World War II veterans every day."
"Our younger generation needs to hear those stories," he said. "They need to know who these men were and what they did, and that's why I made a special effort today to be here and do this."