Congressman Dan Bishop (R-NC 9th District) and District Attorney-elect Mike Hardin visited Pinehurst Surgical Clinic (PSC) on Aug. 20 to see firsthand the impact of the Small Business Administration funding program in action.
Meeting with numerous physicians and staff of the multi-specialty practice, including orthopaedic, general surgery, and women's comprehensive health departments, Congressman Bishop took the time to recognize a medical community that is on the frontlines in patient care during the pandemic.
"Pinehurst Surgical Clinic is a great example of the Paycheck Protection Program (PPP) in action. These loans allowed them to keep their employees and continue serving their community despite the pandemic. Thank you for having me to discuss the challenges our health care providers face—we must support our essential workers," said Bishop.
Dr. David W. Grantham, PSC president, thanked the congressman for his hard work to support them. He also spoke about how essential the SBA loan was in keeping the clinic running at full capacity over the past few months as the state, and country, continue to be impacted by COVID-19.
"These funds allowed us to focus on patient care and bridge the financial gap that was created by the pandemic. It also allowed us to keep our full staff employed during uncertain times," Grantham said. "We intrinsically knew the healthcare needs would not stop and surgical intervention was not going to go away, we wanted to remain fully operational to serve our communities."
Bishop also took questions about physician concerns impacting both state and federal level that he can take back to session.
On Friday, March 27, President Donald Trump signed into law the CARES Act, which contains $376 billion in relief for American workers and small businesses. In addition to traditional SBA funding programs, the CARES Act established several new temporary programs to address the COVID-19 outbreak.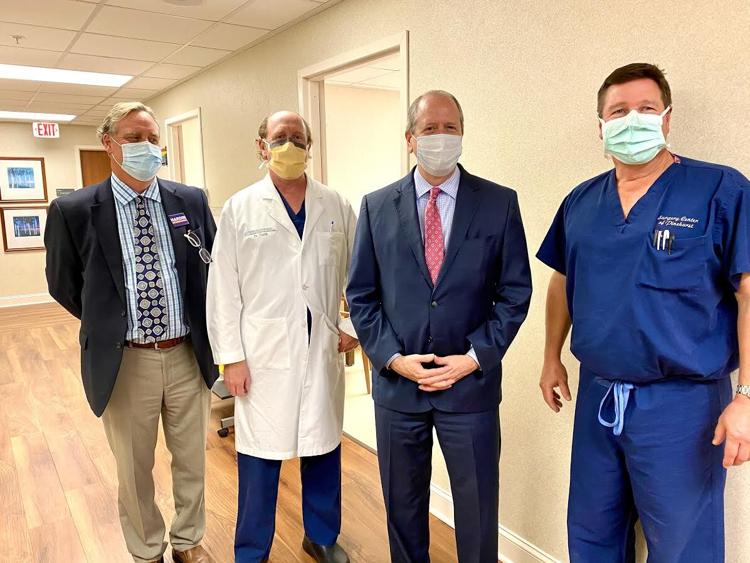 Dr. John Moore, IV, head of PSC's orthopaedic surgery department, said, "We really appreciate Congressman Bishop's recent visit to Pinehurst Surgical Clinic. It is so important to keep the line of communication open during these ever changing times. His candidness and genuine compassion for those on the front lines is reassuring."