Sandhills Community College is accelerating progress toward constructing a larger and more modern facility for its nursing and health science education programs.
President John Dempsey and college trustees alerted the Moore County Board of Commissioners on Wednesday that they will seek funding in late 2020, a year earlier than originally planned.
Moore County voters overwhelmingly endorsed the project in a referendum last May, with 77 percent of them voting in support of the county issuing $20 million in general obligation bonds to build a new nursing center at Sandhills.
Larry Caddell, vice-chair of the college's Board of Trustees, said that the college, with architects from LS3P Associates, will wrap up the process of designing the new building in the spring and should be prepared to award a construction contract at the end of next year.
The plan involves adding a new 36,000-square-foot building adjacent to Kennedy Hall, where the nursing program is currently based. Once that's complete, Kennedy itself will be renovated. In total, the work will create a 75,000-square-foot facility for Sandhills' nursing program as well as other health sciences programs like radiography, surgical technology, respiratory therapy, and emergency medical science.
"We thought this was the best use of the bond issue that had been passed by the people of this county. We were trying to make sure that we maximized what we did," Caddell told the commissioners.
"I've been privileged to be part of some really exciting things that have happened in the county, and this is one that I'm really excited about. This is going to be a beautiful building."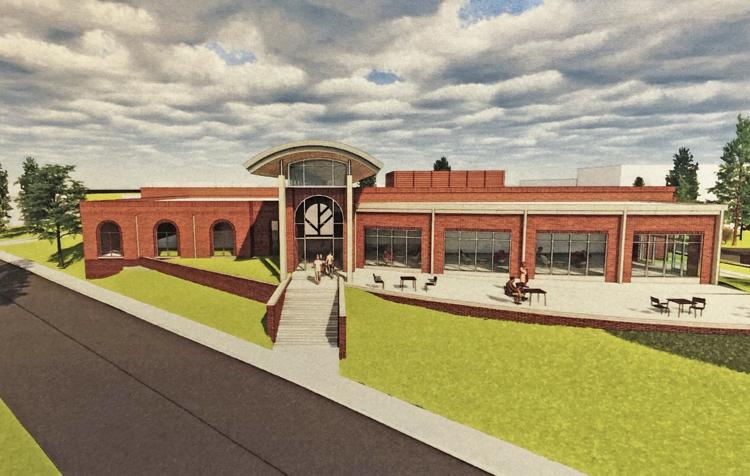 Situated in an area currently used for parking, the new expansion will face Lindbergh Place. As planned, it will include three lecture halls, offices, skills labs, a large classroom for EMS training, and 10 simulation labs where advanced nursing students can practice on sophisticated training equipment. Renovations to Kennedy Hall will primarily be dedicated to classrooms and labs for the college's other health science programs.
"The staff has spent months designing what they thought was the best way to do this," Caddell said. "This is going to be like another entrance to the college."
Sandhills currently awards associate's degrees in nursing to about 70 graduates each year. Its graduates consistently record a 90 percent first-time pass rate or better on the NCLEX state nursing licensure exam. Due to space constraints, the college usually turns away nearly as many qualified applicants from the program as it accepts.
With the new facility online, the college anticipates growing its nursing program to 200 students total, or 100 graduates in each class.
"We certainly have always supported this from Day One, and obviously the community, that voted for the bonds, supported it overwhelmingly," said Frank Quis, the Board of Commissioners' chairman.
"I particularly like the fact that you are using some existing buildings … so this is a no-brainer. I wish we were building it now."
Moving the project up a year not only allows the college to expand its program earlier, but avoids an estimated $800,000 price increase connected to inflation in construction costs.
When they've gone to bid out projects this year, both the county and Moore County Schools have encountered construction costs that exceed original estimates. Caddell also pledged that the college will absorb any cost overruns that arise on the nursing center project.
"We will never ask you for anything, not one penny. We will figure it out," he said. "We're not going to ask for any additional funds; we will pull this off ourselves for the $20 million you've been kind enough to put on the bond."
If construction begins in late 2020, the addition would be scheduled for completion in March 2022. The college would then renovate Kennedy Hall over the summer for the new health sciences center to be completely up and running for the 2022-2023 academic year.
It will be more than a year before the county moves to sell those bonds, but on Wednesdays the commissioners voiced general support for the college's work so far.
"I want to commend the board for coming up with a plan before you even came to us with the request," said Commissioner Louis Gregory. "Secondly, to be able to say to us that what you're fixing to do will not exceed the amount that the public approved for the funding of this nursing facility is very commendable, and exactly the way I'd like to see us go forward in all respects."