The boxes are deceptively simple. About the size of a shoebox, each one contains a visually organized activity designed to improve a child's cognitive skills and fine motor skills.
Recently a group of students involved in the Occupational Therapy (OT) Club at Methodist University in Fayetteville, in partnership with Moore Pediatric Therapy Services, created dozens of these "work boxes" for Sandhills Children's Center therapy programs.
"The boxes encourage basic developmental skills that all children need, but they can be tedious to make," said Cyndi Secura, who founded Moore Pediatric Therapy Services in 2008. "This has been such a great collaboration to benefit the children at Sandhills Children's Center. I reached out to the director of the OT doctoral program at Methodist University and the OT Club took on the project. She said the students loved it and got so much out of it."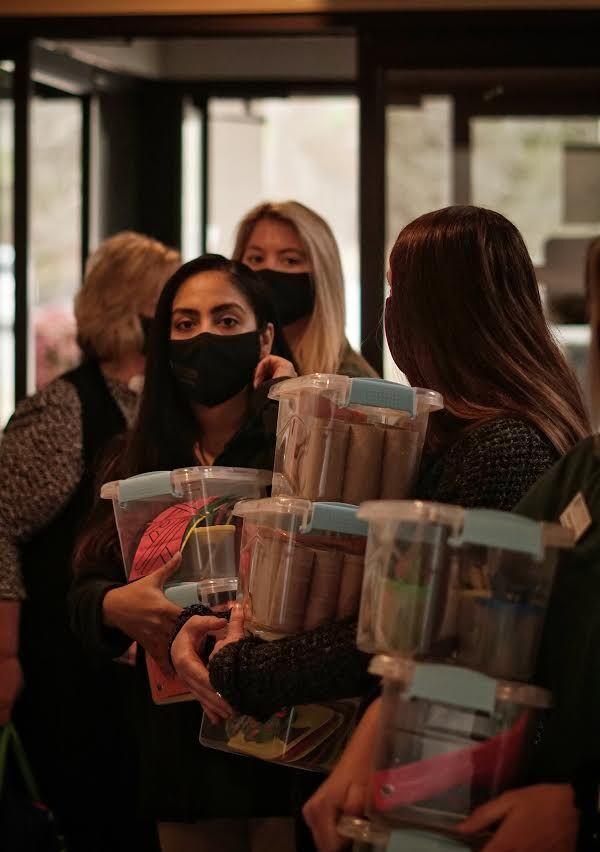 A Moore County native, Secura was always drawn to working with children. Today her practice has expanded to six locations and a team of 60 professional OTs, physical therapists and speech therapists.
"In the pediatric world of occupational therapy, we focus on fine motor skills, cognitive skills, and what we call sensory integration. Sometimes a child's neurodevelopment is not where it needs to be. We help with techniques to normalize the neurological system," she explained. "We also work with the parents a lot to integrate them into everything we do. When you are working with special needs children, you really form a strong bond also with the parents."
Secura said she has worked with Methodist University frequently, usually when students were completing clinical or observational hours as part of their studies.
"Students are a big part of what we do. We love to share our knowledge and it's also a great way to gain therapists," she said, noting that this year Methodist is graduating its inaugural class from the OT doctoral program.
Rachel Pescano leads the occupational therapy team at Sandhills Children's Center for Moore Pediatric Therapy Services. She said the new work boxes will be placed in classrooms and also available through the school's lending library for enrolled families.
"It was a good collaboration for the student organization to perform community outreach and also apply what they are learning. We were able to take advantage of their extra hands and time to put these boxes together, with fresh eyes and creativity," Pescano said.