When Mike Erwin left active duty, it didn't take him long to start searching for a way to contribute to his country even more indelibly than he had during his career as an Army officer.
A native of Syracuse, N.Y. and graduate of the U.S. Military Academy at West Point, Erwin had previously been stationed at Fort Bragg and moved back to Pinehurst permanently in 2015.
Through three tours in Iraq and Afghanistan, Erwin had discovered the necessity of working with people despite a total lack of common cultural ties. Eventually, he came to realize the value of that skill in the increasingly diverse country America has become.
"We've got a little bit of a problem in our country today about divisiveness," Erwin said. "We're not going in a great direction as a democracy right now based on how people treat each other."
Erwin has a master's degree in positive psychology and leadership from the University of Michigan, and also knew how to start a nonprofit from nothing. He turned Team Red, White and Blue — a model for helping veterans, particularly the disabled, to re-integrate into civilian life through social and athletic activity — into a movement 50 states strong.
In 2015, Erwin and fellow veteran Jeff Bryan established the Positivity Project as a better answer to developing children's character rather than teaching them to blindly follow rules.
The basic premise? That children are more likely to treat others well if they recognize and value their peers' character strengths just as much as their own.
"In this day and age, when you individualize all the ways that we're different and that people can target us by marketing, kids desperately need help being able to understand people who are different from them," Erwin said.
At first Erwin got the program into a school through a childhood friend teaching in the Syracuse area. But it's caught on quickly, and now nearly 500 schools in 28 states have implemented the Positivity Project — or P2 for short.
Schools might be rated primarily on how well their students answer multiple-choice questions about reading and math, but that's the tip of the iceberg when it comes to educating children. Making sure that students are healthy and coping well with what goes on in their lives outside of the classroom is falling further within schools' purview.
Some school systems have widely adopted the Positivity Project at the elementary school level. Wake County and Fairfax County in northern Virginia account for 125 P2 program schools between them.
West Pine Middle, which serves students from Pinehurst to West End, adopted the program just last year after a group of teachers went to a summer training session.
"As a principal, any time that you have teachers that are organically getting really excited about something, you know you're onto something," said West Pine Principal Doug Massengill, who then reached out to colleagues in Wake County who had seen the P2 in action.
"I was getting a lot of feedback about how it was creating more self-aware students who were increasingly empathetic and more humble about how they approach things, that they were persevering more through problems and starting to solve problems on their own rather than having to have adults solve problems for them."
At West Pine, each class starts the day with "P2 time," a 10-minute period devoted to discussions and brief activities. Each week focuses on one of 24 character strengths — things like gratitude, bravery, self-control, creativity, humor and optimism. The Positivity Project's 32-week schedule also includes seven weeks of exploring what Erwin has termed the "Other People Matter" mindset.
Overall, West Pine's staff hope that the program has a positive effect on school culture, so that students who might come in in the middle of seventh grade quickly absorb their classmates' high standards for their own conduct.
"At a planning retreat during the summer, several people talked about the idea of building character, that one of the things you see is kids letting themselves down in terms of what they're willing to do for a good grade or how they're willing to treat another person," said Bob Bierbaum, who teaches sixth grade social studies.
"We're hoping that with kids being exposed to this year after year that we see people thinking more about the way they treat other people, and thinking about the things that they do and how that expresses who they are."
Andrea Eckhardt, a sixth grade English and language arts teacher, spent a recent session leading students through an exercise in the permanent damage of harsh words. Students shared some of the insulting things they'd either thought about themselves or been on the receiving end of. They then wrote them down and crumpled up their papers.
Eckhardt then had her students smooth out the papers, as if apologizing, but the creases and tears were still evident.
"Sometimes self-dialogue that we have does that to these kids," she said. "They've wounded themselves by thinking over the years that they can't do something. So I talk a lot about how what you say internally becomes who you are."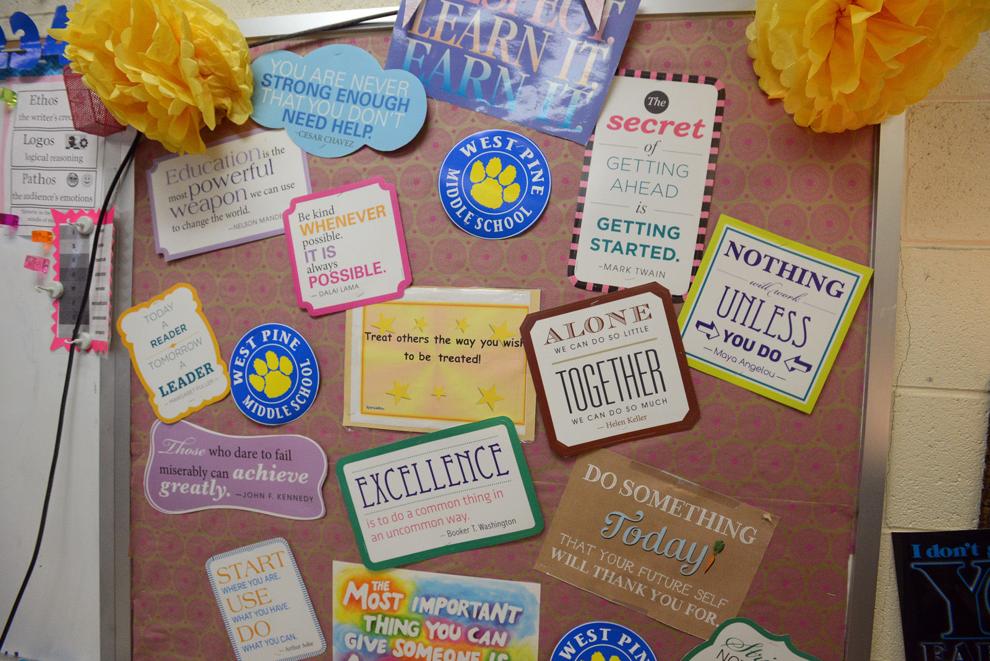 The Positivity Project encourages students to focus on their existing strengths, and to take trying moments as opportunities to become better — or more persistent, or controlled — people.
"What I really loved about this program was the vocabulary, the words that were being used. It took discussing character to a different degree: we talk about things like integrity and perseverance, which gave them this whole other level of words to pick form to promote positivity and make connections with their peers," Eckhardt said.
"It's making that connection between what I have in me and what you have in you and how we can support each other."
For middle school students, the approach is a game-changer. Inundated almost constantly by external influences, the process of self-discovery has arguably never been harder.
"Parents to some degree once had a greater amount of control over when their children were exposed to information," Massengill said. "With technology and social media there's no way for us to realistically limit when and how they're exposed to different mindsets, different cultures, different perspectives."
Learning to identify the good in others, though, helps students identify their own strengths and make a conscious choice about what kind of person they'd like to become.
"Sometimes they misunderstand themselves, so sometimes they're misunderstood by others," said Massengill. "This program really helps them flush out who they are, what they believe, and in some cases helps them alter their individual beliefs to understand the perspective of others a little more."
As an academic field, positive psychology is defined as the study of the strengths behind thriving individuals and communities. Fundamentally, people are presumed to want to lead meaningful lives and to be the best possible version of themselves.
What's key in that premise, in Erwin's view, is that — like the 24 character strengths the field of positive psychology identifies — it applies to everyone irrespective of national origin, ethnic background or religion.
"It's a powerful way to be able to understand people who are different than you in the traditional ways that we view diversity," he said. "We are all Americans. Whether you were born in Pakistan or Russia, or right here, we are human beings, and we give that very non-emotional, research-backed way to say that."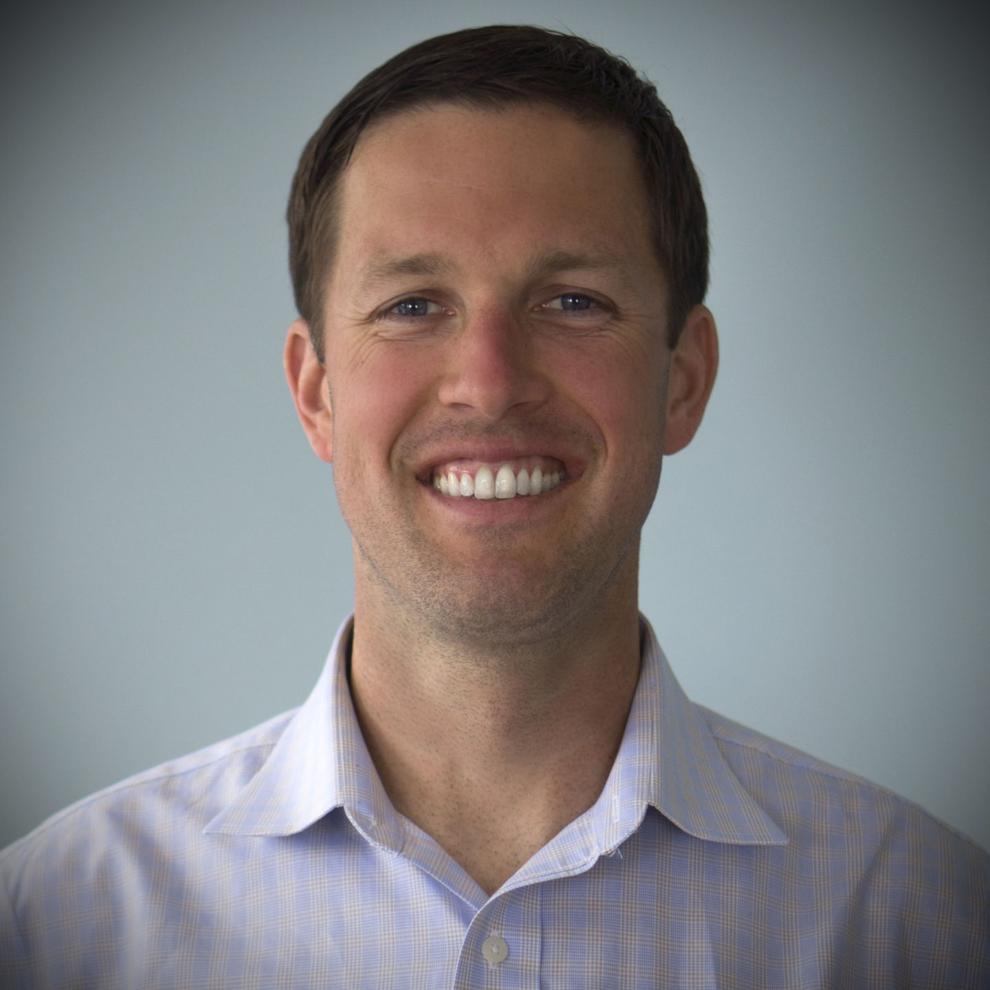 In the long term, Erwin hopes that schools find his program to be the linchpin in their approach to everything from academic success to students' mental health.
"Some teachers think that it's a parent's job to basically build better children. In a perfect world, I do too. But if that's not happening in their home, do you actually think that you're teaching them very much math?" he said.
Giving students a framework to understand themselves outside of the context of their upbringing, immediate group of friends, or barrage of posts from social media "influencers," the Positivity Project aims to both strengthen children's sense of who they are as individuals while helping them become effective, inspiring teammates and leaders.
"There are so many bad examples for kids out there and then we wonder why their anxiety, their depression, suicide and violence rates are way up," said Erwin. "The purpose of education is to be able to prepare children for those moments when a hurricane hits, or when major life adversity hits. How do you move beyond that? You need relationships."
For more information about Erwin and the Positivity Project, visit posproject.org.