Talking trash is taking on a whole new dimension lately with Moore County and several towns grappling with skyrocketing costs to dispose of recyclable materials.
The problem is simple: demand is plummeting for the things that can be reused and turned into new things. That in, turn, is inflating the cost of disposal.
There are a host of reasons why recyclables have lost value. International and domestic policy issues, local circumstances, and consumer behavior — the blame can be spread around fairly equally.
What is clear is your pocketbook is going to take a hit.
"There is no way to avoid the cost coming down the road. It is all controlled by the recycling market," said Chad Beane, Moore County's solid waste director. "This is not just a local issue, this is a universal concern."
Earlier this month, Beane convened a meeting with public works representatives from Pinehurst, Aberdeen and Pinebluff -- towns that contract with the county for recycling services -- to let them know the per ton cost to recycle was increasing.
And it won't be just a little bump in the budgets. Towns like Aberdeen are facing a cost jump from $25 a ton to $100 a ton for recycling.
A decade or so ago, Moore County initiated a single stream recycling program. This means that all recyclables are collected and compacted together prior to hauling, which is more cost-efficient.
Beane calls it a "hub-and-spoke" program: the hub is the transfer station on Turning Leaf Way in Aberdeen, the spokes are the county-maintained collection sites.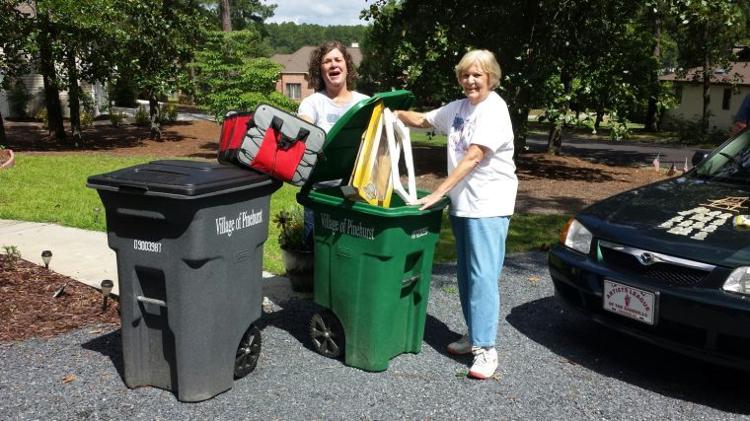 For the last few years, municipalities who opt in can bring their curbside recycling to the transfer station where it is compacted, mingled with recycling from the county's collection sites, and hauled to a materials recovery facility -- also known as a MRF.
Not all local municipalities participate in the program. Southern Pines and Robbins have their own contractors for handling waste, and many of the smaller towns do not offer recycling services at all — instead relying on residents to use the county's collection sites.
"After we went to single stream, Moore County went from 45th in the state for recycling to 18th for the amount of tonnage," Beane said. "It is easier for people to do and because it's easier, they are more prone to recycle."
"Our big players are Pinehurst, Aberdeen, and Pinebluff," Beane said. "Pinehurst alone brings in the same tonnage as Moore County as a whole."
But there is a misconception that all recycling has value. Glass is essentially worthless.
Mixed paper and cardboard are the biggest portion of single stream recycling. Clean recycling has greater value and typically stays in the U.S. But until recently, China was the biggest market for "contaminated" recycling.
"Contaminated recycling is more of a problem at curbside recycling. Some common mistakes are people using their recycling bin as an extra trash can or putting in used pizza boxes," Beane said. "Whereas, at the county's collection sites, we have an attendant who can watch what is going in."
When China stopped buying trash, recycling started backing up, processing costs increased, and vendors and towns across the nation have struggled with how to respond.
"It is an ebb and flow market, and with issues globally, right now you can't hardly find a market," Beane said. "Three or four years ago we were getting money for recycling, then it got to a zero amount. Now it has gone the other direction, big time."
But the real budget buster happened last summer.
In July, the MRF where Moore County's recyclables are delivered experienced a massive fire. As a result, the company was unable to continue its operations and terminated the county's contract.
Beane has reached out to other vendors with limited success. Some are at capacity and accepting no more waste, others will take the recycling but the county will have to haul it to their facility, and the cost per ton to process is higher.
Previously Moore County paid $41 a ton for recycling with hauling costs included. The best case scenario moving forward is looking to be $65 a ton for recycling, plus the county must foot the hauling bill.
"So what do we do now? We have a few options," Beane said.
One scenario under consideration is closing the transfer station and, instead, hauling recycling directly from the county's collection sites to the MRF.
Another scenario is to continue the hub and spoke program for municipalities with increased recycling tipping fees.
"That is not saying the county is making money on those. These would be pass-through costs to keep the program rolling as best we can," Beane said.
A third option is each municipality that uses the county's services could collect their own recycling to haul to a MRF. In this scenario, it would be more cost-effective for the town to rent or purchase a compactor to help reduce the volume for hauling.
Towns also have the option to do away with curbside recycling entirely and, instead, encourage their citizens to take their materials to one of the county's recycling collection sites.
"There are no easy answers. Everyone across the U.S. is dealing with this, it is not just a Moore County problem," Beane said. "We've been fortunate to be paying the $41 per ton rate. Other places have been paying closer to where we are headed for far longer."
Glass May Be the Deal Breaker
Glass recycling is the proverbial straw that may break the market's back. It has the least value, it wreaks havoc on the MRF process, and it is the heaviest to haul.
"Some vendors are wanting to take glass out of single stream recycling and some are even pushing for it to be put back into landfills," Beane said.
In fact, one North Carolina-based MRF told Beane they will accept the county's recycling at "zero cost," that is at no tipping fee, if glass is taken out of the stream.
"I think this is going to be a wake-up call for all of us to look at how we are doing things, and what we could be doing differently," Beane said.
He said there are three Rs in the waste industry: recycle, reuse and reduce.
"We've relied too long on recycle and not on reuse and reduce. We need to look at how we can reduce and reuse more, instead of relying on just recycling," Beane said.
Beane, who also serves as executive director of Keep Moore County Beautiful and on the board of the Carolina Recycling Association, said this is a difficult situation for everyone.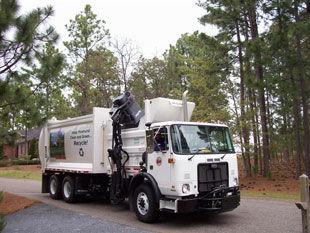 "Traditionally, what we've discussed is maybe we pushed recycling in the wrong way. We said this is a way to make money rather than emphasize this is a way to reduce landfill space," he said. "Now that the market is flipped, it is a tough switch.
"You get to the point of doing the right thing versus balancing the budget."
State law prohibits throwing aluminum cans and plastic bottles in regular household garbage headed to the landfill, but there are no regulations on glass.
"We don't want to go backward. You do what you can to keep the program afloat," said Beane.
But backward is exactly the same word Aberdeen Mayor Robbie Farrell used when the cost issue was raised during the Town Board's work session last Monday.
Aberdeen currently pays $45 per ton for general household waste and the new suggested rate of $100 per ton for recycling means it could cost residents twice as much to recycle versus throwing everything in the same heap.
"All the national effort for recycling — this is backward," Farrell said. "So what you end up with are all these plastic and glass bottles will go to the landfill after we've been working real hard for years to keep them out of the landfill."
During his report, Aberdeen Public Works Director Harold Watts agreed that there is no "viable course of action" yet presented, with glass included. The new rate that has been suggested would equate to $75,000 in additional costs to the town per year.
"It is glass that they really don't want," he said. "If we are able to make a change in our process, it will be cheaper to not have glass in the recyclables."