A new, smaller, Moore County Board of Education voted to reinstate the contract of Dr. Bob Grimesey tonight during its board meeting at Union Pines High School.
The vote brought to a dramatic conclusion a swift moving story that has captured statewide attention in recent days.
"We made history in a lot of ways," board member Charles Lambert said.
The board voted 4-1, with board member Laura Lang casting the lone dissenting vote, to bring Grimesey back and reinstate his contract with a couple of amendments. 
Chief among the amendments is the elimination of the "unilateral termination clause," by which the board removed him last Thursday morning.
Following the vote, Board member Becky Carlson, who had voted with a 5-3 majority on Thursday to fire Grimesey, handed in her resignation letter effective Sunday at noon. 
Her letter brings to four the number of school board members who have resigned since Thursday's vote. All four voted to terminate Grimesey.
Members Sue Black, Kathy Farren and Ben Cameron resigned Saturday.
Lang, who cast the other vote to fire Grimesey, has steadfastly said she will not resign.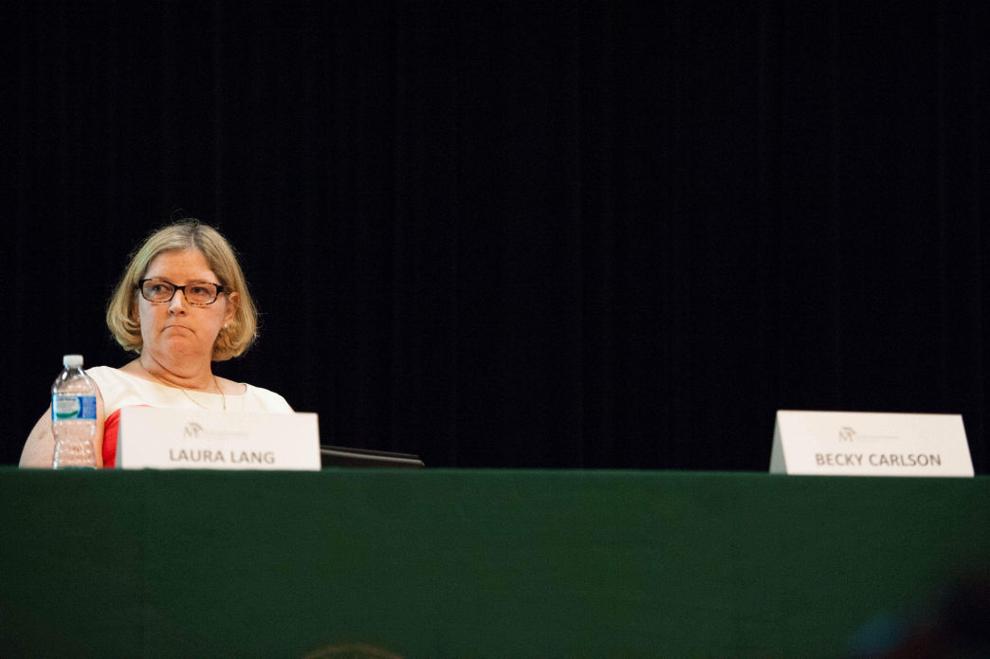 After a closed session, Lambert made the motion to reinstate Grimesey. Ed Dennison seconded the motion and the board voted 4-1. Lambert, Dennison and board Chairman Bruce Cunningham voted against firing Grimesey last Thursday.
Following the resignation of interim superintendent Larry Upchurch, Grimesey gave his superintendent's report. 
"As it has for the past six days, Moore County stands together as one, not for a man but for its own ideals and principles," he said.
Grimesey thanked everyone for the support, and he offered his admiration for setting aside all differences to show what is is to be the "finest community in all America." He ended his report with an emphatic statement.
"This is the superintendent's report, and I am again at your service," he said.
Vacant positions will be filled in a deliberate and considerate matter, Cunningham said. He said Moore County commissioners will be consulted as the two boards are "working together."
Cunningham encouraged those interested in being a board member to contact him via his email address on the Moore County Schools' website.
Nick Picerno, chairman of the Moore County Board of Commissioners, released the following statement in response to the school board's vote to reinstate Grimesey:
I'm very appreciative of the action and I'm sure it will allow our community to heal very quickly. I would like to thank Board Member Becky Carlson for having the courage to change her vote in response to the overwhelming support by our community to reinstate Dr. Bob as the superintendent.
"I want to also publicly thank Dr. Larry Upchurch for the way in which he handled this entire event. For those who did not attend the meeting he agreed to forgo any compensation for his service. He is a class act, thank you Dr. Upchurch!!!"
Picerno said that as a result of the board's action, a special called meeting of the county commissioners on Wednesday will be cancelled. He said discussion on the recall election issue and the budget will be added to the agenda for the board's next regular meeting on Tuesday, June 16, at 5:30 p.m.
---------------------------------------------------------------------------------------
The Moore County Board of Education will meet this evening at which time a newly constituted board could consider reinstating fired Superintendent Robert Grimesey.
Three of the eight-member board — Sue Black, Ben Cameron and Kathy Farren — resigned Saturday afternoon following their vote Thursday morning to terminate the first-year superintendent's contract and buy it out for $165,500. Two other board members who concurred in the 5-3 vote — Becky Carlson and Laura Lang — remain on the board.
Board Chairman Bruce Cunningham and members Ed Dennison and Charles Lambert opposed Grimesey's termination.
At least one Central Office staffer has resigned following the fall-out. Catherine McRae, who had been clerk to the board, resigned Monday. She had retired previously but was rehired to the position. Further resignations could be coming later this week.
Tonight's meeting begins at 6 p.m. with a closed executive session and a public session that begins at 6:30 p.m. The location was moved from the school system's central office to the Union Pines Auditorium in Carthage to accommodate what is expected to be a large crowd.
On Saturday, interim Superintendent Larry Upchurch said a personnel issue was being added to the beginning of the meeting. He declined comment when asked if that item would involve a motion to reinstate Grimesey.
"We're trying to work through the various legal pieces," Upchurch said.
Carlson returned a call and said, "I want to comment, but I can't. There's a lot of stuff going on. I can't say anything."
Even after Saturday's resignation, Moore County citizens, parents and schools staffers kept up pressure for Carlson and Lang to resign. A petition on Change.org seeking resignations of all five plus Assistant Superintendent for Instructional Design and Innovation Kathy Kennedy had surpassed its 5,000-signature goal by mid-morning.
"As a former employee of Moore county schools, the reign of bullying must end," wrote Savannah Rogers on the petition. "I sign this petition for all my students and my friends still in the system."
"Dr. Bob Grimesey is the most wonderful superintendent MCS has ever had," wrote Deborah Marley of Robbins. "The 5 BOE members and Kathy Kennedy need to go!"
Black, Cameron and Farren resigned in separate letters to Upchurch. Farren sent an email to Board Chairman Bruce Cunningham at 2:51 p.m. with her resignation. Cunningham got an email from Cameron at 2:56 p.m. with his resignation. Black's resignation came in by email to Upchurch at 3:38 p.m.
"I have served honorably for 18 years," Black wrote in her letter. "I wish the children the very best in the years to come. There are many needs for education and much work that needs to be done and I would not wish to stand in the way."
Said Cameron: "Over the course of time, I believe that the vote I made on Thursday will be revealed to have been the right decision for Moore County Schools. While recognizing that the majority of the community has not spoken out against the vote I made in good conscience last Thursday, I am concerned at the disruptive public behavior that is negatively impacting the Board of Education's activities. The business of the Board of Education and Moore County Schools is more important than my personal service."
Said Farren: "Many of Moore County's citizens have asked me to rescind the decision I made last Thursday or to resign. Because I still stand by the decision I made, which was informed by information that is protected by strict confidentiality laws, I will not rescind the vote I made in service to Moore County Schools and our community. To return the community's focus to the education and success of Moore County Schools and its students, including the upcoming joyous occasion of graduation, I have chosen to resign my position, effective immediately, on the Moore County Board of Education."
"I appreciate their years of service on the board and believe that their actions are motivated by a genuine desire to best serve the educational interests of Moore County students," Cunningham said of the resigning members.
Events have moved swiftly ever since Monday evening, when Grimesey was called into a closed executive session, ostensibly for his first performance review, and told either to resign or be fired.
The official vote to fire Grimesey came Thursday morning, with Black, Cameron and Farren joined by board members Becky Carlson and Laura Lang. Cunningham and members Ed Dennison and Charles Lambert opposed the firing.
Black, Cameron, Farren and Lang have not returned multiple phone calls from The Pilot since Tuesday. Board of Commissioners Chairman Nick Picerno, who had been applying pressure publicly and behind the scenes since Thursday on the school board, issued a statement after learning of Farren's and Cameron's resignations.
"I think that the action of Ben Cameron and Kathy Farren are in response to the overwhelming community support shown for Dr. Grimesey," he said. "They have listened to the will of the people. I believe they have done the right thing.
"They should be thanked for their service to the community. I hope the remaining board members will reconsider their positions as well."
The five have been besieged with phone calls, letters, emails and social media posts since Monday imploring them not to fire Grimesey and then, after Thursday's 5-3 vote, to reinstate him. Southern Pines Town Councilman Mike Fields, who himself has been in public office the past 26 years, issued an email to the five suggesting they resign or risk damaging multiple partnerships the school system has with the community.
"Over the past few days, it has become painfully evident that all of those partnerships have been severely strained and may be on the verge of being broken permanently," he wrote. "The faith and trust in the Board of Education has been destroyed, whether rightly or wrongly —it has happened."
"As an elected official, I can certainly empathize with the difficult decision that they had to make," Fields said in an interview. "I think they have made the right decision. Now, hopefully the community can begin to heal."
State Rep. Jamie Boles, who issued an ultimatum to the five to resign by noon Monday or face a recall election in November, said he was pleased by Saturday's turn of events. He said he would wait until after the school board's meeting Monday evening before deciding how to proceed with special recall legislation.
"I don't see the urgency with what I'm hearing right now," he said.
Fallout from Thursday's 5-3 Board of Education vote to fire Superintendent Robert Grimesey gained momentum late Friday ­afternoon when a judge issued a temporary injunction blocking the board from hiring a permanent replacement.
Boles, who represents most of Moore County, requested the temporary restraining order to ensure the bloc that ousted Grimesey does not tap anyone for the job permanently until the county can call a special election to try to recall the entire school board.
Superior Court Judge James Webb signed the injunction at 4:21 p.m. Friday and assigned a 2 p.m. court hearing on Monday, June 15, to consider the matter further.
In a statement issued Friday evening, Boles said, "I have never seen the continuity and unity of Democrats, Republicans, NAACP, PTA, students, teachers, conservatives and liberals alike as I have seen with the unified condemnation of the process in which our superintendent, Dr. Grimesey, was fired.
"I felt obligated … to restrict and limit the powers of the present board until proper ­legislation is passed to establish a fair process in which elected officials can be held accountable."
Boles called on the five school board ­members — Black, Cameron, Carlson, Farren and Lang — to resign by noon Monday or he would seek ­legislation in the General Assembly that would allow for a recall election this November. That election would allow citizens to recall the entire board, after which the Board of Commissioners would appoint an interim slate.
If all five resigned by his deadline, Boles said, he would not move forward with the recall. But if just one or two resign, he said the legislation would proceed. State Sen. Jerry Tillman, whose district includes Moore County, said he would aid the legislation's passage.
Boles' legal action, filed by local attorney Tom Van Camp, was meant to prevent the school board from quickly hiring a permanent replacement and awarding them a lucrative contract that would be expensive to break, should a future board seek to remove that superintendent.
The legal filing specifically calls out Kathy Kennedy, the school system's assistant superintendent for instructional design and innovation, as a favored candidate for the job.
"Upon information and belief, the actions of Farren, Lang, Cameron, Carlson and Black were motivated by personal animosity toward Dr. Grimesey and personal favoritism and affiliation with Kathy Kennedy, assistant superintendent, who upon information and belief, sought the job of Moore County superintendent when it became available."
Kennedy, who lives in Fayetteville, did not return messages left for her.
Cunningham said he would submit to the process "without complaint."
"I will respect both an order from a judge and the will of the people expressed in any election, a recall or otherwise," he said adding that he could not express his opinion on the restraining order itself.
"Since I have not had an opportunity to confer with the board attorney, it would be premature on my part to make a comment on the injunction at this time," he said.
The temporary restraining order and threat of recall legislation are on top of what has been a sustained effort by virtually all quadrants of Moore County to show their support for Grimesey following Thursday's vote. Students and faculty at schools across the county wore black on Friday in a display of solidarity for Grimesey and opposition to the five-member bloc of board members.
Social media sites like Facebook, Twitter and Instagram have streamed an almost constant flow of postings, comments, pictures and memes from those angry at Grimesey's ouster. Twitter hashtags such as #SupportGrimesey, #Moore4Bob and #LoveDrBob trended locally. Parents printed up car magnets and bumper stickers with supportive displays. At least one local business, Living on the Bliss, in downtown Southern Pines, printed up black T-shirts Friday with white lettering that said "#SupportGrimesey." They sold for $12 apiece, and the store was selling them as fast as they printed them.
The Moore County NAACP issued a statement in support of Grimesey.
"Dr. Grimesey has demonstrated a penchant for engaging the community and for being sensitive to the needs of under-served segments within the school system," wrote organization President O'Linda D. Watkins. "He has created a committee to work on closing the minority gap (and) to understand and seek solutions to the problem of African-American students being suspended more and disciplined more harshly than other students in the schools."
Also in the 48 hours since Thursday's vote, the Board of Commissioners scheduled a special meeting for this coming Wednesday at which commissioners might reduce the school board's savings account, known as its fund balance. That account holds about $4.7 million, and commissioners say they might transfer that money to a holding account for future school construction projects, taking it away from the school board to spend as it wishes.
In addition, the school board decided on Friday to move the location of its regularly scheduled meeting on Monday. The board ­normally meets at the central office headquarters in a room that can hold 130. But after more than 400 turned up for its meeting Thursday morning, forcing the board and its audience to relocate to the historic Moore County courthouse, the board has moved its Monday evening meeting to the Union Pines High School Auditorium, 1981 Union Church Road, in Carthage. That meeting begins at 6:30 p.m. and will allow time for public comment.
Board members are certain to hear from residents concerning Thursday's decision to fire Grimesey. At that meeting, Lang made the motion to exercise the "unilateral termination clause" in Grimesey's contract, which was seconded by Cameron. The five who voted to terminate Grimesey declined to offer specific reasons for their decision, citing state personnel laws that prohibit them from speaking out. As they left the courthouse, a few of the five members were escorted to their cars by sheriff's deputies.
The vote came after a lengthy closed session Thursday at the school system's central office. The crowd filled the usual board meeting room, then spilled into the central hallway. Moore County Schools Police officers and county fire marshal Ken Skipper then blocked more people from coming into the building, citing capacity issues.
For a while, officials struggled with whether to remove a certain number of ­people for safety issues or move the meeting to a larger space. Sandhills Community College President John Dempsey, who sat through the entire meeting, freed up his Owens Auditorium, but the board opted instead to move to the county commissioners' meeting room up the road at the historic Moore County courthouse.
While the school board met in closed session to discuss Grimesey's contract and his successor, parents, teachers, activists and community leaders of all stripes directed a withering string of attacks at the coalition of board members seeking Grimesey's ouster. Chief among the complaints was that the board scheduled the meeting so early during a weekday and during the next-to-last week of school when critical exams were being conducted.
Following the vote to buy out Grimesey for $165,500, the board voted 6-1, with one abstention from Dennison, to hire Larry Upchurch as interim superintendent. Lambert cast the sole dissenting vote.
Upchurch is a former deputy superintendent of Moore County Schools and had once been a candidate for the top post. He retired in 2011 but has signed a six-month contract.
After Thursday morning's vote, several board members read prepared statements. Farren, the board's vice chairwoman, said that disagreement is to be expected.
"I know that Bruce has voted his conscience, and I have voted mine, and it is in the nature of serving on a board that members sometimes disagree about important matters," she said. "But the focus at this time needs to be on the future of the Moore County Schools and what is in the best interest of our school district – and especially our students."
Board member Laura Lang thanked all for their support "during this difficult time."
"I would also like to thank everyone for their emails of support to Dr. Grimesey," she said. "I can appreciate your sentiment with the ­public image that you see. I am sorry that because I follow the laws of the state of North Carolina, I am unable to discuss personnel matters and all the issues that went into my decision today. I know it is frustrating to you, but please know that it is even more ­frustrating for me, because if I could, I am ­confident that you would agree with my choice."
Lang's comments were drowned out frequently by angry audience members who shouted at her.
Lang apologized to the schools' central office staff, whom she described as "taking the heat for something that they did not ask for or deserve."
Lang was obliquely referring to numerous comments from parents, teachers and community leaders that senior school administrators did not like Grimesey's management style and colluded with school board members to oust the first-year superintendent.
"I hate that the assumption that people automatically jump to is that they are at fault," she said. "I think everyone has forgotten that with their leadership last year, prior to Dr. Grimesey's arrival, we had one of the best academic years we had had in a very long time. When the majority of a board loses trust and respect for its leader, then it is time for a change. When the majority of the public loses trust and respect for its Board of Education, then they vote them out of office.
"Please just remember, that never for one day on this body have I ever shown that I had anything other than the best interest of Moore County Schools on my mind, and today is absolutely no different."
Board member Ed Dennison, one of three who voted against Grimesey's termination, thanked the community for its support of "Dr. Bob."
"In my opinion he has done an excellent job in his first year as superintendent of Moore County Schools," Dennison said. "I say this with over 40 years of work management ­experience. A good manager (has) to ­understand the expectations of your employer and do what is necessary to meet those ­expectations. To do this you may have to make decisions that will not please everyone, but if you are the one responsible for ensuring the outcomes then it is your decision and not anyone else's.
"As for the Moore County School Board, it is our responsibility — not just a few board members but all eight members — to establish those expectations and make sure they are understood by the superintendent. If any board member feels the superintendent is not meeting those expectations, then the board, as a whole, needs to discuss it as soon as it happens and not wait for the annual evaluation. Discussions should not be held and decisions made between individual board members. With our board, five votes are needed for approval of any measure. All board members should be involved in the decision-making process, not just five."
Cunningham read an email from a local principal to illustrate the support that school staff felt for the fired superintendent.
"'Our teachers feel supported and encouraged by Dr. Grimesey,'" Cunningham read. "'When they speak to me about him, their voices are full of gratitude and joy. His visits and kind words leave them feeling appreciated, encouraged and supported. His presence in classrooms has an undeniable positive impact. I observed an immediate loss of hope and what can only be described as fear in the eyes of staff members following the article in The Pilot Tuesday.
"'Should the board move forward with the decision to accept a letter of resignation from Dr. Grimesey, the impact on our teachers will be tremendous, and I can honestly say the light that we have worked so hard to stoke will be smothered.'"
Many in the audience booed loudly when those who supported Grimesey's firing raised their hands to cast their votes. A number of county and municipal officials also expressed displeasure at the decision.
Former school board member Dale Frye was on the board when it hired Grimesey.
"If they want to preserve unity, for the sake of the teachers and staff of this county they need to ask Dr. Grimesey to come back, carte blanche, on his terms," Frye said of the five board members. "They've been too blinded by their friendship and devotion to certain people. They need to go to Carolina Eye."
Numerous teachers and school employees attended Thursday's meeting, having arranged for substitutes. One was Lani Heckert, a seventh-grade teacher at Crain's Creek, who said she had "never worked ­anywhere where I could not speak for change."
"Dr. Grimesey was working to dissolve this culture of silence," she said passionately to the crowd while the board was meeting in its closed session. "He was not afraid of doing a new dance, and that's what they're afraid of here. I am appalled at the disdain that some of these board members have for the teachers."
While the board took the brunt of the public's anger Thursday, there was sustained and ­thunderous applause for Grimesey when he entered the commissioners meeting room shortly before 10:30 Thursday morning. Grimesey had been asked Monday evening to clean out his office and keep a low profile ahead of Thursday's meeting, and it was not expected that he would even show up.
Grimesey entered the building with Raleigh-based attorney Ann McColl to loud applause and cheers. After waving to his supporters and giving them a virtual "high-five," he sat in a corner of the room and watched the proceedings. After the decision to terminate his contract was announced, Grimesey addressed the large crowd there in his support.
"To begin with, I accept the judgment of the Moore County Board of Education and respect its authority to terminate my contract," he said. "I encourage all parties to support the new school district leadership and to refocus our attention on serving the needs of our children."
Grimesey's speech was punctuated by moments when he was overcome with emotion. Members of the audience could also be heard weeping as he spoke.
"A contract may be terminated, but a calling may never be denied," he said. "I was called to serve the children, employees, families and other citizens of Moore County, and by most indications it would seem that I have fulfilled that obligation. Today my contract has been terminated, yet my calling remains intact."
Grimesey said he will remain in the area for now. He and his wife purchased a house on Farm Life Road, and are moving in this week.
"I still don't know what I did (to get fired)," he said, (but) let there be no mistake. If I could do it 100 times over again, I would accept 'the call' to serve as your superintendent of schools even if I knew today would be inevitable.
"I do not regret any of the moments we have shared during this past year. It has been my honor and my privilege."
The board will allow public comment during two parts of the meeting Monday evening. To speak, members of the public must sign up prior to 6:15 p.m. the day of the meeting. Speakers are allowed three minutes per individual or five minutes if the individual is representing a recognized organization. The chairman will have the responsibility to determine if an item is inappropriate and to rule the speaker out of order, if necessary.