A water test conducted at Reservoir Park Lake in Southern Pines on Wednesday confirmed there are still traces of the cyanobacterial bloom present.
"We received notice from the state that they found evidence of the bloom still active along the shoreline," said Parks Director Robert Reeve, in a brief phone interview with The Pilot on Thursday. "It is not as bad as before and it is subsiding. But we are keeping all precautions in place."
The park is open; however, fishing is restricted and pet owners are cautioned to keep their animals out of the water until further notice. Swimming is never permitted at the facility.
Reeve said heavy rains as a result of Hurricane Dorian may help flush out the bloom. He anticipated the state's Division of Water Resources staff will conduct more water tests next week.
The cyanobacteria, sometimes called blue-green algae, bloom was initially discovered in late August. These naturally occurring bacteria thrive on warm, nutrient-rich water. High concentrations, or blooms, can be caused by a combination of manmade and natural factors including overuse of landscaping fertilizer.
No previous incidents of potentially toxic algae have been reported at Reservoir Park. There are no recommended treatments to eliminate a bloom, as algicides or other compounds can cause the bacteria to rupture and release toxins.
The town is investigating the upstream watershed for potential causes and also watching downstream waterways for possible contamination.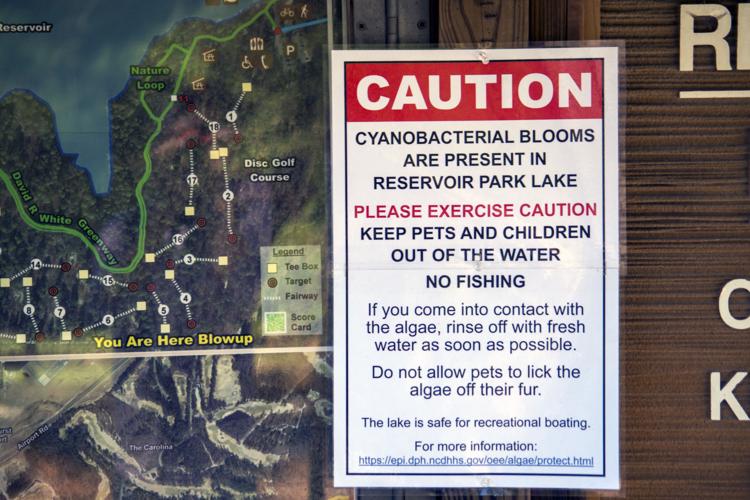 "The cyanobacterial algae has substantially lessened but it is still present, so all precautions will remain in place until we test again next week. One positive with the hurricane induced rain will be that the rain will likely flush the bloom out of the Reservoir, at least it is our hope that the excess rain will prove beneficial with this issue," said Assistant Town Manager Chris Kennedy.
Concerns about blue-green algae at Reservoir Park also prompted other municipalities and private communities to take a closer look at their own lake water quality. At this time, there has not been any evidence of algal blooms elsewhere in Moore County.
Potential visual indicators of cyanobacterial blooms can vary from discolored water to surface scums that appear bright green, blue, red or brown in color. Also watch for floating or submerged clumps, flecks or mats. A milky blue or white surface scum may indicate decaying cyanobacteria.