A rezoning request for the proposed Blake Village, a large mixed use development on N.C. 5, was approved on a 3-1 split vote of the Aberdeen Town Board on Monday.
Located near the boundary line that separates Aberdeen from Pinehurst -- and adjacent to the unincorporated area of Jackson Hamlet -- the majority of the 119-acre tract was previously zoned Highway Commercial. This designation would have allowed for a more "intensive" use, the developers said, with up to 825,000 square feet of commercial space. A secondary tract was zoned for up to 79 residences.
Under the new Planned Unit Development (PUD-R) zoning, Pinehurst-based developer Riley & Walker Homes envision up to 120,00 square feet of office and retail space, and a mix of 370 residential units.
However, specific project plans have not been submitted for formal consideration. Instead the Aberdeen Town Board voted simply on the rezoning application.
Land planner Bob Koontz, of Koontz Jones Design, said the proposal will be for a traditional mixed use neighborhood where residential, office and retail uses are incorporated in a "walkable community."
As presented, conceptual plans call for commercial and office space on 12.5 acres, with residential on 107 acres. The proposed residential area density is 3.46 units per acre.
The layout calls for a primary entrance directly across the street from the existing Hardee's restaurant near Sandhills Bowling Center, and a "spine road" would run parallel to N.C. 5 connecting protected railroad crossings at Olivia Lane to the northern property line and at the far end of a stub-out road that could accommodate future potential development on the land owned by Pinehurst Resort.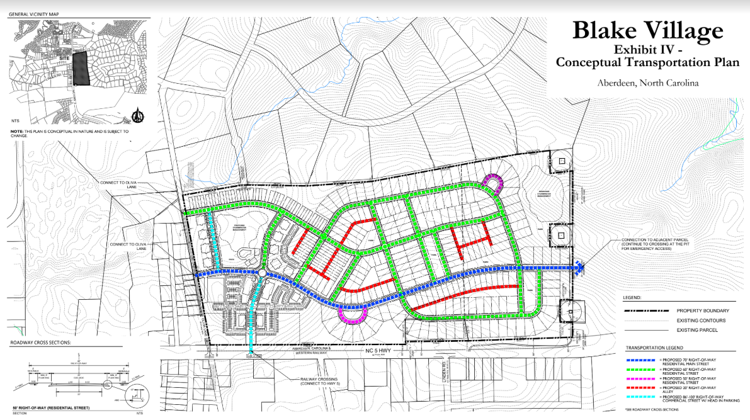 Monday's public hearing attracted a standing room-only crowd, including residents of Aberdeen, Pinehurst and Jackson Hamlet.
Many who said they were opposed to the plan cited concerns about traffic impacts on N.C. 5, and whether that congestion would push more vehicles onto secondary roads, like Monticello Drive.
Traffic impacts for the project were estimated at approximately 7,700 vehicle trips per day.
Travis Fluitt with Kimley-Horn and Associates presented results of the Traffic Impact Analysis (TIA), noting his study took into account the proposed widening of N.C. 5 in Aberdeen, the new elementary school under construction nearby, and the proposed residential development approved on the Auman tract near the Linden Road intersection.
The North Carolina Department of Transportation (NC-DOT) also provided comments following their review of the TIA. Specifically, the study recommends restricted turns at Olivia Lane, and installation of a traffic signal for a full-movement intersection at the proposed main entrance across from the existing Hardee's restaurant. Other road improvements include a dedicated right turn lane and protected space for turning vehicles exiting the development.
State transportation plans call for a three-lane and four-lane road widening projects on sections of N.C. 5 between Blake Boulevard in Pinehurst and U.S. 1/15-501 in Aberdeen. Earlier this year, DOT consulting firm Ramey Kemp & Associates presented project maps and information during two public meetings held in March.
Fluitt said the highway directly adjacent to the project would be widened to three-lanes, and would extend to a four-lane improvement south of Linden Road.
Compared to the previous HC zoning, if the site were fully-developed, Fluitt said the proposed project would generate 43 percent fewer daily trips.
"This is a significant downzoning of the property while still being a very good use," he said.
However, Pinehurst resident Jane Hogeman said she believed the TIA was incomplete.
"Circumstances beyond the project's footprint have not been analyzed," she said, noting that intersections north of the property where N.C. 5 will not be widened were not considered.
"Where Highway 5 drops back down to two-lanes, there will be a bottleneck," Hogeman said.
"Please listen to your Planning Board. They have raised a red flag," she added. "This plan will adversely impact the neighborhoods around it."
Other speakers opposed to the project raised concern about the tract being landlocked -- or rather railroad-locked -- since every access point must cross the railroad tracks immediately adjacent to N.C. 5.
"Public safety should be your very first concern," said Pinehurst resident David Nordlow.
John Biggar, chair of the Country Club of North Carolina (CCNC) Property Owners' Committee, and Don Hunter, CEO of CCNC, both spoke against the proposal.
"The development has not met demonstrated need and does not advance public health and safety, Biggar said, pointing out that the staff report posed six questions. "The developer has not answered a third of those."
Biggar also felt the TIA was flawed because it did not take into account the impact on road conditions at intersections located north of the project along N.C. 5.
Hunter said he was not oppposed to the tract being developed, but felt the town was responding to a request that would be more profitable for the developer and not necessarily on what was best for citizens and traffic concerns.
Roy Schneiderman, a CCNC resident who owns land that backs up to the subject property said he always anticipated there would be some type of development on the tract.
"I have no issue with development. But I think a win-win is development that will not overwhelm the traffic situation, that will not clear-cut. The problem with this (plan) is it is just too much," he said. "I think there is a win-win possible. I just don't think the way the plan presented today is that scenario."
Jackson Hamlet resident O'Neal Russ also said the impact of increased traffic was his primary concern.
He was joined by Maurice Holland, Jr., who also lives in Jackson Hamlet and cited concerns about traffic, specifically the challenge to turn into opposing traffic from secondary sidestreets.
But there were also a significant number of residents and local business owners who spoke in favor of the rezoning application, and the conceptual plan expected to follow.
"When I saw that the site would permit up to 825,000 square feet under current zoning, I thought about all of that impact," said resident Michael Edwards, noting it could attract interest from big box retailers or a car dealership. "I am impressed with this plan and it is well-thought out. It would be a benefit to Aberdeen and all of Moore County, and I encourage you to rezone it."
Pinehurst resident Susan McCormick said she is excited about the potential for new retail and restaurants at Blake Village.
"I think growth is inevitable for any community," she said. "I can't think of any better way to develop this area than the proposal here tonight."
Jim McSwain, who owns a business located on N.C. 5, said residential building is the root of the town, and said he liked that the concept plan has commercial and office space that can serve small stores and entrepreneurs.
"I'm all for this project," he said.
Real estate broker Mark Caufield said the diversity of housing included in the plan and walkability make the development very inclusive.
"This one fills that gap. I will be glad to see this addition to the community," he said.
At the conclusion of the public hearing, Commissioner Joe Dannelley thanked the many citizens who participated in the discussion.
"I am intrigued by this application because what is known is how the property is currently zoned," he said. "Based on comments from both sides of the room, many of you feel strongly about it...But then we talk about possibilities. This may just be something this community will flourish with."
Noting the application was only for rezoning, he said there is much work to be done by the developer before final plans are presented.
"Traffic is a concern. The railroad crossings are absolutely a concern. But what I'm looking at is possibility," Dannelley said. "I believe this zoning might be a good thing for the community of Aberdeen, for Pinehurst, and Moore County-at-large."
Mayor Pro Tem Jim Thomas said there isn't a person on the Town Board that does not appreciate the fact that more houses are going to be built on N.C. 5, along with the new school.
"The traffic is going to get worse before it gets better," he said. "But this project is potentially a beautiful development for that piece of property."
Commissioner Ken Byrd cast the dissenting vote, with Commissioners Thomas, Dannelley and Elease Goodwin voting in favor of thre rezoning request. Commissioner Wilma Laney was absent.
Mayor Robbie Farrell said it is unrealistic to "shut the door," and not allow more development to come in.
Immediately south of the subject property, Pinehurst Resort owns a 1,000 acres of mostly undeveloped land. In addition, Farrell called attention to properties around the new elementary school that will be ripe for residential interests when the new gravity feed sewer line is installed.
"If it is zoned for homes, it is probably going to happen. I can't imagine all that land just sitting there in perpetuity," he said.
Farrell said growth has become the new normal for much of Moore County.
"Southern Pines is dealing with it. Pinehurst is dealing with it. Carthage too. The number of new houses in Vass is startling," Farrell said. "So whether this is rezoned or not, something will go on that property. WIth the bulk of it Highway Commercial, you think about putting a big shopping center in there. Either way you're going to have traffic."
And Farrell said there's no slow down in sight for Moore County's building boom.
"Sometimes growth is good, sometimes it is not. We have to take it as it comes," he said.