A black bear spotted in Seven Lakes and the McLendon Hills communities on Friday morning generated considerable excitement in this part of western Moore County.
Black bears sightings are uncommon, but not unheard of in the North Carolina piedmont.
Wildlife officials said there is nothing to fear: the bear is likely migrating through the area and should be left alone. Residents in areas where there is bear activity are encouraged to remove bird feeders and secure their garbage cans.
"The main thing is don't follow it. Leave the bear alone," said Jodie Owen, N.C. Wildlife Resources Commission. "The bear is as scared of you as you are of it. It is just looking for a home and there is not much habitat in the Piedmont."
Local veterinarian Ann Turner said she saw the bear coming through a wooded area near her waterfront home in Seven Lakes North early on Friday.
Her dog growled and she was able to quickly place him indoors before grabbing her phone to take pictures.
"I thought, nobody is going to believe me," she said. "He didn't pay any attention to us at all. He went down by our dock and then I lost sight of him again in the trees."
Turner and her husband own the Small Animal Emergency Services clinic in Vass and the Lakehouse Bar & Grill in Seven Lakes.
A native of Wyoming, Turner said she is familiar and respectful of big game. Her brother had visited from Wyoming earlier this summer and told her he saw bear scat in the woods around her house, but she said she didn't believe him.
"This is the first time I've seen a bear in Seven Lakes. I sent my brother the photo I took and he said, "I told you so," she laughed.
Other residents in Seven Lakes North and the nearby McLendon Hills community also spotted the bear on Friday, with a few sharing photo evidence of their encounters on social media.
Sarah Casey said she saw the bear in her yard and grabbed her camera. She described the bear's behavior as docile.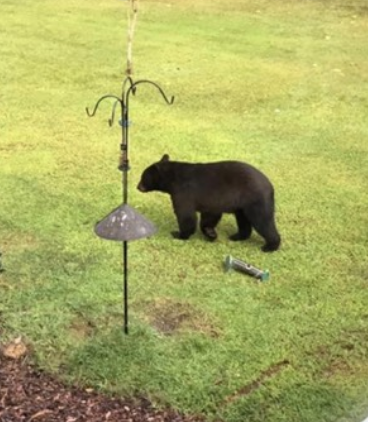 "It's a young one and was so beautiful," she said. "That is a reason we moved out here, we like the wildlife. It is there to be respected and enjoyed. And he was kinda cute!"
Casey said that people educating themselves about wildlife is key, "They are afraid because they don't know."
Lt. Mark Dutton of the N.C. Wildlife Resources Commission, and a longtime resident of Foxfire, said black bears seen in this area are using the Drowning Creek water basin.
"This is a general thoroughfare for them. They will normally follow the basin either coming down from the west and going southeast. Or they are coming from the coastal areas and traveling to the western piedmont," Dutton said. "It is a young bear looking to establish a habitat."
But the bear is on the move — and likely won't stick around for long — because Moore County and the surrounding areas do not have a "reproductive habitat" for bears. In basic terms, there aren't enough female bears in the region.
The state's primary bear populations are located in the mountains and coast.
"Females are pretty territorial. Older dominant males will chase out the younger males. So typically what we have are year-and-a-half or two-year-old young males moving out and looking for new territory," Dutton said.
"It is not unusual or abnormal to see a bear. We see migration in this area," he added.
Sizewise these young males are in 150 to 200 pound range — similar to the bear seen on Friday.
Dutton said there was a black bear that lived in the Foxfire area for approximately six months several years back. He would be spotted on game cameras in the area, and stayed from early fall through the winter, before eventually moving on.
Dutton recommended residents should be aware and keep any potential outdoor garbage or other food sources secured.
"They will be scavenging and looking for easy access to food," he said.
McLendon Hills resident Jane Canonica said she heard a commotion in her yard about 8 a.m. on Friday. The birds at her feeder were scurrying into nearby trees and she expected to see a neighborhood hawk that lives in the area. Instead, she looked out the window to discover the black bear was at her bird feeder.
"He was in beautiful shape with a shiny black coat," she said.
The bear was investigating the birdseed. Canonica said her husband tapped on the window to distract the bear. They were afraid he would destroy the feeder.
"The bear looked up at us and then scurried down to the creek," she said,
N.C Wildlife offers the following BearWise Basics tips:
* Never feed a bear – either intentionally or unintentionally. Feeding bears trains them to approach homes and people for more food. Bears are particularly attracted to human garbage, pet food and other human-associated foods, like bird seed. Bears will defend themselves if a person gets too close, so don't risk your safety or theirs. 
* Secure food, garbage and recycling. Food and food odors attract bears so don't reward them with easily available food or garbage. Bags of trash inside cans stored in a garage, sheds or other secure area; or use garbage cans or trash containers with a secure latching system or that are bear-resistant. Place trash outside as late as possible, on trash pick-up days – not the night before.
* Remove bird feeders when bears are active. Birdseed and other grains have high calorie content making them very attractive to bears.
* Never leave pet food outdoors. Feed outdoor pets portion sizes that will be completely eaten during each meal and remove leftover food and food bowl.
* Clean and store grills. After you use an outdoor grill, clean it thoroughly and make sure that all grease and fat is removed.
* Alert neighbors to bear activity. See bears in the area or evidence of bear activity? Tell your neighbors and share info on how to avoid bear conflicts. Bears have adapted to living near people; now it's up to us to adapt to living near bears.