If you ask staff at Robbins Elementary where the Spanish classroom is, the response you'll get is more than likely "which one?"
The school serves a predominantly Hispanic population, and 30 percent of its 400 students come from Spanish-speaking families. Teaching English, let alone North Carolina's core curriculum, to the children of immigrant families might seem to be an excessive burden.
But since 2015, Robbins Elementary has defined itself by that challenge, to the benefit of all students regardless of the language they speak at home. About two-thirds of the students in kindergarten through fourth grade are enrolled in the school's dual language academy. Next year, the program will encompass all grades at Robbins.
Of three classes at each grade level, one of them is dedicated to teaching reading, math, science and social studies — entirely in Spanish.
A pair of teachers at each grade level, one a native Spanish speaker, team up to plan lessons and a curriculum that can be taught in both languages. Language academy students alternate between their classes: English one day, and Spanish the next.
"The teachers plan and do everything together, so the instruction just picks up where it left off," said Robbins Principal Christine Laurita.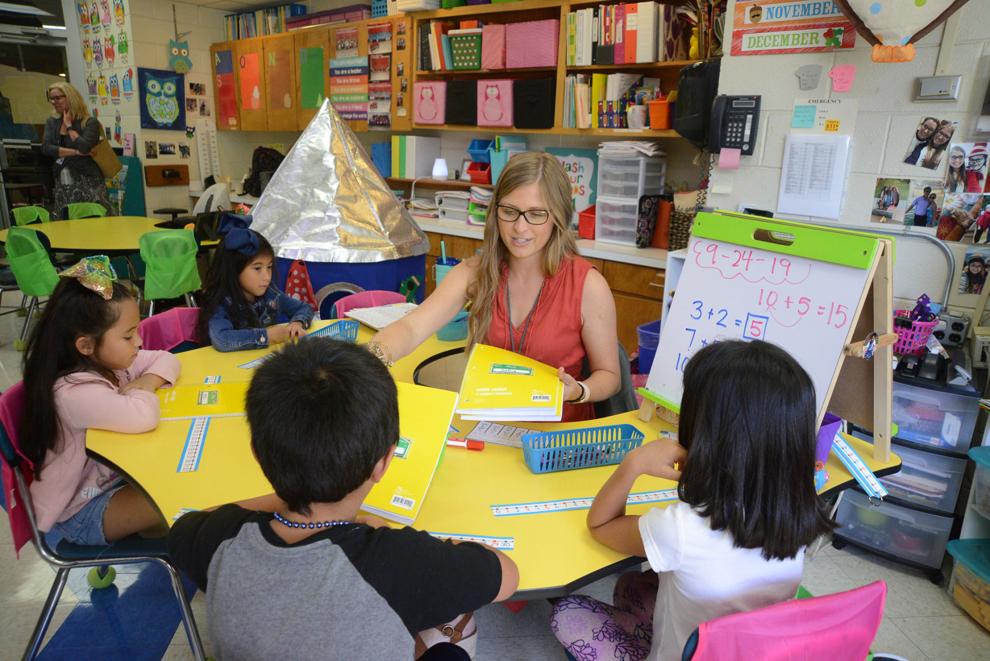 A third- or fourth-grade Spanish classroom at Robbins might as well be on the other side of a portal to a school in Chile or Colombia. Students aren't learning basic vocabulary words like "please," "dog," and "bathroom." Rather, they're reading chapter books and solving word problems in Spanish one day and in English the next.
Anna Stevens, the ESL and world language specialist in Moore County Schools' curriculum office, is planning for the program to expand into the middle and high school grades in some form as the current fourth graders advance. The goal is to graduate students who are professionally fluent in both English and Spanish.
Benefits Abound
Giving students options in a job market where demand for bilingual employees is on the rise across a variety of fields is only one of the goals of bilingual education.
For 2017-2018, the state gauged each school's English learner progress rate, or the percent of students who met North Carolina's standards for progress toward English language acquisition. Robbins' 50 percent rate was far higher than Moore County Schools' as a whole, and even above the state's average.
"It's a lot easier to learn English as a young child, and research shows that it's easier for them to learn how to read in a language they already know. So if you're trying to teach them English literacy only, it takes them longer," said Stevens.
"If they join us in second grade, they're continuing their education in their own language while we're teaching them English as fast as we can."
Research has also demonstrated that foreign language study in the early elementary years improves cognitive abilities and academic achievement. Students learning a second language as they advance mastery of their own are forced to develop coping strategies that accelerate development. They're also able to think about language in an abstract sense earlier than monolingual peers.
Long-term, bilingual students demonstrate greater problem-solving skills and enhanced memory.
"They expand their vocabulary, learn how to differentiate words that sound the same but are different, and they are immersed in the language," said Sandra Garcia, who teaches the third grade Spanish classroom at Robbins.
"They transfer what they learn in English into Spanish and vice versa. It's awesome because sometimes I don't need to teach anything; they just automatically say the same thing in the other language."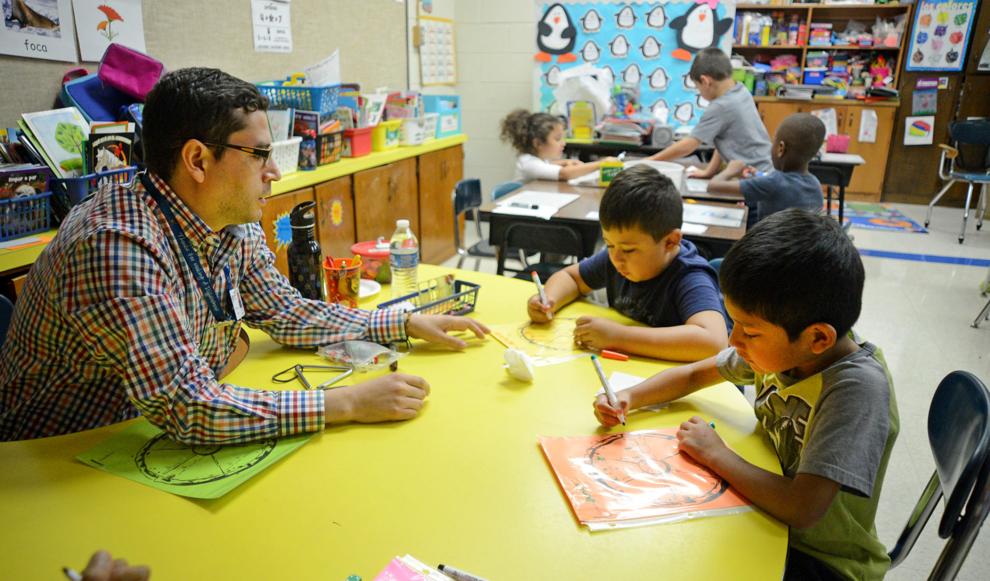 Garcia works with Lindsay Baker, who teaches the English component of the third grade program. Before starting with the language academy students, Baker used Project GLAD — Guided Language Acquisition Design — strategies with all of her students.
"We build on background so much. We use images, we build on connections that they have and they make more connections," said Baker, who finds that her students develop a better grasp of literal and nonliteral language, and figures of speech in both English and Spanish.
"There are some in Spanish, they're just said in a different way. So when we teach that subject, she teaches them the ones they would be familiar with, and when they come to me they connect that some things aren't literal. They'll have these 'aha moments' where they realize what they're learning means in Spanish. That happens everyday."
Opportunities for Success
Robbins sources teachers from South America through Participate Learning, which offers a pool of pre-screened international faculty who can work in the United States for five years under a teaching visa.
"They integrate so well with us. We get great teachers," Stevens said. "Good teaching is good teaching no matter what language you're using, but it's helpful if their English is proficient as well. They have to get here and immediately learn all about our school system and our curriculum."
West End Elementary formerly offered a similar Spanish immersion program. Parents strenuously objected when the district announced two years ago that program would be phased out. But as students enrolled in the program at West End moved away, the school could not replace them with incoming students who had no past exposure to Spanish. That led to untenably small class sizes.
At Robbins, that's less of a concern as Spanish-speaking students reliably stream in. Typically, there's a waiting list to enroll in the next kindergarten class.
The program's results, or in this case the students, speak for themselves — as a pair of Robbins fourth-graders did at September's school board meeting. J.D. Hussey, who puts his skills to work to the strumming of his guitar, sang in both English and Spanish. J.D. said that he practices the language outside of school in contexts where he'd normally speak English: like church, and community yard sales.
"When I started kindergarten I actually knew nothing in Spanish except maybe 'please' and 'thank you' and basic words," he said.
Rylee Welch, who recited a Spanish poem, said that learning in two languages can still be a struggle. She initially wanted to learn Spanish to have fuller conversations with her Hispanic friends.
"I didn't always know how to talk to them, so I kind of wanted to learn so I could talk to them more," said Rylee.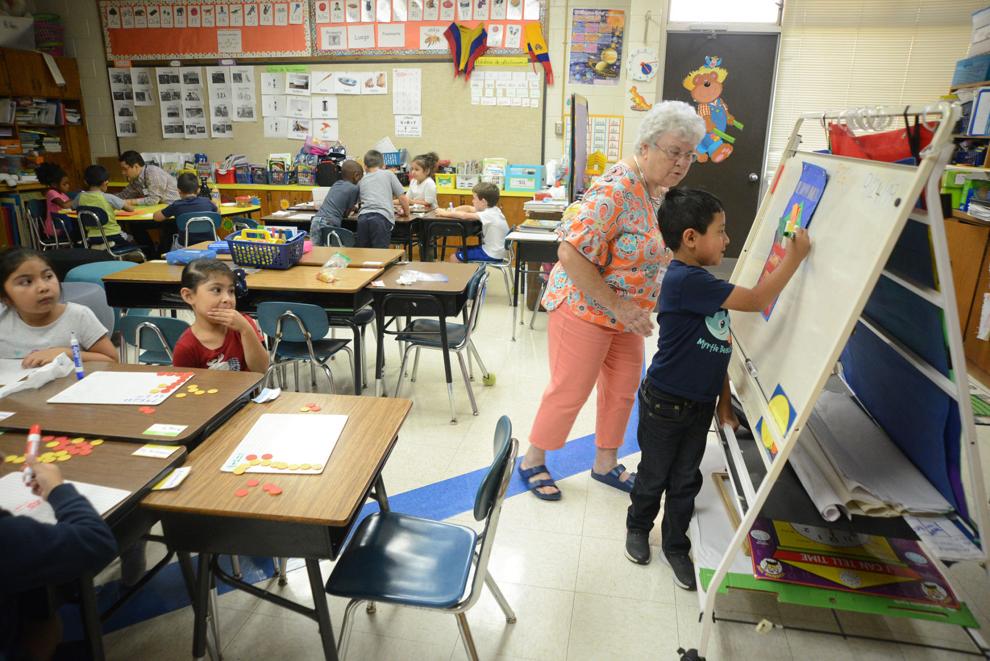 Regardless of which language is spoken at home, students all face similar challenges in the program. Ashley Cano Cazares said that she's sometimes at a loss in either language, and finds herself resorting to the "wrong" one.
"We swap from English to Spanish and sometimes that makes it difficult because when you're in Spanish you want to speak English and when you're in English you want to speak Spanish," she said.
To help, she reads the same book in both languages, and is currently working her way through the Harry Potter series.
Over time though, learning literacy skills in their native tongue translates to faster mastery of English. In the short term, they gain confidence from learning in Spanish every other day and helping their parents learn to communicate as well.
"Most of their parents don't even write in Spanish, so sometimes they read Spanish to them as well as translating English," said Garcia.
"If they weren't also learning in Spanish, they would be frustrated because they don't know the language and aren't good at anything. The newcomers have the opportunity to be successful while they learn English."