With shouts of "hooray" from a couple of hundred kids and adults alike as the ribbon was cut, the county officially opened its splash pad in Hillcrest Park in Carthage Wednesday morning.
"Welcome to this beautiful facility and this exciting event," County Manager Wayne Vest exclaimed at the start of the dedication ceremony for Splash Moore. "Today there is no more waiting. There's no more anticipating."
Vest acknowledged the county commissioners, who were all on hand and sporting "Splash Moore T-shirts, saying this would not have been possible without them.
"This is Moore County's Hillcrest Park," Vest said. "It's for every citizen in this county and the visitors who come here."
Commissioners' Vice Chairwoman Catherine Graham — the lone woman on the board — was the only one to join a group of kids gathered under a large bucket that dumps water and creates the biggest splash.
"I'm going to get under the big bucket," she said to the kids after her remarks during the ceremony. "I want you to surround me so I don't get a lot of water on me. I bought a raincoat with me, but my grandson told me, 'Nana, that will look so crazy. You cannot do that."
Despite being surrounded by kids, Graham still ended up getting soaked anyway.
"I loved it," she exclaimed afterward.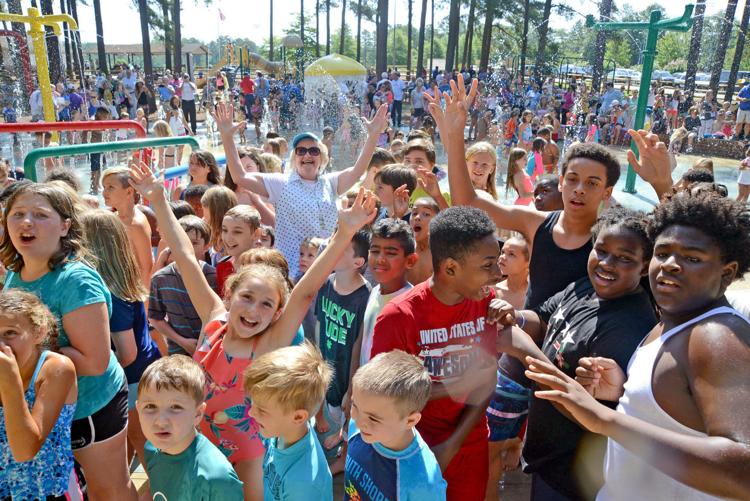 Graham, who is a former Carthage town commissioner and clerk of court, was credited with coming up with the idea of having a splash pad at the park, similar to ones that opened in Rassie Wicker Park Pinehurst in 2016 and the Southern Pines Pool Park late last fall — and is now in the midst of its first summer season.
"This was her dream and vision," said Larry Caddell, chairman of the Parks and Recreation Advisory Committee. "I want to thank thank the commissioners for having the courage to spend some money on the children of Moore County.
Caddell, also a former Carthage mayor and county commissioners' chairman, noted that much of what has been built at Hillcrest Park has been privately funded over the years, including some of the cost of the splash pad.
"We are going to continue to grow this park," he said.
Construction on the 7,000-square-foot splash pad began in February after commissioners voted unanimously last November to award a $282,000 contract to a Raleigh firm to build it.
The splash pad is part of a $5.29 million project to build a recreation center at the park, which is off N.C. 22 near the intersection with U.S. 15-501. Commissioners have already approved the funding for the center, which is coming from its capital reserves, the sale of various properties whose owners wanted the proceeds to benefit parks and recreation programs, and private donations.
Commissioners are expected to award a construction contract for the recreation center at their meeting Tuesday evening.
The 26,500-square-foot facility will have two gyms with full-size basketball courts that can be used as four volleyball courts, a multipurpose room that can seat 100 people for classes and training, restrooms and a concession area, as well as offices for the Parks and Recreation staff. The multipurpose room can also be rented for meetings and other private events.
Vest acknowledged Parks and Recreation Director Billy Ransom, who has been with the county for 35 years. He joked that he has labeled the sidewalk running from the concession stand to the splash pad as "Billy Ransom Parkway."
"It is like a rainbow because there is a pot of gold a both ends," Vest said.
Commissioners Chairman Frank Quis quipped that Vest, who was led the youngsters in shouting "hooray" throughout the ceremony, should be nicknamed the "cheerleader in chief."
On a more serious note, Quis said Hillcrest Park and the splash pad would not have been possible without the help of many volunteers and private donors.
"It's a perfect example of a public-private partnership," he said. "I can't emphasize that enough. The volunteers who have given their time and money have been so instrumental in making this one of the best parks in North Carolina. … And we thank them very, very much."
As Graham was called up to make a few remarks, she chanted "Yes, Yes, Yes," as she looked at the throng of kids gathered behind the green ribbon. She said she thought of an old Greek proverb.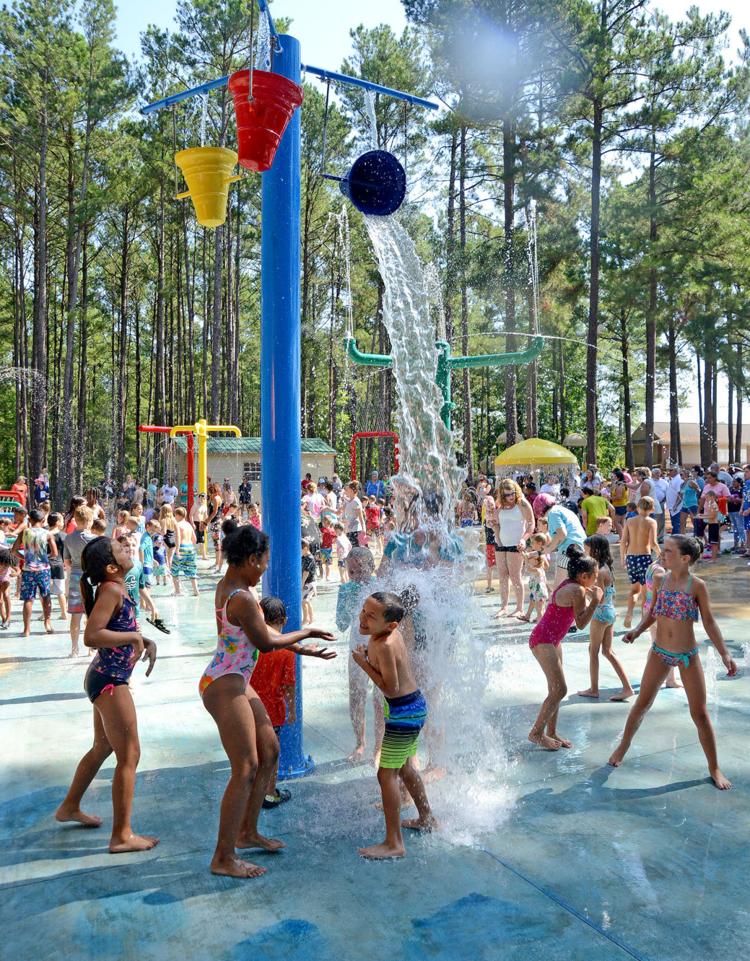 "A society grows great because of old men who plant trees whose shade under which they may never sit in," she said. "I want to recognize all the previous boards of commissioners that came before this board that authorized the beginning of Hillcrest and those many people who worked hard, donated money and who gave their time."
Hillcrest Park opened in 2001 with four baseball diamonds. A field house was also constructed, with the Moore County Home Builders Association donating materials and labor.
Graham said she was at the park the previous Friday to see emerying and started "thinking about the people who have been involved in Hillcrest Park."
"Let's don't forget them in the celebration today," she said. "I'm just blessed to be a very small park of this. I just feel so excited about the water park. We have children as you saw this morning who have never experienced a water park. This is for all the children of Moore County and the adults.
"We are just so blessed. Remember we are standing on the shoulders of a lot of people today."
Graham closed by citing a Quaker saying, "Let your life speak. And today we're letting many lives speak."